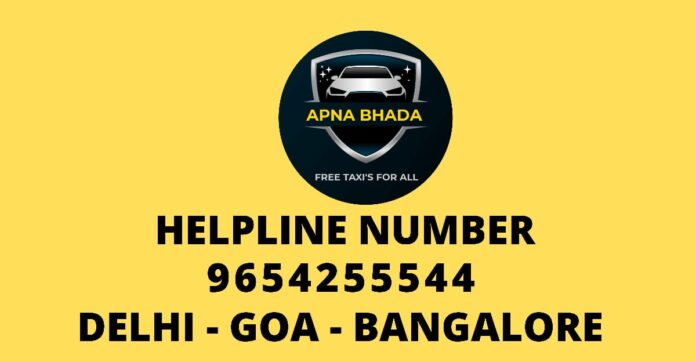 APNA BHADA officially launched Their Helpline Number for booking Taxis and for Driver Partners. The Helpline Number Is 9654 255544, on this Helpline number people can book free Taxi with in the city like Goa / Bangalore / Delhi NCR. The company has given clear statements that the service is available only in Goa/Bangalore/Delhi NCR, according to company officials sometimes people calls on Helpline Number and ask for bookings for other city which is not possible, the company is operating only in these three cities for now, off course in the near future company has the plan to expand the services in other cities soon.
The Taxi Driver who wants to join Apna Bhada as a driver Partner or wants to Attach Their Taxies with Apna Bhada just needs to call on Helpline number and the companies execute will process their Registration.
Company officials given a clear statement that there is no registration fee for the Driver Partners,  this is completely free of cost they just need to do some paper works.
After the Registration The Driver partner come on board The Company will pay them to fix Rs.2500 per day for 12 hours of login.
Apna Bhada Never charge their customers for Rides, this is completely free for the customers, there is no confusion that the Company Revenue module is not earning money from the customers infect company's Revenue Model is Advertisements, the company's main source of revenue is getting Advertisers more and more, The Advertisements Model is very simple and cost-effective for the advertisers because Apna Bhada charging Advertisers on pay per square feet per kilometers plan so that from startup brands to bigs brands everyone can afford it with good ROI at the same time this is very effective media to reach maximum numbers of people compare to other Advertisements medias.
To know more about Apna Bhada, log on to https://apnabhada.in/
To get more updates, Follow us on
Facebook
,
Twitter
and
Instagram.
You can also join our
Telegram Channel