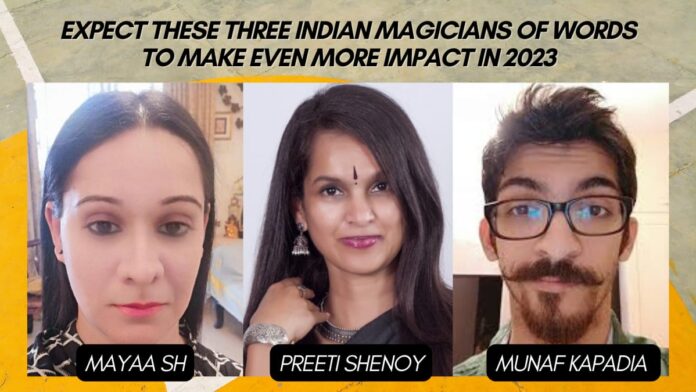 The Three Indian Magicians Of Words in our today's list are:
Mayaa SH

Preeti Shenoy

Munaf Kapadia
Mayaa SH
Mayaa SH is a multi National Award Winner and a Triple  World Recorder, An Artist and a Record Chart Topping International Fastest Anthology Co-Author. Mayaa SH is a Women Empowerment Culturist. She has depicted gender inclusivity and equality through her certifications from the United Nations and powerful writings on Feminism. Her work depicts the identity, economic and social freedom of many. She has co-authored more than 105 anthologies and has been aligned with more than 60 publication houses. She has been featured in several magazines and women oriented like Tejaswi -The Imperishable on Women Power and Honour including few international magazines. Mayaa has written on various topics like Feminism, Gender Equality,  Transforming Vision Into Action: Transmogrification on Transgender Community and Mental Health Awareness Topics. Her first poem "The Candle In The Wind" made her win an Award at the National Level. She navigates many women through stress by deploying talking as a medium to combat stress and fear . Being an absolute homebody at heart, yet extroverted, she often fantasies herself as a TEDx Speaker inspiring millions of women all across the globe to live their dreams. Mayaa is an avid motivator of uplifting women across all sections of the society by navigating them through emotions and empowering them to rekindle hope and self-belief. She also writes for several websites. Mayaa SH came to the limelight as one of the most vital positioning of her vision and a powerful writing emphasizing on "महिलाएं एक नागरिक समाज की निर्माता होती हैं" and many have labelled her as a powerful voice of contemporary society. Mayaa is popularly known as Mayaa Tai, Mayaa Di,Mayaa Audio SH, Pushpa 'The Fire' , Padma Of The East and Lady Gandhi.
An expert in Prose Writing and various poetic devises, she helps identify many with common concepts and create a range of effects in her writings.  She has Written For Patriotic Books like Vande Matram and Bharat Bhoomi, Regular at Lekhak Mandali, Writeathon Writing Challenge in March 2022 and was awarded with the limited edition trophy of tributary The 21st Century Emily Dickinson Award, She has also written quickest quotes under an anthology titled "दिल शायराना है 4 under DJ Publication, Several Articles for websites like Webstory India, The DailyBeat, The Update India, Hindustan Metro, Daily Hunt, Indian Stories Live, Tales That Matter, Funky News, RB Live Media, Republic News India, Medium, India Stardom, Youth Ki Awaaz, Stay Featured etc. Being an artist allows her to observe and evolve the way she wants. The creative license gives her a sense of freedom and liveliness. What she likes about an artist is that "Art allows you to paint the canvas of your Life with Bright colours. These colours are such that you can fly anywhere and no one can stop you. All it takes is a little bit of imagination." Mayaa's philosophy encapsulates Art as the means of inner peace. This is hard penance, it is Discipline. It is through this that any artist embodies the dream ideas from the golden and rainbow soul through the three gunas are called: sattva (goodness, calmness, harmonious), rajas (passion, activity, movement), and tamas (ignorance, inertia, laziness).
Preeti Shenoy
Preeti Shenoy is among the highest selling authors in India. She has written for various publications such as Times of India and Reader's Digest. She has given talks in several educational institutions, including the IITs and IIMs. She is very active on social media, and has an extremely popular blog. She is also an artist specialising in portraiture. Her other interests are travel, photography and yog.
After writing as a blogger, Shenoy published her first book, 34 Bubblegums and Candies, a collection of short stories based on real-life incidents. The second book by Shenoy, Life Is What You Make It, was published on 1 January 2011 and became a national bestseller, along with its sequel, Wake Up, Life Is Calling. Tea for Two and a Piece of Cake was published by RHI on 1 February 2012. Her fourth book, The Secret Wish List was released in October 2012. Her fifth book, The One You Cannot Have was released in November 2013. In December 2014, she released yet another fiction novel, It Happens for a Reason, the story of a single mother Vipasha. Her book Why We Love The Way We Do is a collection of essays on relationships. It's All in the Planet's was published in September 2016. A Hundred Little Flames was released in November 2017. Love A Little Stronger was released on 27 April 2018. The Rule Breakers was released on 17 September 2018.
Munaf Kapadia 
Munaf Kapadia is an Indian entrepreneur and author of the book How I Quit Google To Sell Samosas published by HarperCollins India in April 2021. He is the founder of The Bohri Kitchen and a Forbes 30 under 30 finalist (2017).
Munaf holds an MBA in marketing at SVKM's NMIMS and spent 4 years at as Aacount analyst at Google India. In 2015, he quit his job at Google India to become the full time CEO of The Bohri Kitchen.
In 2020, Munaf was commissioned by HarperCollins India to write a book about his experiences building and operating The Bohri Kitchen. The book How I Quit Google to Sell Samosas was released worldwide in April 2021.
To get more updates, Follow us on
Facebook
,
Twitter
and
Instagram.
You can also join our
Telegram Channel