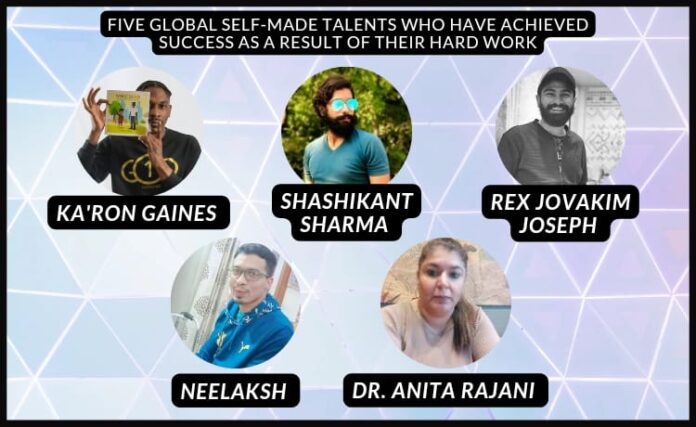 Five Global Self-made Talents Who Have Achieved Success As A Result Of Their Hard Work are
Ka'Ron Gaines

Shashikant Sharma

Rex Jovakim Joseph

Neelaksh

Anita Rajani
KA'RON GAINES – USA
The Global Literary Sensation and Creator of the term Woke Seed Ka'Ron Gaines aka Mr. One God recently created a world record for writing and publishing six books on the same day. Ypsilanti based entrepreneur, author, recording artist and activist Ka'Ron Gaines is also the founder of One God Publishing and One God Clothing.
Fondly known as Mr. One God, Ka'Ron Gaines is the global literary sensation based in Ypsilanti, Michigan, USA. He is the Creator of the popular term 'Woke Seed' which was recently incorporated into the Urban Dictionary. It means a conscious being that spreads enlightenment to others for them to enlighten themselves.  He rose to global fame after publishing his first book Woke Seed Book. Children and adults from all corners of the world were highly inspired by Light and his journey.
SHASHIKANT SHARMA – India
Shashikant Sharma (born 15 March 1994) is an Indian film actor who works in Hindi-language films.
Actor Shashikant Sharma made his Bollywood debut with 2019 film Risknamaa later worked in Match of Life movie in 2020, also played a character of Sarpanch in Farsh se Arsh tak for DD Rajasthan but rose to fame with 2022 web series Sandook – Ek Rahasya, film Smile Hear & Maskal 2022, other movies Ye Kaisa Pyar 2021, Broken Healer, Wrong Way – A way to death, No More D 2019, Chase 003 2020, and did some songs for Zee music company as a Director and Actor.
Shashikant Sharma with his Production 'Imperial Films And Studio' cover a 4-day celebration of 'Pitambara Maa's PrakatUtsav' in Datia, Madhya Pradesh this year with CM Shivraj Singh Chauhan, Home Minister Dr. Narottam Mishra, Jyotiraditya Sindhiya, former CM of Rajsthan Smt Vasundhra Raje and Bollywood Actor Akshay Kumar.
REX JOVAKIM JOSEPH – India, UAE
Rex Jovakim Joseph is a Software engineer, an entrepreneur with insight, an Investor for a reason, and in addition to all this, a student who is striving to add up his title as a lawyer – LLB in Criminology at Middlesex University Dubai.
During the first year of undergraduate studies, the lad climbed the wall of entrepreneurship and added the tag of CEO to his name. He invested in three startups in India and two in Dubai. The journey was never easy, but no tides were big enough to end his passions and dreams. He has published two books – "8oo8oo diary", "It's too big to grab" and "Basorexia of a naughty dirty brat."
"It's too big to grab" is a 52-page book with four chapters, including prose, poems and illustrations. The book is wrapped with countless puzzles hidden in every paragraph and word. S.U.L.T.A.N described in the book is still not revealed. Instead, it was just a word used to mislead the readers. The real SULTAN is still to be figured out.
"The book has 13+ prequels and 13+ sequels covering the history of three centuries blended with magical realism, true events and fantasies. The characters are just introduced in this book. Every character has a unique role in my series. The book is just an introduction to the main characters who play vital roles in my complete series. It took 128 days to wrap my book. Under high risk of mental distress, with the advice of my doctor, I began to chase down my dream. A dream which eventually started after my tenth grade. This book is not just a game with words but a surrender to my weakness and laziness. If a self-proclaimed failure like me could publish a book, then nothing is impossible," said Rex Jovakim Joseph when asked about his book.
NEELAKSH – India
Neelaksh is a hobbyist writer from Lucknow, Uttar Pradesh. Starting his journey in 2020, Neelaksh has already been featured in over 50 ebooks on various genres like romance, fear, etc.
Neelaksh James Ojha hails from Lucknow, Uttar Pradesh. He usually writes as a part of his hobby. He expresses himself beautifully and loves to write on different occasions. He always tries to bring smiles to everyone's face. He is always hopeful and brings positive memories to others.
He is a dreamer and achieves his dreams and wants to aim for the moon. He has done PG Undergraduate from JNPG. He started his writing Journey in 2020. He has got featured in more than 50 Ebooks. He writes on different themes like Romance, Fear etc. His aim is to bring the world close and free from hatred.
DR. ANITA RAJANI – India
Dr. Anita Rajani is a PhD in Inner Child IntegrationTherapist and an author. She has also acquired an Honorary Doctorate in Life Coaching from Grace Ladies Global Academy. She has culminated all her years of learning and experience into writing. She has published her book "Shivshakti –  The Continous Continuum". She has contributed to 7 Anthologies. Her new book "Inner voice –  A "Collection of Transformational Messages" is about to be published soon. She has also published a deck of Sai Baba Guidance cards in three languages English, Hindi and Marathi.
She is also featured on the top cover of Culture flash magazine and Allureiva international magazine.
We wish each of the five global self-made talents the best in all their future endeavours and look forward to more masterpieces from them in the future.
To get more updates, Follow us on
Facebook
,
Twitter
and
Instagram.
You can also join our
Telegram Channel