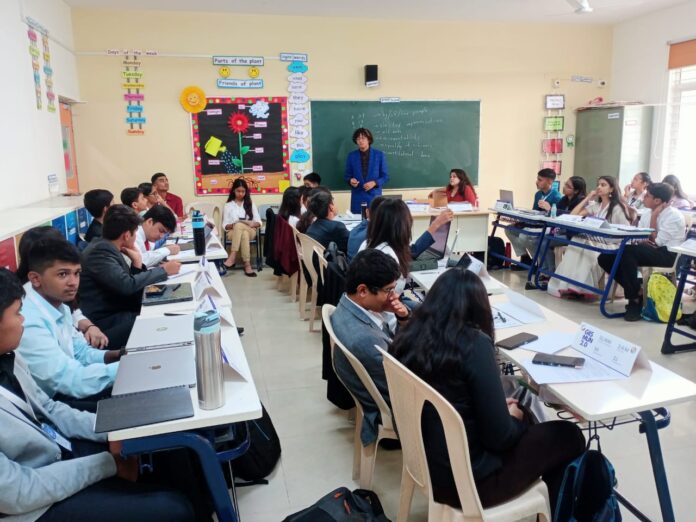 Ahmedabad (Gujarat) [India]: The Global Indian International School (GIIS), Ahmedabad recently hosted the second edition of Model United Nations (MUN) conference, where young students from various schools across the globe gathered to discuss and debate real-world issues. The conference titled GIIS MUN 2.0, was held at the school's campus in Ahmedabad. It aimed to provide a platform for students to engage in diplomacy and international relations, while also honing their public speaking and critical thinking skills.
The GIIS MUN 2.0 organized by the GIIS Ahmedabad students comprised students from Grades 8 to 12. They worked tirelessly for months to plan and execute the conference. The Conference saw participation of over 300 students from the Global Schools Foundation (GSF) network of schools, such as GIIS Ahmedabad, Noida, Bangalore & Pune, OWIS Bangalore, Vikaasa Schools, Madhurai, Glendale Schools, Hyderabad and GIIS Abu Dhabi. The conference began with an opening ceremony, where the Chief Guest, Murtuza Kutianawala, Founder and CEO of Bizz Baby Media and Entertainment addressed the gathering. He spoke about the importance of such events in shaping the future leaders of our society and commended GIIS Ahmedabad for organizing such a wonderful platform for young students.
"It is exciting to see all these students posing as delegates discussing and suggesting viable solutions to potential global problems, all under one roof. I congratulate all the team members for making it possible," said Mr. Caesar D'silva, Principal of Global Indian International School, Ahmedabad. He also added that through this event GIIS aims to empower its students with the skills and knowledge necessary to become global citizens, one who can actively engage in international affairs, diplomacy, and problem-solving. He believes in fostering a culture of respect, collaboration, and open-mindedness, where every voice is heard and every perspective is valued."
The GIIS MUN 2.0 summit was divided into various committees, each focusing on a different issue of global significance. The committees included the UNSC, DISEC, WHO, Lok Sabha, Viceroy's Cabinet and IPC. Participants were assigned one committee each based on their interests and expertise to present their views over the topic and draft necessary actions to be taken by discussing with other members on common ground.
The delegates were assigned as leaders representing a political party and were requested to research and prepare position papers on their respective countries' stances on the given agendas. And, this was later followed by debates and discussions with other delegates in their committees.
Students from around the globe represented each committee moderated by club members, a total of 60 students represented as Lok Sabha delegates to address the issue of Kashmiri Pandits, total 51 addressed and discussed ISIS Taliban issues connected with United Nation Security Council (UNSC), the council of World Health Organization (WHO) had 60 delegates from across countries to discuss and find solutions for the rise of the black market in the health sector and 59 delegates from the Disarmament and International Security Committee (DISEC) discussed trade of small arms and light weaponry with emphasis on Latin America.
The GIIS MUN 2.0 conference was a huge success, with the participants expressing their gratitude towards GIIS Ahmedabad for providing them with a great platform to learn and grow. The delegates also commended the club members for their hard work and dedication in organizing the conference.
Mr. Ashish Tibdewal, Country Director, Global Schools Foundation, India, felt extremely proud of the GIIS MUN 2.0  conference; he added, "the level of engagement and enthusiasm displayed by the students is a testament to their dedication and passion for global issues. Moving forward, we will continue to provide opportunities for our students to develop their leadership skills and become active global citizens."      
Followed by the event, the school has also organized visits that enabled participants to explore places such as Gandhi Ashram Sabarmati, Vintage Village and The Statue of Unity. The success of GIIS MUN 2.0 has set the bar high for future MUN conferences in Ahmedabad. It has also highlighted the importance of such conferences in shaping the future leaders of our society.
To get more updates, Follow us on
Facebook
,
Twitter
and
Instagram.
You can also join our
Telegram Channel