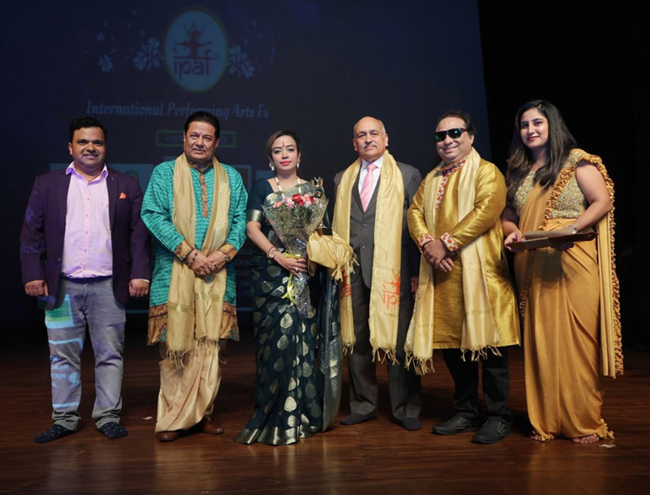 New Delhi: The International Performing Arts Festival (IPAF) successfully launched its monsoon festival, "Ritu Chakra Megh Barso Re", on August 31st at the Kamani Auditorium in New Delhi. The festival aims to showcase the best of Indian classical and contemporary dance forms, music, and theatre performances.
The festival highlighted the Nritya Ratan Youth Icon Award presented to Dr. Khushboo Panchal, a renowned Kathak dancer, and young influencer by Hon'ble Justice Pankaj Mithal, Supreme Court of India along with Padma Shri & Bhajan Samrat Anup Jalota, Grammy Jury Member & GiMA Award winner Pandit Prodyut Mukherjee and Shyam Pandey, Founder & CEO of IPAF.
Dr. Khushboo Panchal who is PhD in Kathak and founder of Dance Institute Nrityaradhana after winning the award said, "I am honoured to receive the Nritya Ratna Youth Icon Award. This award is a testament to the hard work and dedication I have put into my dance journey. I would like to thank my guru and family for their support.
It was the first Nritya Ratna Youth Icon Award for IPAF. The dance performances included a Devaki Kathak recital by Shivani Varma, a Duo concert by  Padma Shri & Legendary Bhajan Samrat  Anup Jalota and Prodyut Mukherjee, Jury member Grammy Award, GIMA Awardee and Tabla Maestro & Composer.
The festival was a huge success, and it was attended by a large number of people. The performances were well-received by the audience, and they were praised for their artistry and technical excellence. The festival was a great showcase of the rich and diverse cultural heritage of India.
The IPAF is an initiative by social entrepreneur Mr. Shyam Pandey, with the mission to promote Indian art and performance through a variety of programs and events. The festival is one of the organization's flagship programs, and it has helped to showcase the best of Indian art and performance to a global audience and also aimed to unite societies and cultures with a fusion of arts globally.
"It was a wonderful moment for all of us to witness such tradition and fusion of art and culture of India," said Mr. Shyam Pandey, founder and CEO, of IPAF. He also congratulated Dr. Khushboo Panchal for her exceptional contribution in encouraging the Indian performing arts. The IPAF  is committed to providing a platform for young and upcoming artists. The Nritya Ratna Youth Icon Award is one of the ways to support young artists. The award is given to a young artist who has made significant contributions to the field of dance.
The IPAF is a valuable resource for the Indian art and performance community and has organized more than 220 shows worldwide, has supported thousands of artists to live with honor and has contributed to national integration over the last eight years.
IPAF encourages art forms and holistic traditions through performing arts across societies. "We believe firmly that the future of traditional arts and promotion of such arts through performing arts could be very inviting and entertaining.
IPAF supports Vayu Yoga, Classical dances, Folk dances, abled artists, and upcoming artists to ensure that the tradition remains vibrant and is passed down to the youth. The IPAF festival has already expanded its wings to the capital and culturally rich cities of India. It organizes festivals from Kashmir to Kanyakumari and Imphal to Ahmedabad every year to promote and support performing arts and Divyaang artists of the society.
To get more updates, Follow us on
Facebook
,
Twitter
and
Instagram.
You can also join our
Telegram Channel