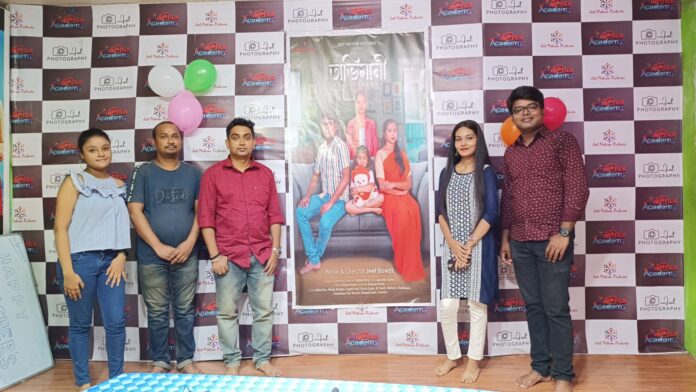 What would the world be like without movies? Well, the quick answer would be a lot less entertaining. Movies make us laugh, cry, jump with joy and grab the nearest pillow in fear. Jeet Motion Pictures Pvt Ltd in Kolkata is one of the leading businesses in the Film Production Houses. Also known for Film Production Houses, TV Serial Production Houses, Short Film Production Houses, Drama Production Houses, Advertisement Production Houses, Dance Production houses, and much more.
Filmmaker Biswajit Biswas established Jeet Motion Pictures Production in January 2017. Known for its visually stunning, atmospheric films, Jeet Motion Pictures is one inventive and creative brand of the Indian film business that manages each project from conception to completion. Additionally, they provide comprehensive video production services and video consultation using the latest cutting-edge technologies. They always operate at the highest level, working fast, professionally, and effectively to produce great production value for your film production. Every time, their talented and highly skilled team of professionals knows how to deliver the greatest outcomes on time and within your budget.
Now under the leadership of Jeet Biswas, Jeet Motion Pictures Pvt Ltd has reached new heights by expanding its wings with JMP Film Academy as a part of Jeet Motion Pictures Pvt Ltd. With the unique traits of creative thinking, problem-solving skills, and knowledge of lighting techniques in film and resilience Jeet Biswas embarked on his journey as a director and established his own acting and modeling academy where they groom new and emerging artists through their online acting classes by the renowned actors and actresses of Bengali Film and Television Industry. JMP film Academy gives chance to every newcomer in web series and films produced by Jeet Motion Pictures PVT Ltd. They also provide free acting courses to talented artists who belong to a financially weak background.
The myriad of services provided by Jeet Motion Pictures includes Portfolio shoot, Camera Acting class, Modelling, normal photoshoot, JMP Advance level 1 year Diploma, Ad film, Short film, feature film, web series, video album, Music Album and many more.
Born and brought up in Kolkata Jeet Biswas apart from being a filmmaker he is also a Writer and widely known for his unique writing skill in Bengali Cinema. He has also directed many short films & Music Videos in the Bengali Language. His "Priya mora jiya mora" Album Gets Viral amassing over 1.2M Views on YouTube. Though he Started His Career as an Actor he was more inclined to become a Film Writer & Director. His Short film Hangout Unlimited Carry's The Different Venture in Bengali Cinema. He was also engaged with a satellite channel named Dhoom music.
Needless to say, Obviously, the Covid 19 pandemic has transformed many parts of our lives, reshaping our interpersonal relationships in ways we have never experienced before, causing us to live more closely with some people and farther away from others. Maintaining frequent, close communication with our family and partners has been necessary for life in lockdown. There was only one lesson we had learned from the lockdown: the importance of family. While everyone suffered during the lockdown and lost something, some relationships have strengthened, but it has not been easy for many. Director Jeet Biswas made an attempt to showcase a family Drama and the importance of a relationship with his film Avimani (The Lockdown) based on the events during the lockdown.
Learn more – www.jeetmotionpictures.com
To get more updates, Follow us on
Facebook
,
Twitter
and
Instagram.
You can also join our
Telegram Channel