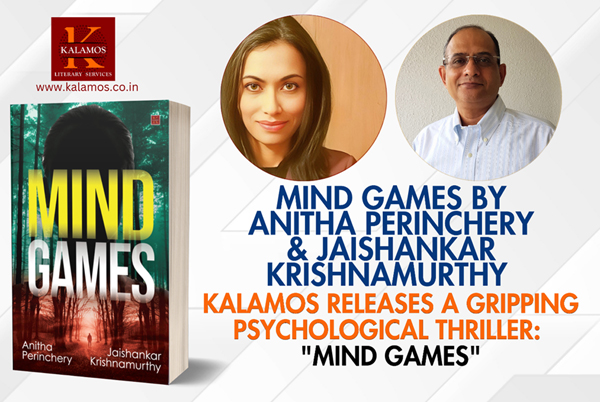 In the realm of modern literature, the fusion of suspense and psychological intrigue often results in the most captivating narratives. "Mind Games," authored by JAISHANKAR KRISHNAMURTHY and ANITHA PERINCHERY, seamlessly intertwines these elements in a thrilling journey of mystery and deception. Set against the backdrop of Chennai, this novel takes readers on a roller-coaster ride through the complexities of the human mind and the dark secrets that lie beneath.
A RIVETING BLURB: A GLIMPSE INTO THE INTRIGUE
"Mind Games" introduces us to Preethi Ratnam, a brilliant computer science student tormented by recurring dreams of a blood-stained visage. The blurb immediately propels readers into her world, where a chilling question looms: Has she committed murder, and if so, who is her victim? As Preethi grapples with her own subconscious and seeks answers, a new chief medical officer at her father's mental health clinic becomes her only ally.
However, Dr. Shekhar, the enigmatic psychiatrist, harbors secrets of his own. Fuelled by a desire for retribution and armed with knowledge of Preethi's skills and connections, he sets out to dismantle a corrupt drug testing center owned by Preethi's father. Within its walls lie labyrinthine webs of deceit, including the loss of someone dear to Shekhar. As his attempts to infiltrate the center fail, Dr. Shekhar identifies Preethi as his key to unlocking its secrets.
What follows is a gripping tale that spirals into something far larger than Shekhar expected – a convoluted web of family mysteries, suicides, rumors of mental illness, and the inexplicable disappearance of employees. Amidst the chaos, Dr. Nandini, the center's second-in-command, emerges as a captivating yet mysterious character, her true intentions shrouded in uncertainty. The discovery of a second blood-soaked body heightens the stakes, driving Shekhar to untangle the truth before more lives are claimed by the chilling mind games unfolding within the drug testing center.
AUTHORS' BACKGROUND AND WRITING STYLE
JAISHANKAR KRISHNAMURTHY brings to the table extensive experience in finance and business, combined with a passion for writing. ANITHA PERINCHERY, known for her versatility in crafting thrilling narratives, adds depth and dimension to the story. Their collaborative effort has resulted in a narrative that engages readers from the very beginning.
The authors' meticulous research is evident in the vivid portrayal of medical intricacies and the intricacies of human psychology. The language is accessible yet nuanced, striking a balance that ensures both avid mystery readers and newcomers can immerse themselves in the narrative.
PUBLISHER'S VISION: BREAKING BARRIERS IN LITERATURE
"Mind Games" is the third offering from Script a Hit, a unique platform founded by Jai Krishnamurthy to bring untapped literary and creative potential to the forefront. The platform aims to bridge the gap between ideas and their transformation into novels or audio-visual scripts. As a publisher, Kalamos Literary Services LLP aligns with this vision, aiming to produce high-quality content that resonates with readers across the nation.
CLOSING REMARKS: AN EXHILARATING MUST-EXPLORE
The novel "Mind Games," co-authored by JAISHANKAR KRISHNAMURTHY and ANITHA PERINCHERY, exemplifies the prowess of collaborative storytelling. With its intricately woven plot, captivating character portrayals, and unexpected turns, the book unfolds into a captivating narrative that seamlessly interweaves elements of crime, psychology, and mystery. For enthusiasts of multifaceted protagonists and narratives that sustain intrigue until the final pages, "Mind Games" merits a prominent spot on your reading list. Secure your copy today, and brace yourself to immerse into a realm teeming with danger, curiosity, and an unyielding sense of suspense.
To get more updates, Follow us on
Facebook
,
Twitter
and
Instagram.
You can also join our
Telegram Channel