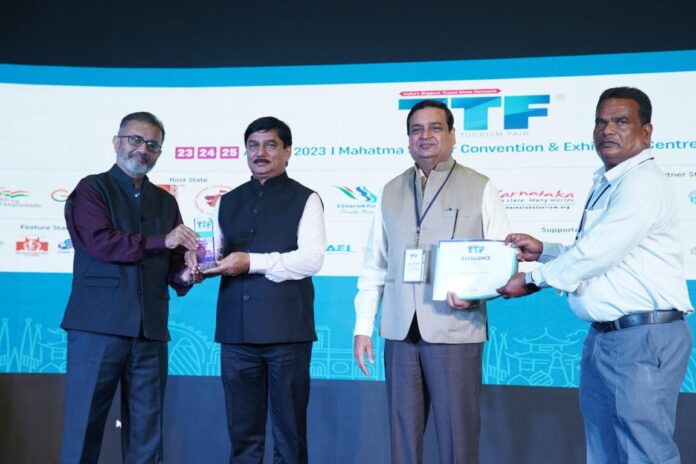 Karnataka Tourism Awarded the Best Stand for Design & Decoration at TTF Ahmedabad 2023 Karnataka Tourism, known for its captivating blend of ancient heritage, vibrant culture, mesmerizing wildlife, untouched beaches, and exhilarating adventure opportunities, enthralled attendees at TTF Ahmedabad 2023. The event, held at the Mahatma Mandir Convention Centre from August 23rd to 25th, served as a remarkable platform for Karnataka Tourism to promote its heritage and wildlife with a spacious 207 sq. mts stand.
The Karnataka Tourism stand at TTF Ahmedabad beautifully showcased the state's opulent heritage and varied wildlife. The booth prominently featured the iconic Lotus Mahal, a testament to the state's architectural brilliance and regal history. Furthermore, the stand thoughtfully highlighted the state's diverse wildlife, illustrating the wealth of its natural beauty and biodiversity.
The Karnataka Tourism stand at TTF Ahmedabad 2023 was awarded the Excellence Award for Best Design & Decoration. This accolade underscores the exceptional presentation and innovative design of the stand, underscoring Karnataka's dedication to offering visitors an engaging and visually enthralling encounter.
The stand effectively combined elements of heritage and wildlife, providing a comprehensive representation of the state's unique attractions. By seamlessly integrating heritage and wildlife, the Karnataka Tourism stand at TTF Ahmedabad 2023 offered visitors an immersive experience, inviting them to explore the rich cultural tapestry and natural wonders that Karnataka has to offer.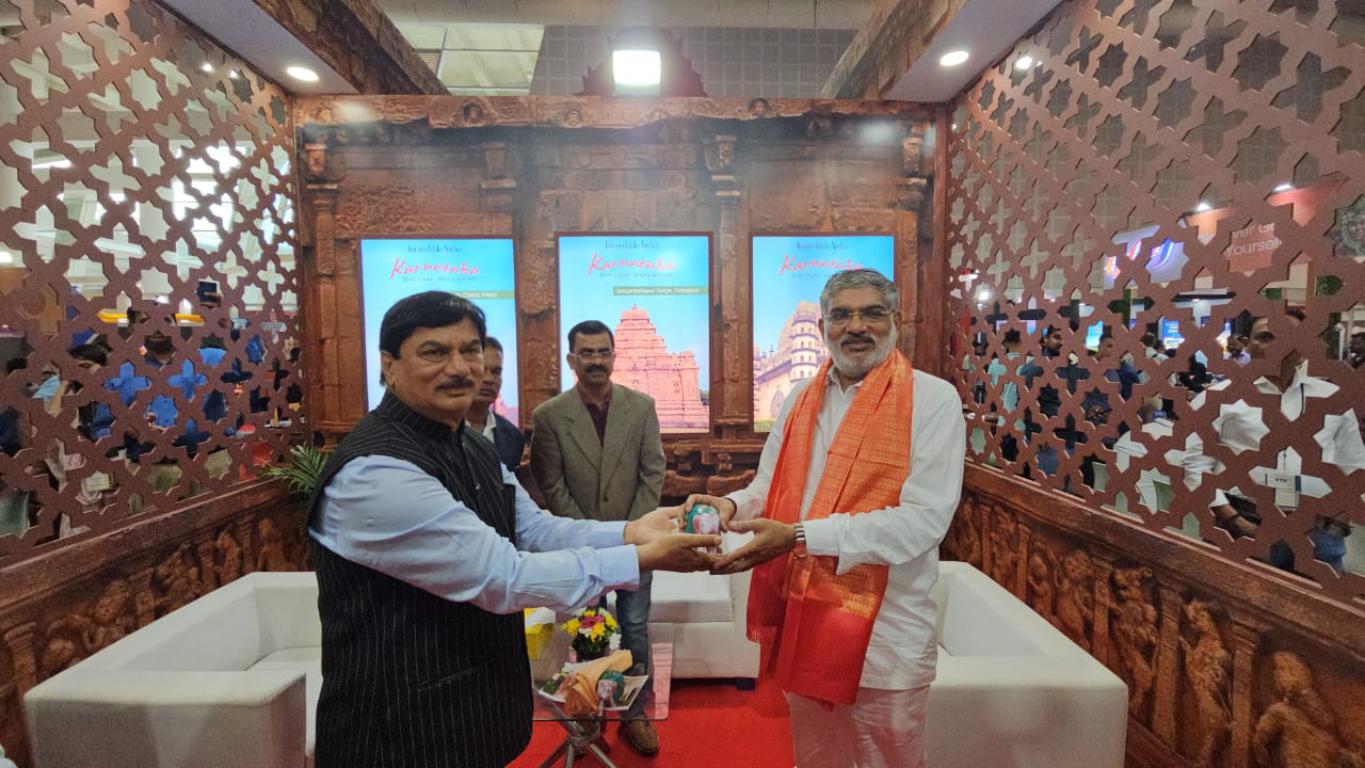 The Karnataka Tourism stand was inaugurated by Shri. Mulubhai Bera, Hon'ble Minister for Tourism, Gujarat, in the presence of Shri. D Nagaraj – Assistant Director, Department of Tourism, Shri. Ratnakar HT – Tourism Advisor, Jungle Lodges & Resorts, Shri. Poovappa MT – Manager, Jungle Lodges & Resorts and Shri. Saket Das – Manager, KSTDC. The pavilion included various tourism service providers from Karnataka, such as Sps Holidays and Cabs, Mysore International Travels Pvt. Ltd., The Quorum Hotel, Rivido Hotels & Resorts LLP, Wisdom Vacations, Binary Exotica Luxury Hotels & Resorts, Cintacor Island Resort, Tripbanao, Aglaonema Hotels and Resorts, Kadkani River Resorts Pvt. Ltd., Mysore Taxiwala Car Rentals Pvt. Ltd.,  Roopa Elite, Woodstock Resorts, Galore Inn LLP, Bangalore Taxi and Holidays, KTC Tours & Travels, Honeydewwz Exoticaa, TGI Hotels, Binding Resorts Quality Holidays and Cars Pvt. Ltd., Bigtravels, Global Village Luxury Resorts, Rio Meridian Hotels Pvt. Ltd., Elite Tours and Travels, San Group of Hotels, Transprofessionals Tours and Travels Pvt. Ltd., Java Rain Resorts, Hotel Golden Castle, Gate 6 Holidays, Hotel Preethi International Pvt. Ltd., Orange Coaches, Advaitha Serenity Resorts, Trivik Hotels and Resorts Pvt. Ltd., Blue Berry Holidays LLP, Sunshine Logistics, Safeway Explorers Pvt. Ltd., Travel India Company, Niraa Wellness, Gamyam Beach Resort and Spa, Skyway International Travels, Intersight Tours & Travels and Kimmane Golf Resorts further highlighting the comprehensive tourism experiences available.
During the event, the Karnataka Tourism delegation engaged in discussions with domestic tour operators, travel agents, and other key stakeholders. These interactions aimed to strengthen existing ties and establish new partnerships, ultimately boosting tourism to Karnataka.
Karnataka Tourism's notable presence at TTF Ahmedabad 2023 serves as a testament to its unwavering commitment to showcasing the state's remarkable potential and captivating offerings. The event garnered an enthusiastic response, with both visitors and trade partners displaying keen interest in Karnataka's diverse tourism spectrum. With its unparalleled diversity, Karnataka stands as a year-round magnet for tourists, offering experiences that range from serene beach escapades to explorations of ancient monuments and palaces, and even thrilling wildlife encounters. The success of Karnataka's participation at TTF Ahmedabad 2023 underscores its capacity to entice travellers not only from Ahmedabad but also from regions beyond, further solidifying its status as a premier tourist destination.
To get more updates, Follow us on
Facebook
,
Twitter
and
Instagram.
You can also join our
Telegram Channel