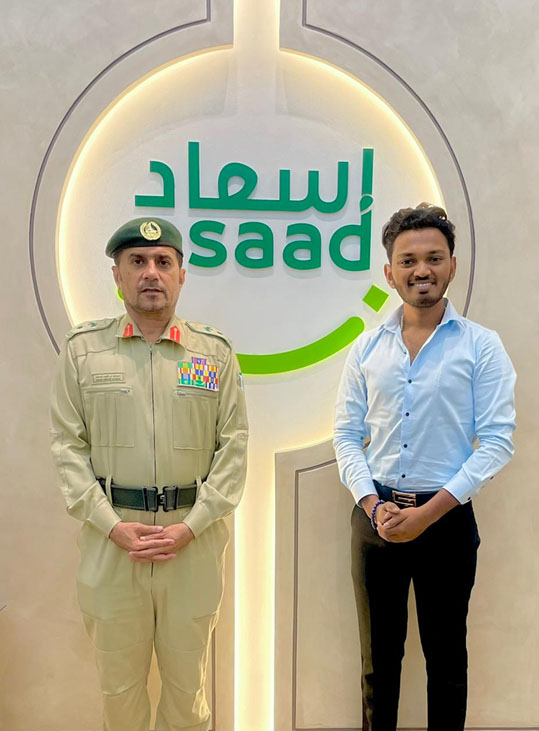 Dubai (UAE): World's Youngest Reiki Healer and Tarot Card reader Ayush Gupta is in Dubai for spiritual sessions and readings with the Royal families of Dubai and other Emirates. Since he was in Dubai he was Hosted by the Lieutenant Colonel of Dubai Police, Masoud Alhammad, who's famously known for hosting many Bollywood and Hollywood celebrities and often seen posing with football stars. Recently Masoud Alhammad and his son Ibrahim Alhammad posted a picture with Salman Khan on his Instagram.
Ayush and Alhammad had a comprehensive discussion about how meditation is becoming a medium for blurring boundaries globally and transforming people's life, because after happy and healthy people are more productive at work which is ultimately better for the country and humanity. They spoke in much detail and depth about how both the Nations can work together towards building a strong working relationship and how it can benefit citizens of both the countries specially Indians living in Dubai. Masoud Alhammad has also assured Ayush that he will get the assistance and support from Dubai police with his work.
Meditation has the power of connecting one to themselves and evolve us into more sentient and empathetic towards humans as well as animals. In his chat with Ayush, Alhammad also mentioned the significance of treating animals with love and care for the development of prosperous, benevolent and empathetic society. It is very important that we sustain the flora and fauna around us, and to work towards environmental and ecological development along with the economic development. 
Ayush Gupta and Masoud Alhammad spoke about carrying out a meditative and spiritual session for the Dubai police. Ayush Gupta along with his sister Aarvika Gupta who is a International certified Yogini have also planned out a spiritual retreat in Dubai. They have successfully conducted Anannt Oorja Safar in different regions and it received a great response from the participants and they say that they've felt immense changes in their life and would want to go through the spiritual journey again. Ayush Gupta says that he'd definitely meet Masoud Alhammad whenever he's in Dubai.
Ayush Gupta has shared his picture with Lieutenant Colonel of Dubai police Masoud Alhammad on his Instagram for his followers, check it out: https://www.instagram.com/p/CfolKzLpOIG/?igshid=YmMyMTA2M2Y=
To get more updates, Follow us on
Facebook
,
Twitter
and
Instagram.
You can also join our
Telegram Channel