The excitement of Journey: Aspiring to Inspiring Edition 2 is at its peak.
So before feeling that vibes we are here to introduce the ideation behind this event, which is an epitome of applauding team efforts None other than "Mrs Saravjeet Kirad."
Mrs Saravjeet Kirad, a personality who is a firm believer of EDUCATION FOR ALL.
A management postgraduate, veteran educator and entrepreneur who believes in justifying the purpose of existence is that she wishes to lead a life filled with the desire to serve, uplift, and empower people from all walks of life.
She is one who redefined learning methods when it early education under her brainchild "Scholarstree Educare Private Limited."
The founder of Scholarstree Educare Private Limited is always up with a vision to encourage students to acquire, exhibit, communicate, and appreciate knowledge and skills that will enable them to engage in and contribute to the global world as life-long learners while also practising the school's fundamental virtue, tolerance and inclusiveness, and excellence.
ScholarsTree is on a mission to provide a secure, developmental, and nurturing atmosphere that fosters the social, emotional, cognitive, and physical growth of its students. We aim to cultivate individuals with a positive self-image and a drive for learning.
Their philosophy is aligned with the thought of eminent  Educationists of helping provide an appropriate environment, culture, moral values, love, and knowledge to children. The curriculum is research-based, based on learner-centred methods, participative methods, and new-age life skills, and is a perfect amalgamation of conventional practices and modern learning methods. We have adopted best curriculum practices and new developmental practices by focusing on continuous evaluation and improvement in our pedagogy.
on 5th February 2022, Team Eduthon made a royal entry on social media with the tagline of Education Beyond Syllabus.
More than 6 conferences were held till now with proud viewership from more than 8 countries and proud expansion of team within Pune, Mumbai, Nagpur and different corners of India.
And Mrs Saravjeet Kirad is one of the founder members of eduthon who led this milestone through her leadership skills.
Apart from this, Mrs Saravjeet Kirad was awarded on various occasions for her entrepreneurial skills, vision for better tomorrow and habit of taking everyone along to grow together.
If you want to learn something from her as an administrator you can identify her approach while opportunity seeking within the tough problem.
She is led by example when it comes to persistence, commitment to work contracts, risk-taking, demand for efficiency and quality, goal seeking, information seeking from verified sources, systematic planning and monitoring, persuasion and networking, and boosting of someone's self-confidence.
In the long run, she is even planning to start an educational institute for underprivileged children.
So you can contact her via email
[email protected]
[email protected]
And contact number
9924662866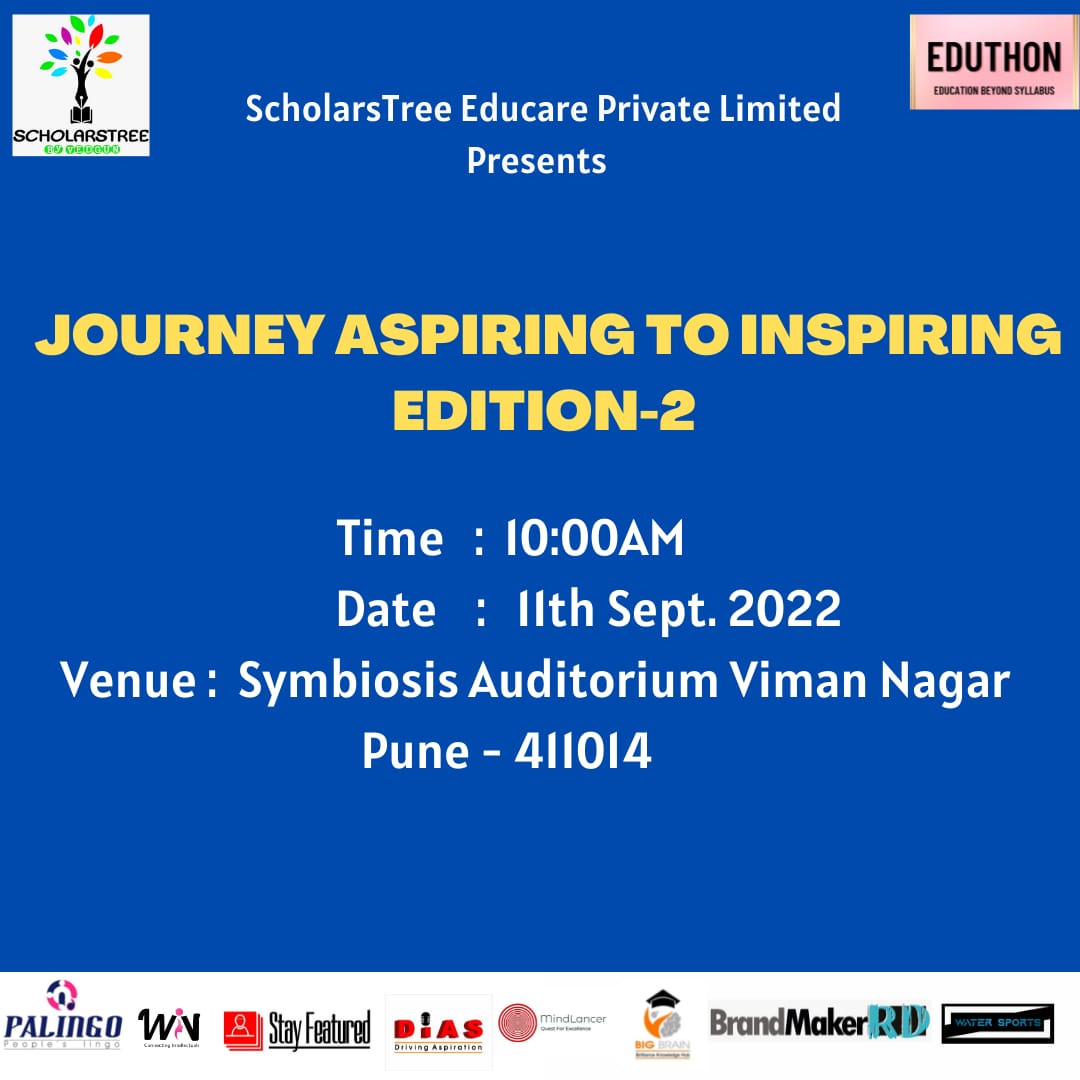 About a "journey aspiring to inspiring edition 2"
One fine day, Mrs Saravjeet Kirad, founder of scholarstree educare private limited clicked up with one thought " there is everything for celebrities, pageantry, sports persons, but there are less than few events for teachers, why not we initiate and felicitate teachers from untapped regions, domains and areas?"
So she picked up this thought for a brainstorming and right mode of implementation in front of Mrs Shweta Pankaj.
As a result of continuous efforts despite pandemic 2021, Journey-: Aspiring to Inspiring has launched on the eve of Teachers day on 4 September 2021 with the idea to give due respect to the educators who are the pillars, The backbone of the education system and the building blocks of our society who help us Lay a firm foundation of knowledge and wisdom.
When we observe an educator's journey it seems to be simple or straight, but if we eye a broader perspective of the educator's journey where an educator ignites his or her career as an assistant teacher, the instructor then reaches the highest post of the institution, we will come to know about all the hardships.
last year's edition already witnessed many inspiring stories like this and this year they back with many more stories.
So, Journey: Aspiring to Inspiring Edition 2.
WELCOME ALL to spread awareness about joining educators' professions to empower each other. Don't forget to hear some inspiring Stories during the celebration of TEACHER'S DAY on 11th September.
Venue: Symbiosis Auditorium Viman Nagar Pune.

Time: 10:00 am
For this year edition, The Complete event is
Conceptualized by -: ScholarsTree Educare Private Limited, Eduthon Education Beyond Syllabus

Media Partner-: Stay Featured

Connecting Partner-: Win Connects Win Connects Intellectual Network TM & Palingo

Collaborator: Mindlancer, DIAS, Big Brain Brilliance Knowledge Hub, DIAS – Driving Aspiration

Online PR Partner: Brand Maker RD

Regional news: 'Samruddha Vyapar'

Supported by: Watersports

Special collaboration: Shotokon Karate-do sports association
To get more updates, Follow us on
Facebook
,
Twitter
and
Instagram.
You can also join our
Telegram Channel