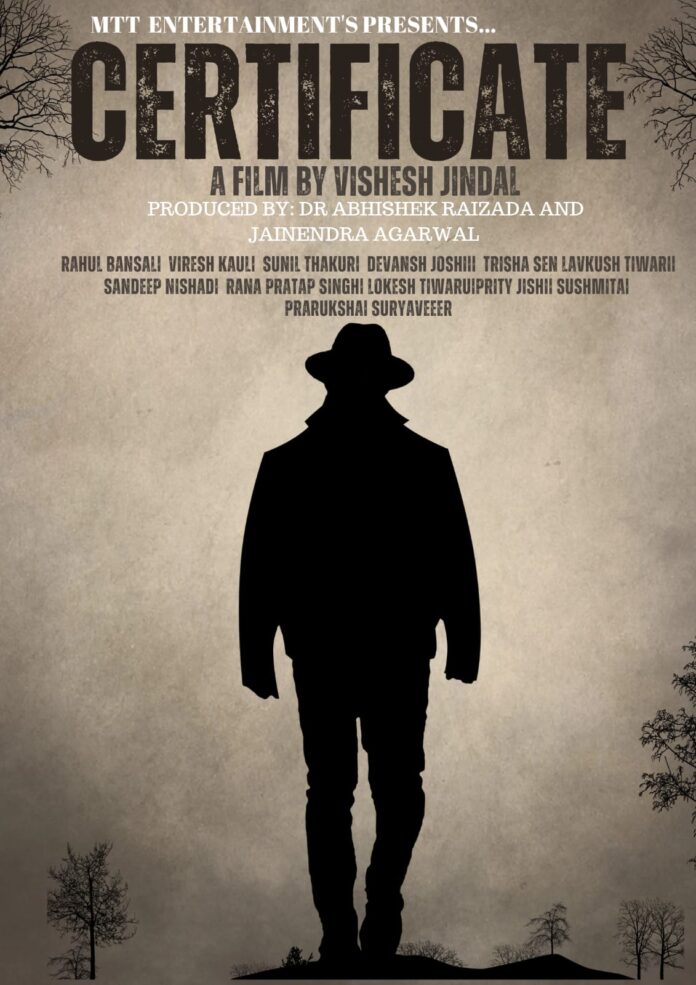 MTT Entertainment's webseries "Certificate" has already caught the attention of viewers with its intriguing premise. As the independent filmmaker Vishesh Jindal gears up to start shooting for his debut project, anticipation is building among fans who are eager to witness the magic unfold on screen.
Under the expert guidance and production of Dr. Abhishek Raizada and Jainendra Agarwal, "Certificate" promises to be an enthralling mix of mystery and sensuality.
The support received from Devansh Joshi, Viresh Kaul, Sandeep Nishad, Lavkush Tiwari, Rana Rudh Pratap Singh, Lokesh Tiwari, Prity Joshi, Sushmita, Rahul Bansal, Sunil, Suryaveer, and Pratiksha further adds to the credibility and excitement surrounding the project.
With a talented ensemble cast, headed by the charismatic Trisha Sen and Viresh Kaul, "Certificate" is poised to captivate audiences with its unique storyline. As the cameras start rolling, viewers can expect to be taken on a thrilling journey filled with suspense, passion, and unexpected twists. As a rising production house, MTT Entertainment aims to push boundaries and challenge conventional storytelling norms. "Certificate" is a testament to their commitment to delivering innovative and thought-provoking content that leaves a lasting impact on its audience.
Stay tuned for updates on the progress of "Certificate," as the team works tirelessly to bring this gripping webseries to life. From the direction to the performances, every aspect of this project is meticulously crafted to ensure an immersive and unforgettable viewing experience.
As fans eagerly await the release of "Certificate" it is clear that MTT Entertainment is set to make a significant mark in the world of webseries. Get ready to embark on a thrilling journey that will keep you on the edge of your seat, as "Certificate" unfolds its captivating tale of mystery and desire.
Instagram link: https://www.instagram.com/jainendrasinghal29/?igshid=MzRlODBiNWFlZA%3D%3D
To get more updates, Follow us on
Facebook
,
Twitter
and
Instagram.
You can also join our
Telegram Channel