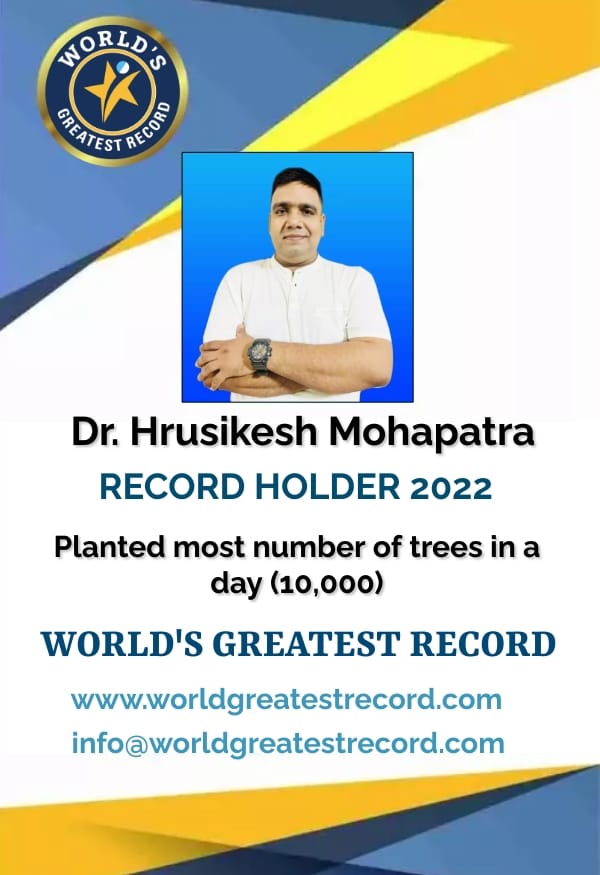 Indians have historically been the best when it comes to breaking world records for incredible feats. Many Indians hold multiple world records in a variety of fields, including business, science, sports, technology, medicine, and social work. Indians have a long history of creating excellent work. One of them is Deshpremi Rishi, an Odisha social activist who holds numerous world records for producing excellent work with pride. You won't believe Deshpremi Rishi claimed those world records, which are amazing records.
On November 17, 2022, Deshpremi Rishi—a multiple world record holder from Odisha, India, and well-known for his humanitarian work—broke the record for the most medicinal herbs planted in a single day on a global platform. He has planted 10,000 trees in one day and made his name to World's greatest Record.
Deshpremi Rishi, an Odisha native, founded the well-known charity "PRAYASH" in that state. Dr. Mohapatra's Prayash Foundation distributed over 90000 meals, masks, and hand sanitizer to homeless individuals during the pandemic. Throughout the pandemic, he also provided for the daily needs of 30 blind people in Odisha who had been adopted by him. For Deshpremi Rishi, Prayash gave a speech in which he introduced Shri B.K. Mohapatra Tatkal Sewa. It serves as an emergency relief fund for those in need during accidents, floods, or cyclones. He provides 10 moderate families with monthly grocery deliveries, and so far 5000 families have benefited from this. In addition, he distributed more than 50,000 blankets and 10,000 sarees to the homeless over the winter.
Deshpremi Rishi has reached a milestone in his life that has encouraged honor in his family and the country, something that many people can only hope to do. Deshpremi Rishi, who approaches life in a variety of ways and with humility, is constantly breaking records in an effort to be better and more unique. Here are some incredible accomplishments made by Deshpremi Rishi that are hard to comprehend. Deshpremi Rishi is a World Peace Ambassador and the Director of the Mahatma Gandhi Global Peace Foundation (Bhubaneswar). He also introduced the Prithviraj Dibyang Swabalambi Yojana, which he used to help physically challenged people who were also economically underprivileged.
Deshpremi Rishi was recently honored by the Forever Star Book of World Records with an Honorary Doctorate Award in recognition of his excellent work, standout performance, and remarkable role in the humanitarian and social work fields. Besides he was felicitated with various honours, to name a few it includes Doctorate Award as Doctor of Philosophy in Social Welfare from the International Open University of Humanity Health Science and Peace, Genius Book of World Record as the most Iconic social activist of the nation, honorary Doctorate Award by Forever Star Book of World Record for his excellence in the field of social work, Hope International World Record as the emerging social worker of the Nation, International Excellence Award 2022, Gandhi Sewa Ratna Award 2022, Doctorate Award in Education and Peace by International Crime fighters and Allies Ghana (West Africa), Doctorate Award in social science by the International university of studies and research in Algeria. He also has world Records with – World Greatest Book of Record, Grand Asian Book of Record, Great Indian Book of Record, Bright International Book of Record,State & National.
His other achievements also Conferred includes
Top 100 Educator by Glantor X 2022

City Excellence Award 2022

Top 100 Future Leaders by Foxclues 2022

Top 20 Personality in India by US Art Gallery & Bright International

Global Star Icon by US Art
Instagram – https://www.instagram.com/p/ClsgZpUvuV4/?igshid=YmMyMTA2M2Y=
Facebook – https://m.facebook.com/story.php?story_fbid=pfbid028opwGWa9iTPrpo8USKExz5Fz2d5VGJLrhHosTYTkoaroSDBhhT3WeJZrEziMsnnMl&id=100070869501110
To get more updates, Follow us on
Facebook
,
Twitter
and
Instagram.
You can also join our
Telegram Channel