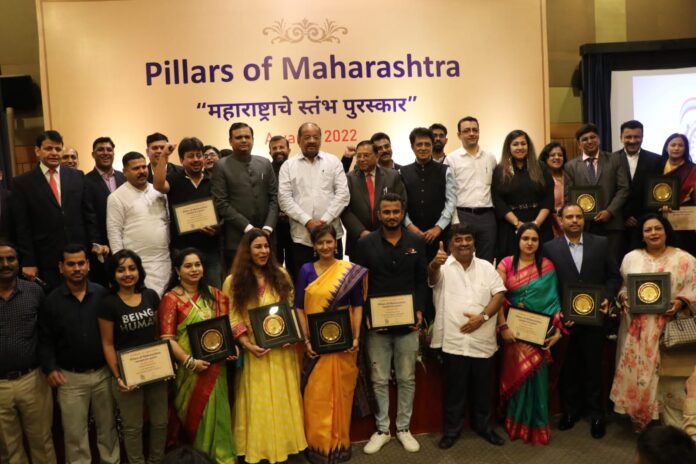 Mumbai (Maharashtra) [India]: The month of August Mumbai City, known to be the financial capital of India witnessed an epitome of felicitation awards "Pillars of Maharashtra Awards 2022 " which took place on 28th Aug 2022 , heavy contributors like Individuals, Business Owners, Industrialists, Artists and contributors from Film /Television Industry were recognized and felicitated for their phenomenal contribution in their respective fields, who are Making Maharashtra and India Proud
Maharashtra Societies Welfare Association also known as "MahaSeWa" established in 2002 having their wings spread to about 40,000 Societies in Maharashtra in association with Red Ant a leading PR Company organised "Pillars of Maharashtra Awards 2022 ", in association with MNS Media Service and Bharat Today.
Present at the Dias were CA Ramesh Prabhu Chairman MaHaSeWa), Chief Guests 1) Shri Gopal Shetty (MP), 2) Shri Rahul Narvekar (Speaker of Maharashtra Legislative Assembly, 3) Adv Adish Aggarwala (President of International Jurists Association), Mr Yogesh Patil Director "Maharashtra State Board of Skill, Vocational Education and Training" and many more
Contributors from various Categories were felicitated:
Namrata Dhasmana – Socio Economic Analyst Anchor & Thought Leader

Dr Shubham Mahajan – Business Owner

Mr Saurabh Sanghavi – Next Tourism

Mr Nilesh Dhahifule –  Swastik Enterprises

Mr Anupam Shukla –  Institute of Construction Equipments & Lifting Machines

Mr Aslam Sheikh   –  (MD) Swimwell Pools India Pvt Ltd

Mr Navnath Dongare Patil   –  Director Uttech Ecosys Pvt Ltd

Dr Kishor Navandar   –  CMD Blue Billion Group

Dr Heli Shah   –  Dr Heli's Aesthetic Studio

Mrs Shruti Gaokar   –  Social Worker and Vastu Consultant

Mr Kamlesh Rakshe   –  Social Worker

Dr Satish Rajhans & Dr Madhura Kulkarni  –   Veterinary Doctors

Namita Rajhans & Tasneem Lathiwala  –   Shimmer Entertainment

Mr Narendra Bhutda  –   Innovative Hydro Carbons India Pvt Ltd

Dr Monisha Rawat  –   Monisha's Mantra

Mr Kamlakar Shenoy   –  RTI & Social Activist

Mr Anil Galagali   –  Journalist & RTI Activist

Manav Manglani  –   Best Content Creator

Mohmmad Naseem Khan  –   Entertainment Film Journalist

Ms Krishna Shroff   –  Fitness

Mr Amit Tyagi  –   Executive Editor – India Today Group

Mr Karanvir Sharma   –  Actor

Mr Karan Mehra  –   Actor

Mr Sharad Malhotra   –  Actor

Mr Pearl Puri   –  Actor

Chahatt Khanna  –   Actor

Rohit Khilnani   –  AGM Bollywood Hungama

Ms Payal Rohatgi

Mr Vishal Kotian   –  Actor

Parvin Dabas & Preeti Jhangiani   –  Entrepreneurship

Mr Hemant Bhadane   –  TaxSeal Consultancy

Akshay Oberoi   –  Actor

Manit Joura   –  Actor

Nakuul Mehta   –  Actor

Mr Russel D'silva

Nikita Rawal –  Actor

Mr Ashish Tiwari   –  Managing Editor Entertainment – First India Group

Mr Divya Solgama  –   RJ

Gaurav Bajaj   –  Most Versatile Actor

Mr Gautam Chatterjee   –  Retd IAS

Mr Avddhut Rege   –  Shamang Events & Entertainment

Ms Kiran Malani

Hotel Decent Darbar   –  Hotel

Dr Arvind Singh  –  Shri Sai Ganesh Clinic & Pulse Hospital

Mr Mayank Rungta  –   Shivam Developers

Mr Sameer Khan & Mr Azam Shaikh  –   Hotel Cliffton

Mr Umesh Patil   –  Hourly Rooms

Mr Rafik Solanki   –  Solanki Group

Vishwas Nagari Sahakari Patsanstha   –  Credit Society

Mr Harish Jain  –   Director Rishabraj Group

Dr.Adv. Harshul Savla   –  Developer

Kamini Shevgaonkar   –  Artist

Adv. Vinod Sampat  –   Chairman Flat Users Residence Welfare Association

Mr Jaiprakash Singh  –   TV Journalist India TV

Adv. Ameet Mehta   –  Managing Partner Solicis Lex

Mr Abhijeet Rane   –  Group Editor – Daily Mumbai Mitra

Dr Yogesh Dube  –   Chairman Bharatiya Vikas Sansthan

Mr Ravi Nandrajog   –  MotorGlaze & MotorSounds

Mr Harshal Shinde  –   Nirmiti Group Of Companies

Mr Hemant Khadse   –  East Corp Group

Mr Amarjit Singh  Narula

Mr Ravindra Raul   –  Founder & CEO Tapdab Health Assistance Pvt Ltd

Mr Samar Mukherjee   –  DigiFilming and ISHA TV

Dr Vidushi Agrawal

Acharya Sunil Soni   –  Balaji Consultants

Mr Sunil Gaikwad  –   Geep Industries (India) Pvt Ltd

Mr PawanKumar Dass   – Valuquo Financial Services

Dr Nikita Pawar   –  Doctor

Poonam Chaubey  –   Actor

Neville Kavarana   –  Nekzad Entertainment

Mr Jay Mishra  –   Artist

Mr Abhijit Sinha  –   Artist

Dr Abhilasha Magar   –  Author

Mr Sunil Pinto   –  Elite Classes

Anaisha Vijayvergia  –   Child Artist

Mr ER. Sangharsha Gambhir   –  Civil Engineer

Aujaswi Kondhare  –  Child Artist

Mr Ravi Kanade  –   Photography

Ms Anjali Sinha  –   Actor

Mr Jayesh Khade  –   Jayesh Khade Start Up support Centre
On speaking with the organisers, they added that contributors of our state deserve a felicitation are on of the true pillars of Maharashtra.
Instagram link: https://instagram.com/redantbrandpromotion
To get more updates, Follow us on
Facebook
,
Twitter
and
Instagram.
You can also join our
Telegram Channel