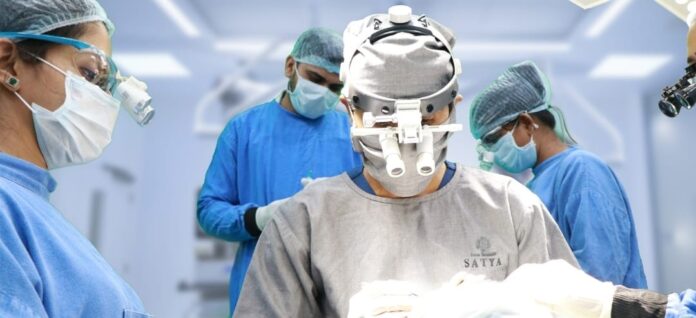 "Satya Hair Solutions, the culmination of two decades in my medical practice, has always been about Treating to the Core and Transforming Lives. For me, Hair Transplant is not just a Dedication, but my Forte." – Dr. Shaiil Gupta
We had the privilege of interviewing Dr. Shaiil Gupta, a prominent hair transplant specialist in Delhi and Delhi NCR. Dr. Gupta is gaining recognition for his substantial contributions to revolutionizing the Art & Techniques of the Hair Transplant Industry. With an extensive experience spanning two decades, he specializes in Hair Restoration and Corrective Case Surgeries. Notably, he is also a trailblazer in the field of Synthetic Hair Transplant Procedures.
Could you share the origins of your journey and how you chose this path as your profession?
My formative years at the most esteemed institutes such as GTB Hospital, LNJP, and GB Pant provided me with a solid foundation, instilling in me not just experience & knowledge but also a deep-rooted commitment to patient-centric care. Upon this I constructed my vision: a vision driving me to challenge the status quo of unethical practices and misguided information prevalent in the field of clinical and aesthetic science of hair loss treatments, specifically within the domain of hair transplant surgeries.
My commitment was twofold: to unravel the complexities surrounding the clinical and aesthetic aspects of hair loss treatments, and to pioneer safer, more effective techniques for hair transplant surgeries. And I had it all clear what my profession should stick on – to dissect the intricate science and innovative techniques within the vast expanse of the Hair Transplant world.
How would you like to describe the complexities or excitements in this field & your line of work?
My focus has always been on addressing the complexity of countering false claims and misguided information perpetuated by profit-driven hair transplant sectors. This often leads to a surge in corrective surgeries needed at my center. For me, hair transplants should uplift lives and restore confidence, never resulting in failed outcomes.
My passion lies in crafting the safest and most fitting strategies to address various hair loss conditions using personalized treatment plans. This involves mastering diverse techniques and sciences to develop the most effective and secure methods for superior hair loss treatments and transplant procedures.
Could you tell us about your extensive skills and experience in the field of hair transplantation?
My journey in the field of hair transplantation has been both rewarding and enlightening. I've had the privilege of performing over 20,000 hair transplant surgeries, which has allowed me to master a diverse range of techniques including FUT, FUE, DSFT (Direct Stimulated Follicular Transplant), Body Hair Transplant, Synthetic Hair Transplant, MHT, SMP.etc. This experience has granted me the genuine credit reflected from my 100k+ happy patients in the form of their trust and respect.
This journey has been about continuous learning and refining my skills to provide the best possible outcomes for each and every patient I have the honor of treating.
Your artistic pursuits set you apart. How does your creative side influence your approach to hair transplantation?
I'm truly grateful for the artistic abilities I possess. As a musician, writer, vocalist, and composer, I try to infuse a creative touch into my role as a surgeon. This artistic inclination guides my approach to hair transplantation, helping me craft natural-looking hairlines that blend seamlessly with each individual's unique features. It's a way for me to focus on the little details and elevate aesthetics, all while ensuring the utmost safety for my patients.
Apart from your medical practice, you also serve as a subconscious healer and motivator. How does this aspect contribute to your approach to patient care?
Beyond the surgery room, I see myself as a guide on a transformative journey. Understanding the power of the human mind, I work as a life coach and motivational speaker. My aim is to lead patients from self-denial to self-acceptance, fostering self-love. This holistic approach aligns with my dedication to not just treat diseases but to heal the spirit within, ensuring a complete transformation for my patients.
Dr. Shaiil Gupta: Pioneering Hair Transplant Surgeon, Visionary Leader, and Inspirational Motivator
In the ever-evolving field of medical aesthetics, few names stand out like Dr Shaiil Gupta, MD, Dermatologist, Hair Transplant Surgeon, CEO, Life Coach, and Motivational Speaker. Dr. Gupta's journey in the world of hair restoration began in the year 2000, when he introduced on a mission to redefine beauty and confidence through his unique approach. He has an extensive list of accomplishments and distinctions.
A Journey of Excellence:
Dr. Shaiil Gupta, a board-certified dermatologist and hair transplant surgeon, wears many titles, but it is his revolutionary work as the Founder and Managing Director of Satya Skin and Hair Transplant Clinic, Delhi, that truly defines his legacy. His unwavering passion for hair restoration emerged during his years at the University College of Medical Sciences (UCMS), Delhi, where he laid the foundation for a career dedicated to enhancing lives. This journey continued with his post-graduation in dermatology from the prestigious Maulana Azad Medical College (MAMC), Delhi, where he not only developed his clinical expertise but also cultivated virtues of compassion, empathy, honesty, and hard work.
A Global Impact:
 Dr. Gupta's dedication to excellence knows no bounds. His influence is felt around the world as a member of various Indian and international organisations, including the American Academy of Aesthetic Medicine, the Association of Italian Medical Implantologists (AIMA, Italy), the Indian Association of Dermatologists, Venereologists, and Leprologists (IADVL), and others. Dr Gupta has lifted his practise to the heights of innovation through world-class exposure to medical and surgical developments in hair transplantation from Dubai to Italy, Thailand to Korea.
A Rare Distinction of Techniques:
Dr. Shaiil Gupta, a pioneer among pioneers, accomplished over 20,000 hair transplant surgeries, reflecting his expertise of an array of techniques such as FUT, FUE, Body Hair Transplant, and Synthetic Hair Transplant. He has earned the rare distinction of becoming an exceptional in every aspect of hair transplantation. His devotion to excellence is only matched by his commitment to patient satisfaction, as evidenced by the outstanding results he has achieved with each method.
Specialty in Donor Area Management:
Dr. Gupta's skill in Donor Area Management, notably in the ultra-discreet FUT technique, is unparalleled with over two decades of experience. This approach has been consistently successful in producing the most natural and stunning outcomes for his 20,000+ happy patients.  His commitment to delivering natural outcomes is driven by his desire to help each individual regain their confidence and self-esteem, ultimately uplifting their mental and physical well-being.
A Creative Touch:
 Dr. Gupta's artistic ability distinguishes him. He is a musician, writer, vocalist, and composer in addition to being a great surgeon. This creative flare adds a unique perspective to his hair transplantation technique, resulting in meticulously sculpted and discrete natural hairlines that blend in with the individual's features. His exceptional attention to detail ensures that aesthetics are elevated without compromising the health and safety of his patients.
Beyond the operating room, Dr. Shaiil Gupta is a subconscious healer, a motivator who understands the power of the human mind. He guides his patients on a transformative journey from self-denial to self-acceptance, ultimately fostering self-love. His role as a life coach and motivational speaker underscores his dedication to not only treating diseases but healing the spirit within, creating a holistic transformation for his patients.
The Visionary & the Legacy:
With over 20 years of experience and a legacy of 20,000+ successful cases, he has not only transformed hairlines but lives, redefining beauty and confidence with his artistic touch. As a visionary leader, skilled surgeon, and motivational force, he continues to illuminate the path towards authenticity, self-love, and holistic well-being. Dr. Shaiil Gupta is not just a medical practitioner; he is a beacon of inspiration in the realm of aesthetics and personal transformation.
To get more updates, Follow us on
Facebook
,
Twitter
and
Instagram.
You can also join our
Telegram Channel