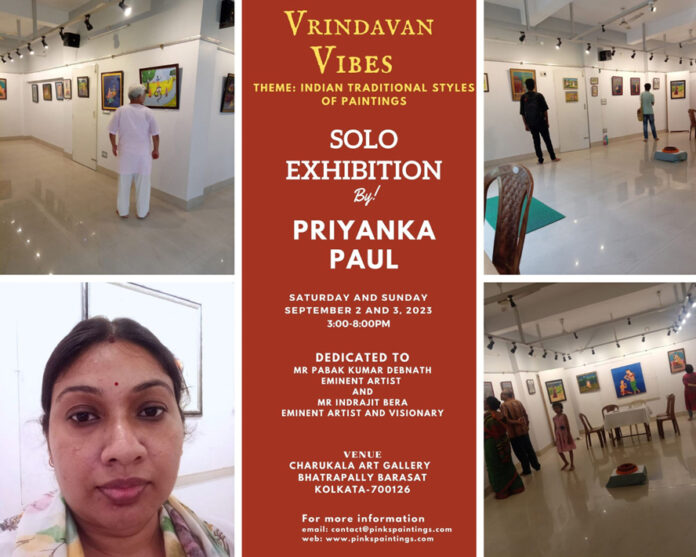 In the realm of art, where creativity meets tradition, Priyanka Paul stands as a beacon of innovation and spirituality. Her recent solo art exhibition, "Vrindavan Vibes," held at the Charukala Art Gallery in Barasat, Kolkata, is a testament to her deep-rooted connection with Indian traditional painting styles. The exhibition, which took place on the 2nd and 3rd of September 2023, was a visual treat for art enthusiasts and spiritual seekers alike.
Timed perfectly with the auspicious occasion of Janmashtami, "Vrindavan Vibes" delved deep into the life of Lord Krishna. Through her paintings, Priyanka beautifully captured the essence of Radha and Krishna's divine love, a theme that has resonated with millions across generations. Drawing inspiration from various schools of Indian Miniature Paintings such as Kangra, Basohli, Guler, and Kalighat styles, Priyanka's artwork is a harmonious blend of tradition and her unique artistic vision.
The exhibition held special significance as it was dedicated to two eminent personalities: IndrajitBera and Pabak Kumar Debnath. Mr. Bera, a visionary artist, has been a pillar of support for specially abled children, working alongside Mrs. Shipra Paul Bera. Their relentless efforts to uplift and empower these children serve as a shining example for society. On the other hand, Mr. Debnath, an esteemed artist, has been a guiding light for Priyanka, mentoring her and nurturing her artistic talents.
Priyanka's dedication to spiritual themes is evident in her artwork. Her portrayal of Radha and Krishna is not just a mere representation but a deep dive into the realms of divine love and commitment. The love story of SrimatiRadha and Lord Krishna holds a special place in Indian mythology, symbolizing pure, unconditional love. Through her paintings, Priyanka brings forth the message of love, commitment, and the essence of true devotion.
One of the standout pieces from the exhibition was "The Divine Union," an oil on wood painting that encapsulates the intense and divine love between Radha and Krishna. The painting, inspired by the GitaGovindam, depicts the first stirrings of love, beautifully capturing the emotions of the divine couple.
In conclusion, Priyanka Paul's "Vrindavan Vibes" was more than just an art exhibition; it was a spiritual journey that transported visitors to the mystical world of Vrindavan. Through her art, Priyanka has not only paid tribute to Indian traditional painting styles but has also reignited the flames of spirituality and devotion in the hearts of many. Her dedication to her craft and her deep-rooted connection with spirituality make her a force to be reckoned with in the world of art.
To get more updates, Follow us on
Facebook
,
Twitter
and
Instagram.
You can also join our
Telegram Channel