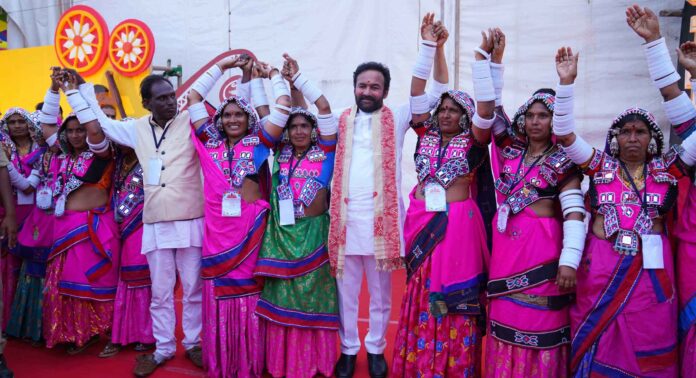 Chief Guest Ms Meenakshi Lekhi, Minister of State, Govt. of India; graced the event
Hyderabad, April 04, 2022: Chief Guest Ms Meenakshi Lekhi, Minister of State for External Affairs & Culture, Government of India and Shri G. Kishan Reddy, Union Minister of Culture, Tourism & DoNER; graced the concluding day program of the biggest and most colourful cultural extravaganza in the recent past Rashtriya Sanskriti Mahotsav 2022, the three-day National Cultural Festival of India, organised by the Ministry of Culture, Government of India, at the NTR Stadium, Hyderabad. Later there were colourful performances by local and folk artists, Classical Dance performance by Smt. Jayaprabha Menon and Music performance by Padma Shri Dr. L. Subramaniam and Padma Shri Kavitha Krishnamurthy. 
Speaking on the occasion Shri G. Kishan Reddy, this exhibition showcased the rich culture and traditions of our country, which are gradually being forgotten and abandoned, especially the tribal culture of India. The exhibition had stalls displaying traditional art and craft form every nook and corner of the country. The Rashtriya Sanskriti Mahotsav is working to revive those traditions. This program represents the unity in diversity India is known for, our languages, regions, dress, food may be different but our culture and traditions are same. There are artists and craftsmen of all over India. Ek Bharat Shreshtha Bharat call of our Prime minister Narendra Modi ji is the inspiration for this program. The Government of India will continue to support these traditional artists and craftsmen to revive and preserve our traditions. In the last two years these people dependant on the arts and crafts suffered the most and the Government of India is doing its best to support them and will encourage them in future too. State Governments should also encourage and support such artists and craftsmen. Kishan Reddy appreciated the services of Sri Ramachary of Little Musicians Academy to art and culture, he said, he has been nurturing talent in music and vocals and several artists who are making a mark in the film industry are trained by him.
Shri C. Vidyasagar Rao, former Governor of Maharashtra, said, we are celebrating the Rashtriya Sanskriti Mahotsav with the spirit of 75 years of Indian Independence, Azadi Ka Amrit Mahotsav. Its enormously delightful to witness the different arts, folk dances, crafts from different parts of the country in Hyderabad. Today the world is looking at India and the reason for that is our Prime Minister Narendra Modi ji highlighting and showcasing our rich traditions and culture to the world. Despite the fierce war going on between Russia and Ukraine, they gave a six-hour break to help evacuate Indian students, valuing the word of Shri Narendra Modi ji. Pakistan Prime Minister Imran Khan had words of praise for India. This respect we command because of our rich culture. 
Some colourful folk dance performances exhibited today at the Mahotsav were Shandol from Ladakh; Lavani from Maharashtra; Rai from Madhya Pradesh; Lambadi from Telangana; Karsha from Jharkhand; Rauff from J & K; Norta from Uttar Pradesh; Jat-jatin from Bihar; Sangatham Naga from Nagaland; Gharasia dance from Rajasthan; Badhai from Madhya Pradesh; Mayur dance from Uttar Pradesh; Jagor from Uttarakhand; Sangrai Mog from Tripura; Cherow from Mizoram; Lai haroba from Manipur; Bardoishikhala from Assam; Gunti from Arunachal Pradesh; Dangi from Gujarat; Paidanda from Uttar Pradesh; Sirmori Nati from Himachal Pradesh; Ka shad masti from Meghalaya; Panthi from Chhattisgarh; Sambalpuri from Odisha; Siddhi Dhamal from Gujarat and Chau from West Bengal.
Earlier the Hon'ble Vice-President of India, Sri M. Venkaiah Naidu had inaugurated the event on Friday. Rashtriya Sanskriti Mahotsav, a dance and musical treat presented by artists from pan India, coincided with the Ugadi festivities and was an opportunity for connoisseurs of Art and culture to spend a blissful extended weekend. Over a thousand artists from different parts of the country and different traditions including Classical, Folk and Popular culture traditions, are performing in this unique celebration of India's culture, craft, cuisine.
The Rashtriya Sanskriti Mahotsav is the flagship festival of the Ministry of Culture, that aims to preserve, promote, and popularise Indian Heritage. The RSM has been organised since 2015 with the active participation of Seven Zonal Culture Centres (ZCCs) and has been playing a pivotal role in taking India's vibrant cultural diversity out to the masses instead of confining it to auditoria and galleries. RSM has been instrumental in showcasing the 3Cs of our heritage – Culture, Craft and Cuisine of one state in other state reinforcing the cherished goal of "Ek Bharat Shrestha Bharat". At the same time, the folk and tribal art, dance, music, cuisines & culture that are being demonstrated provide an effective platform for the artists and artisans to support their livelihood.
To get more updates, Follow us on
Facebook
,
Twitter
and
Instagram.
You can also join our
Telegram Channel