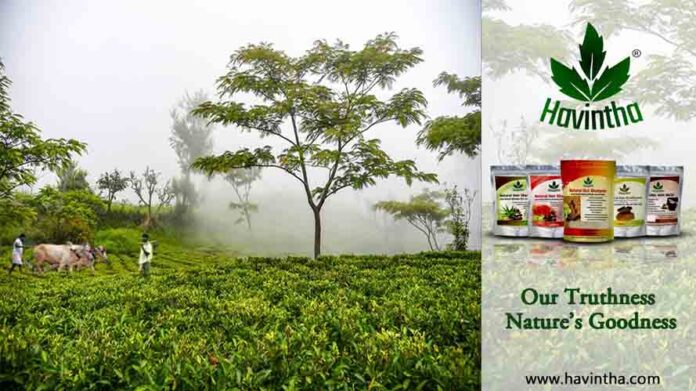 Most of the time we start a commercial activity for the sake of some financial gain in simple words to make money out of it.  Another side when some passionate person or passionate group thinks beyond just monetary gain and starts their venture for the welfare of mankind and nature then an organization like Havintha takes place. A young and passionate promoter of this group had a crystal clear idea in his mind for his organization which made him and his equally passionate team work day and night to create the best quality of products and services.
Havintha is based in central India's commercial town Indore. Within a short span of its inception, the organization's progress has been remarkable, thanks to its flagship product Amala Shikakai Herbal hair shampoo. This shampoo is the first of its kind in which 100 percent ingredients are natural and it has no liquid base in it. Its main ingredients are Amla (Indian gooseberry), Shikakai (Acacia concinna), Reetha (Indian soapberry) and Methi seeds (Fenugreek seeds). It is a well-known fact that if a liquid-based shampoo comes on the market then certainly it will contain some liquid base which needs preservatives for lasting long. Havintha's powder-based herbal shampoo has a cut edge here. In this kind of concept, there is no need of adding any preservative or any harsh chemical. Havintha's purely natural and herbal based dry shampoo gets rid of any synthetic components in it due to the natural ingredients used in it. This is the beauty of Havintha's herbal shampoo and within a short span of about six years, its global presence is the biggest proof of its popularity and authenticity.
Havintha has more than five lakh satisfied consumers all across the nation and in some parts abroad as well. Havintha is working with the motto of serving mankind with the best resources of mother nature in its all products. Other than this flagship product, Havintha has yet another promising work in a few other products in the health care, hair care, and skincare categories. Havintha's passionate team of researchers, dermatologists, and cosmetologists jointly sit and work on every product and its aspects before its launch. They pick all raw materials directly from the growers or farmers to assuring surety for purity. Havintha's state-of-the-art manufacturing facility and very skilled manpower are yet another important features. Havintha is very committed to nature and its line of products are the best testimony of that.
Today Havintha is becoming a household name not only in the Indian houses but in a global context also.
For more information visit Havintha at www.havintha.in
To get more updates, Follow us on
Facebook
,
Twitter
and
Instagram.
You can also join our
Telegram Channel