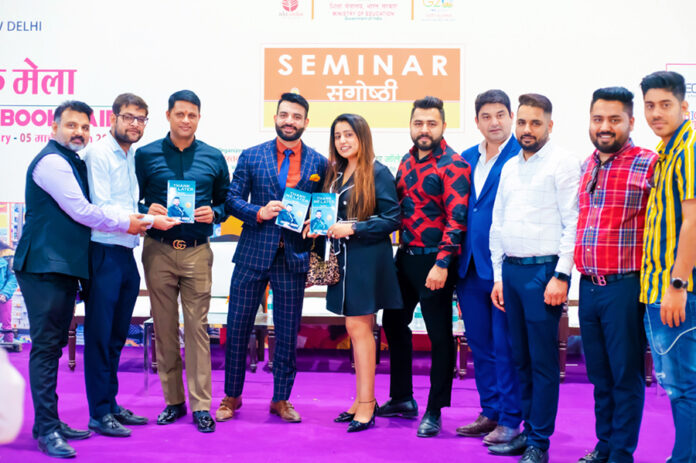 Recently a book has been launched in the market which is leading a great impact over youth and people, especially the general readers of the realty industry. Thank me Later, A book written by Sachin Arora, an author, mentor, real estate entrepreneur and director of Investors Clinic Infratech Private Limited, successfully published by Pendown Press on 25th Feb, 2023 in the book fair held in Pragati Maidan.
In this book, Sachin lays out a comprehensive guide for starting a successful real estate sales career. He did everything from the basics of real estate sales to the more advanced strategies for success. Whether you are just starting out in your sales career or are looking to take your real estate skills to the next level, this book is an essential resource. He highly recommends it to anyone who is passionate about real estate and is looking to build a successful career in this industry. As the real estate industry continues to evolve and grow, there has never been a better time to start a career in real estate sales. Whether you are just starting out or looking to make a career change, real estate sales offers a wealth of opportunities for those who work hard and learn the ropes
"The context of the book starts from my real estate journey as my core background is real estate but on the other hand this book turns out to be an opportunity or a cheat code, I say for the general public of whosoever industry it belongs. It's the first book of an Indian author from the perspective of not only the real estate industry but also how to conquer your lifestyle, your goals and sales targets irrespective of the background or industry you belong to. It's a life journey of every Sachin Arora who came up from a small town to metropolitan industry to achieve something bigger in life. It's the struggle and obstacle that almost every Sachin has faced or may be facing in their career phase but also the vow that made up almost forty multimillionaires like me and much much more after consuming THANK ME LATER." said Sachin Arora, in the event held at Pragati Maidan, Delhi.
Thank Me Later is that extract of his journey, in which he distilled his years of experience and expertise in the real estate industry into a comprehensive guide for aspiring real estate sales professionals. This book is not just for those who are new to real estate sales but for those who are looking to take their skills to the next level. Whether you are an experienced real estate sales professional or just starting out, this book is packed with valuable insights and practical advice to help you succeed in this exciting and rewarding field. He wrote this book with the goal of empowering aspiring real estate sales professionals with the knowledge and tools they need to build a successful career. He believes that with the right guidance and a strong work ethic, anyone can achieve success in the real estate industry. Sachin ask some of the questions to its reader just like if they are from real estate industry if they are working as a freelancer or an entrepreneur in the industry as there is a huge difference that people might not notice but lead them to the wrong path he understand that people may have questions like how can they build a stable and Secure career in real estate or or how to figure out the direction when they are lost so think on Answer all the questions step by step throughout the book.
The book is overall a self guide and a life story that may every person ever faced along with the solutions. Thank me later is the context in which the author, Sachin is saying to consume his guidance and thank him later for the same. Though the book is available to be marketed on Amazon and becoming a bestseller. 
To get more updates, Follow us on
Facebook
,
Twitter
and
Instagram.
You can also join our
Telegram Channel