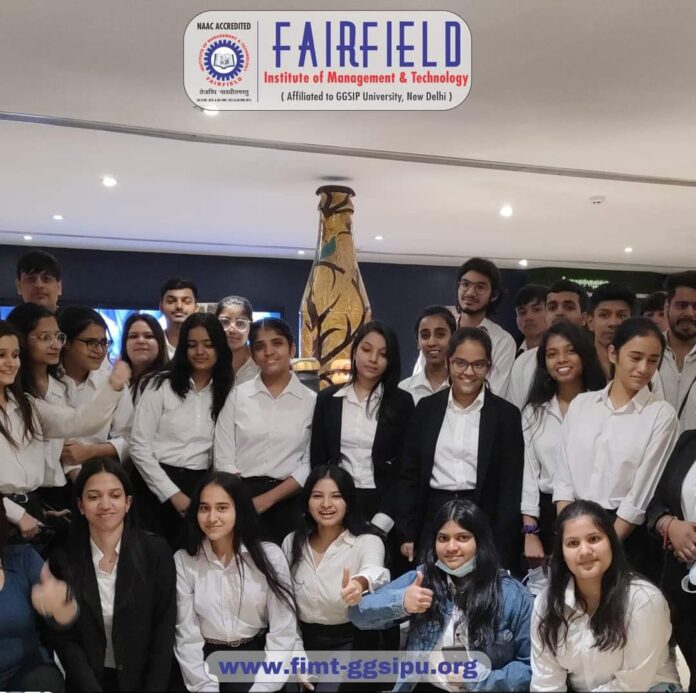 BBA Programs in Delhi – Some high school students interested in the business concentrate on commerce instead of science or arts. Those who struggle in science classes and are reluctant to major in the arts and humanities choose to major in business. Bachelor of Business Administration programs is among the many options available to qualified applicants.
Prospective students in India should be aware of the many excellent BBA institutions in the country. Many people choose to continue their education in Delhi because of its status as the nation's capital. Business administration programs may be found in several Delhi institutions, both public and private. Applicants can also discover a list of BBA institutions in Delhi.
1. Fairfield Institute of Management and Technology
Delhi is home to several notable institutions, including the Fairfield Institute of Management and Technology (FIMT), recognized by the National Assessment and Accreditation Council (NAAC) for its commitment to excellence in higher education. The Fairfield Group of Institutions founded this college. The Government of the National Capital Territory of Delhi has awarded an "A" grade. Thus, it is a part of the illustrious Guru Gobind Singh Indraprastha University.
Why Choose BBA in FIMT?
During the course, about 80% of students find employment which makes it one of the best BBA colleges in Delhi. Starting pay is 2 LPA and going up to 4 LPA each year. The likes of Amazon, Dell, Google, Flipkart, HP, etc., are among the most actively recruiting from the university. Almost every student has the opportunity to participate in an internship. Every student at the university is guaranteed an internship in various local and international businesses, including AIM, IBM, small startups, and more. They provide training for executive managers, assistant managers, supervisors, etc.
2. Indian Institute Of Management Rohtak
In the Greater Delhi Area (NCR), IIM Rohtak is a prestigious institution of national significance. According to the National Institutional Ranking Framework, IIM Rohtak is India's sixteenth-best management school. The application process for IIM Rohtak 2023 started with the CAT's release. To register for the IIM CAT 2022, you have until September 21, 2022, so get started on your application on August 3. Candidates may now check their IPMAT results on the IIM Rohtak website, which has been updated with the news of the exam's official announcement. The highest compensation awarded at the IIM Rohtak Placements 2022 was INR 32 LPA, while the average income was INR 16.06 LPA.
3. Amity Business School
The Economic Times Ranking Survey for this year says that Amity Business School (ABS) is sixth out of all the business schools in India. The Business School has courses for undergraduates like BCA, BBA, and BCOM. It also has courses for graduate and doctoral students like MBA, MBA Executive, and Ph.D. in management. Amity Business School uses several management entrance tests yearly to decide who gets in.
4. JIMS Rohini
The JIMS RohiniJagan Institute of Management Studies (JIMS) in Rohini has a full-time PGDM program for two years. The school also offers a Fellowship doctorate program, a PG MCA program, and three undergraduate degrees: a BA-ECO(H), a BBA, and a BCA. To get into MCA programs, you must do well on the NIMCET. To get into PGDM programs, you must do well on tests like the XAT, MAT, CAT, CMAT, and ATMA and then go through group discussions and personal interviews. The Fellowship program at JIMS costs 18.25 lacs.
5. SRM University Sonepat
SRM Group of Institutions has been a leader in education for 33 years. The Group now runs 17 institutions in India and wants to open a lot more shortly. SRM University Sonepat, Haryana, in Delhi NCR, is a full-fledged university with all the rights and benefits of a world-class university. The Haryana State Government founded it in 2006 under the Private Universities Act.
6. ITS College Of Professional Studies
The private ITS College of Professional Studies in Greater Noida opened in 2022 and is linked to the CCSU in Meerut. Undergraduate BBA and BCA courses are available via ITSCPS. The candidate's score on the first qualifying test will be used to decide if they will be allowed to take the courses. Infosys, Accenture, Wipro, TCS, Vodafone, and Deloitte are some well-known companies that hire ITS CPS graduates.
7. New Delhi Institute Of Management
The 1992-founded New Delhi Institute of Management is a member of GGSIPU and has AICTE approval. The BBA is the institute's signature program. There are two shifts available. The candidate's performance in their rank in the IPU CET held by GGSIP University and the counseling will be considered for admission to the program provided by the institution.
8. Jindal Global Business School
The Jindal Global Business School (JGBS) was founded in 2010 and has since risen to prominence as one of India's premier B-Schools. It provides students with a global business education that draws from various disciplines to promote academic excellence by forging connections with businesses and organizations worldwide. JGBS combines business education with the law and public policy via degree programs, executive education, research, and consultancy. JGBS offers a variety of graduate business degrees, including a Master of Business Administration, a Bachelor of Business Administration with Honors, a combined Bachelor's/degree, a Master's, and a Doctor of Philosophy. The B-School features over 70 seasoned professors from top academic institutions, including IIMs, IITs, XLRI, ISB, Oxford, and Harvard.
9. JK Business School Gurgaon
Located in the metropolitan area of Delhi, Gurgaon is where you'll find the private JK Business School (JKBS). A Bachelor of Business Administration (BBA) degree and a Master of Business Administration (MGM) degree with two areas of emphasis are also available here. The hiring procedure consists of a written exam and an interview. 
10. Institute of Management Studies
Founded in 1998 and operating under the aegis of the Institute of Management Studies Society, the Institute of Management Studies (IMS), Noida is a prestigious institution offering MBA and BBA degrees. Both DR. A.P.J. Abdul Kalam Technical University and ChaudharyCharan Singh University are associated with IMS Noida (AKTU). Admission to the school's prestigious PGDM and MIB (Master of Business) programs is determined by applicants' CAT, MAT, C-MAT, ATMA, or XAT scores. Admissions for the PGDM program are currently being accepted.
Conclusion
The Bachelor of Business Administration (BBA) degree has gained significant traction during the last two decades. A professional degree in business and management that emphasizes fundamental topics, including strategy, entrepreneurship, decision-making, and financial management. The ability to work in a team, the ability to communicate effectively, and the ability to lead others are all covered. In addition, it's your ticket into the corporate world, equipped with the fundamental skills and experience you need to succeed in an MBA program. We hope this list helps you to choose the best BBA college in Delhi.
To get more updates, Follow us on
Facebook
,
Twitter
and
Instagram.
You can also join our
Telegram Channel