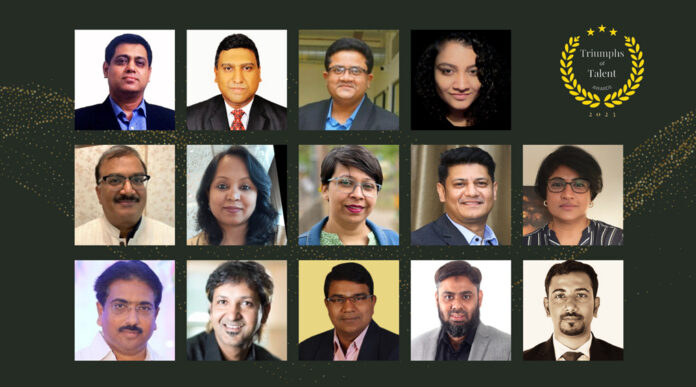 Hyderabad (Telangana) [India]: Triumphs of Talent (ToT) is proud to announce and celebrate the exceptional achievements of its distinguished Hall of Fame awardees at the prestigious awards ceremony held on November 17th, 2023, at T-Hub in Hyderabad. This category represents the pinnacle of recognition within the HR and Business domains, acknowledging individuals whose contributions have significantly impacted their industries.
The Hall of Fame awardees, recognized for their exemplary accomplishments, encompass a group of 14 outstanding individuals whose visionary leadership and profound impact have set new benchmarks within their respective fields. These esteemed recipients epitomize excellence, embodying the spirit of innovation and dedication to driving transformative change.
The following 14 Hall of Fame awardees were celebrated for their remarkable contributions:
Partha Pratim Patnaik – Global Head HR, Prolifics
Gajendra Menon – Senior Director HR – Global Talent Acquisition, NTT DATA
Ranbir Aggarwal – Chairman, Marolix Technology Solutions Pvt Ltd
Aarthi Ramaswamy – HR Director, TIAA
Ramakrishna Momidi – SVP, Deloitte
Neena Chakraborty – Director – HR, GeBBS Healthcare
Vibha Sharma – Defense to Development HR Visionary
Vivek Mudaliar – Managing Director, Mitchell Martin India Pvt Ltd
Lakshmi Nair – Executive Partner – India/South Asia – SAP Service Area Lead, IBM Consulting
Manoj Nalam – Agrarian Industrialist & Philanthropist
Vipul Singh – SVP Head – HR, ADP
Srini Vudumula – COO, Novulis
Syed Shabir – Co-Founder & CTO, Edvoy
Abhisek Nag – Regional HR Director, NewGlobe
Each of these exceptional individuals has demonstrated unparalleled dedication, innovation, and leadership within their respective spheres.
Their contributions serve as an inspiration to aspiring professionals and industry peers alike, showcasing the heights that can be achieved through unwavering commitment and pioneering initiatives.
About Triumphs of Talent (ToT):
Triumphs of Talent (ToT) is a renowned platform dedicated to recognizing and celebrating excellence in the fields of HR and Business. Through its prestigious awards, ToT aims to honor outstanding individuals who have significantly contributed to the advancement and innovation of these industries. Led by visionary entrepreneur Mr Mohammed Fayaz, ToT continues to inspire and empower individuals to strive for excellence and make a profound impact in their respective domains.
To get more updates, Follow us on
Facebook
,
Twitter
and
Instagram.
You can also join our
Telegram Channel