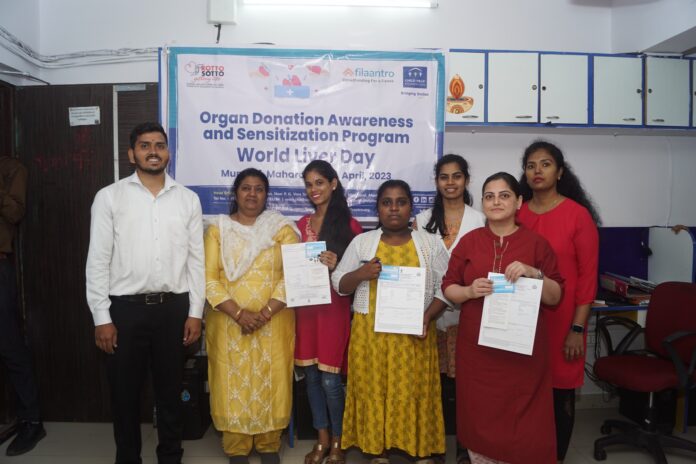 Child Help Foundation (CHF), a Pan-India, non-profit organization celebrated its 12th Foundation Day on 19th November 2022. Founded in 2010 by Mr. Rajendra Pathak, Mr. Sunil Varghese and Mr. Jugender Singh, Child Help Foundation propagates the 'culture of giving' with the mission of changing lives through reaching out to underprivileged children and empowering them for a bright future for the last 12 years. The NGO has been consistently working to uplift the underprivileged and weaker sections of society.
The NGO organizes campaigns and activities every month in various pockets of the country to help women and children with necessary medical facilities, education, nutrition, mental health and other essential items.
Recently, the NGO has organized 'Organ Donation Campaign' on the occasion of World Liver Day on 13th April 2023. This was done in association with the Rotto Sotto Members who organized a session at the CHF Mumbai office (Headquarter) and the session was attended live by 400 volunteers across India. This was done to raise awareness amongst the volunteers on Organ Donation. During the session, the laws and ethics of Organ Donation were explained, the process was explained and it can save hundreds of lives by donating organs. The speaker explained how up to eight lives can be saved if one person pledges to be a donor. The objective of the session was to explain the benefits of organ donation for the society. Many volunteers signed for organ donation immediately after the session. 
Another recent activity was conducted by the NGO on 14th April 2023, to celebrate the 132nd birth anniversary of the legend and our very own Dr. B. R. Ambedkar. Child Help Foundation along with Filaantro (crowdfunding partner of Child Help Foundation) conducted a handmade poster and drawing competition at Green Village, Mumbai, Maharashtra. More than 30 children under the age of 14 years participated in the activity, where the children painted beautiful and inspiring posters of Dr. Babasaheb Ambedkar fighting against societal evils. The winners received prizes and certificates for their outstanding artwork, but all the children who participated walked away with a deeper appreciation for Dr. Ambedkar's contributions to Indian society. By celebrating Dr. Ambedkar's life and legacy and by narrating his life story about how he stood for the justice of the underprivileged, Child Help Foundation and Filaantro made an effort to inspire the young generation to be a leader like him and understand the values and ethics of each life.
The NGO keeps on organizing campaigns and activities across different cities in India to create awareness, motivate people and help them become educated, healthy, and empowered. They have done various campaigns on women empowerment as well. The NGO also collaborates with other NGOs for keeping the environment clean on land and underwater.
We need such NGOs which work in all honesty and dedication towards the upliftment of humankind, animals and the environment at large.
Alongside our work in healthcare sector, Child Help Foundation has adopted the motto of 'Swastha se Siksha Tak', and actively works in fields of education, medical support, animal welfare, environment, health, nutrition, disaster management. Throughout our twelve years of existence, we have touched the lives of 33 lakh people.  Child Help Foundation hopes to continue working and expand its pool of compassion to the remotest regions of India.
To get more updates, Follow us on
Facebook
,
Twitter
and
Instagram.
You can also join our
Telegram Channel