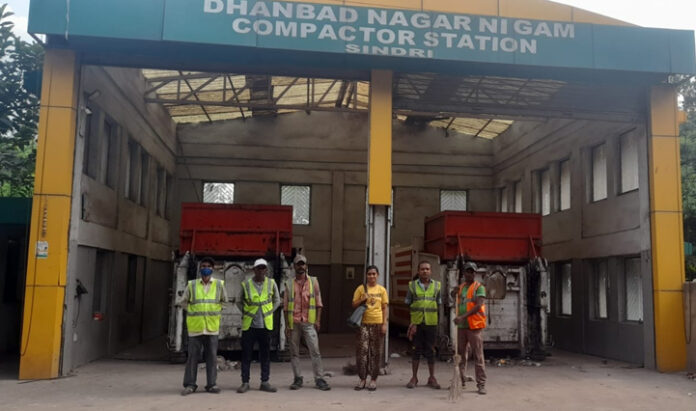 Anchal Kumari, 20-year-old from Dhanbad, Jharkhand of Lovely Professional University who is pursuing her Batchelor degree in "Integrated BSc. B.Ed." had started a project in her school times on waste management which motivated to her prolong until now.
At her School times Anchal was given a the task community development project under SDG-13, (Climate Action). When she took the task and started doing research, she felt little nervous at starting, sooner she motivated herself and started task, when she started task all the people around her where saying waste management is not our task it is government task they need to come and do all sort of waste management things in and around city she tried to motivate the people by saying at starting people did not care later on they had habituated for her things.
Anchal's main motive was to motivate people and get waste management things to be part their daily routine. In early stage she took her society and guided her society to use of dustbins, how to use plastic, various hygienic techniques and many more. She also guided them to do plantation and plant protection techniques. This 20-year-old teenager took up the whole responsibilities on her own and she started working alone later on she received support from her friends and neighbours.
Now 30+ Societies and 5+ organisations has adopted her model of managing waste in their routine life and her main motive is to see whole INDIA using waste management techniques and saving the environment.
"Anchalis highly Knowledgeable and multitalented girl she always try to be One for the society" – Says Anchal father Ratan Ram Rajak a retired bank manager
If we are rich in the resources that mean we have many opportunities to do the things and same happened with me, I am proud to share that LPU-NSS has helped me a lot in each step of my project from planning to implementation it in the society to concluding. Special thanks to Dr. Nitin Bhardwaj sir deputy dean and head of division of youth affairs, Lovely Professional University, Faculty of School of Education Dr, Satish sir, mentors Dr.Yashpreet ma'am and Dr. Shikha ma'am and specially Mahammad shahid, Deputy officer, Department of community services, Youth affairs, LPU. Without their support I could not have been able to do this project – Says Anchal Kumari.
To get more updates, Follow us on
Facebook
,
Twitter
and
Instagram.
You can also join our
Telegram Channel