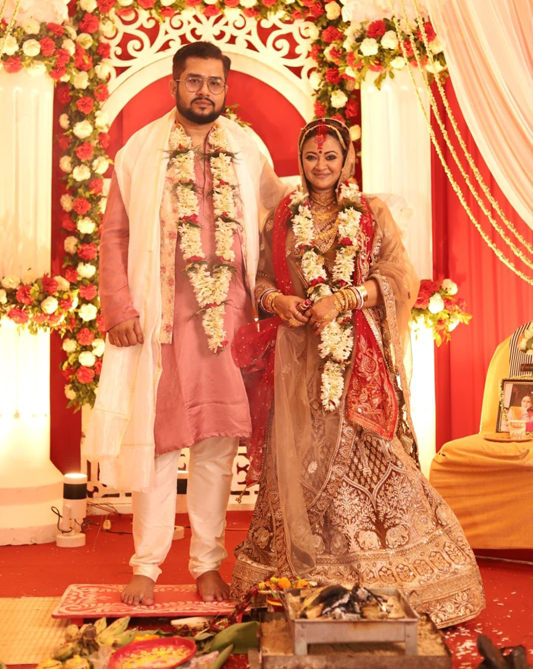 Actor-Producer Simita Kundu tied knot on Tuesday, 14th june 2022 in Kolkata at P.C Chandra Garden Banquet with her fiance Joydeep Chattaraj.
Simita dressed as a gorgeous authentic Bengali outfit in Banarasi saree in the morning of her wedding day for ring ceremony, marriage registration and Bengali ashirbaad ritual of family.
In the evening we got to know that she was adorned with beautiful golden designer lehenga and all her ancestral gold jewelry in a very classy manner keeping her family tradition in mind.
The actress said with smile' we have shot almost a one day film with my friend fashion photographer, Oindrila Bhol and team and I m so glad that Arpita Ganguly with her team has set my look and style entirely who is an old friend of my industry with her special touch'.
While Joydeep, her groom dressed in Bengali kurta Punjabi for the morning and cream and peach sherwani for the evening wedding ritual ceremony.
Simita said 'I always wanted my marriage like a classy fusion marriage, I used to discuss with my mother'.
On that note, the saddest part is the actress lost her mother in 2021 due to covid. She added 'seeing me as Bride in my personal life was my mom's desire always. She raised me with education and ethics and always wanted her daughter to be content in personal and professional life both. My family understood the way I wanted my wedding and actually they made all my small desire possible'
The menu, the venue even the decor had been chosen by her family keeping her choices in mind infact following all the Bengali rituals her family made the wedding very knit and cozy.
After her mom's incident only family and close friends celebrated the wedding of Simita Kundu where her childhood friends, friends from her production house has flied to the Kolkata city from Mumbai. So many close friends of her from Kolkata t.v and film industry had gone to wish and bless her in her auspicious day. Bunch of stars, Actors, producers, directors have witnessed the day in Kolkata.
She said 'me and Joy were friends. His love really touched me and i have fallen for him. He is a nice human being and understood me well always. We have decided us forever and marriage is a level up from the friendship.'
Now, the actress is all set to come back in Mumbai soon and resume her work front all over again. The founder of the production house 35mmcreations and the producer of the film Frankly Friendly Simita Kundu said' few projects are on talk. So we need to really work hard to release our complete film soon and start over other assignments simultaneously.'
Apart, few on screen projects are on the cards for Simita apart from her Voicing assignments for advertisements in Mumbai.
The actress laughed and said 'ya! hectic!I know it's not going to be an easy journey but we artist has to go through lot of things and have to be optimistic and productive constantly to handle multitasking. I will try my level best to accomplish pending and upcoming with my hard work and focus as I know my mother will feel happy for me. My family is been always supportive and for them I always got strength. And I m blessed with good people and good company'
We have seen Simita's wedding news in regional portal and some of her wedding photos she has shared on social media lately though the actress is not much active on social media.
We wish all the success to Simita Kundu for all her upcoming projects in Mumbai and best wishes to the newly married couple Simita and Joydeep for their beautiful life together ahead.
To get more updates, Follow us on
Facebook
,
Twitter
and
Instagram.
You can also join our
Telegram Channel