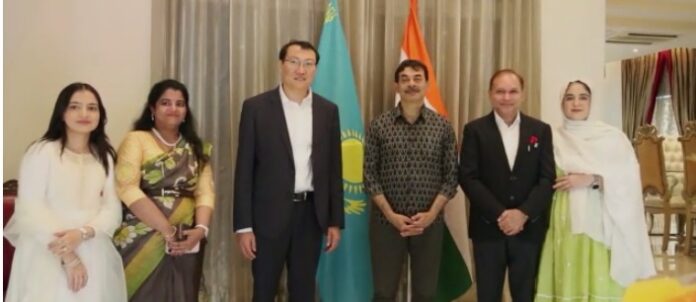 Hyderabad (Telangana) [India]: H.E Nawab Mir Nasir Ali Khan – Honorary Consul, Consulate of the Republic of Kazaksthan hosted a visit of Mr. Kairat Torebaeyav – Honorable Vice Minister for Trade and Integration of the Republic of Kazakhstan, to the city of Hyderabad from 25th June to 28th June to promote inter-regional cooperation and develop Bilateral trade relations between India mainly Telangana and Kazaksthan.
On 26th June Mr. Kairat Torebaeyav visited MAK Projects P Ltd at Maheshwaram with H.E Dr Nawab Mir Nasir Ali Khan -Promoter and Managing Director of MAK Projects P Ltd. Hon'ble Minister was given a tour of the MAK Canadian wood Villa an initiative of MAK projects P Ltd and Forestry Innovations Investment (FII) India an enterprise of Government of British Columbia.
The Minister discussed the possibilities of replicating the project in the Republic of Kazaksthan with Dr.Nawab Mir Nasir Ali Khan.
After the guided tour of BTR the minister and the Honorary Consul met many business heads of multinational companies.
Shri Manoj Singh, Head of International Operations, Shapoorji Pallonji constructions came from Mumbai to meet the minster and Mr Nasir Ali Khan. Mr.Singh gave his company's presentation. Proposition of setting up a business-convention centre in Kazaksthan- Turkistan and other infrastructure projects were discussed.
The minister met Mr. Michael and Mr. Naveen of CRESCO Legal from Dubai, Dr BVK Raj, CEO, Neo Institute of Medical Sciences and Technology Ltd – proposed relocating Indian Students from Ukraine to Kazaksthan and exploring the possibilities of setting up Medical Universities/ tie-up with existing medical universities.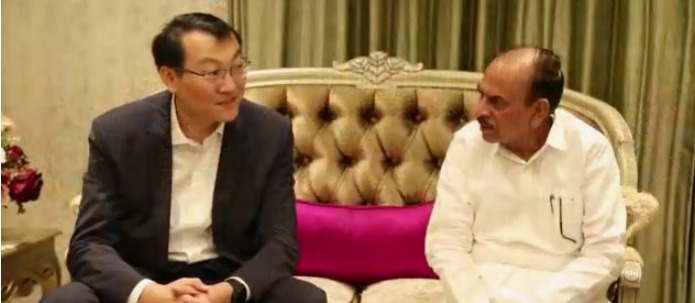 On 27th June 2022, H.E. Dr. Nawab Mir Nasir Ali Khan – Honorary Consul of the Republic of Kazakhstan in Hyderabad for Telangana and AP hosted lunch at his residence Xanadu at Jubilee Hills in honor of Hon'ble Minister of Trade and Integration of the Republic of Kazakhstan Mr. Kairat Torebayev, The special invitees were Ms. G. Vijayalakshmi-Honorable Mayor of GHMC, Shri. M. Mahmood Ali- Minister for Home Prisons and Fire services for Telangana.
Mr. Jayesh Ranjan( IAS) principal secretary to government of Telangana industries and commerce department IT Electronics and communications and Mr Srikanth Sinha Chief Executive officer Telangana academy for skill and knowledge department of IT and C Government of Telangana.
The minister during talks with Shri Jayesh Ranjan (IAS)– Principal Secretary to the Government of Telangana discussed regarding the possible opportunities in the field of   IT, electronics and communications with Telangana & Kazakhstan.
Later in the evening the Kazakhstan minister had a meeting with Union Minister of Government of India Shri G Kishan Reddy to develop and encourage Tourism between the two countries.
The Minister was pleased with his visit to Hyderabad and was thankful to Nawab Khan for arranging such a memorable visit.
FB Link: https://www.facebook.com/watch/?extid=CL-UNK-UNK-UNK-AN_GK0T-GK1C-GK2C&v=344458064527716
To get more updates, Follow us on
Facebook
,
Twitter
and
Instagram.
You can also join our
Telegram Channel