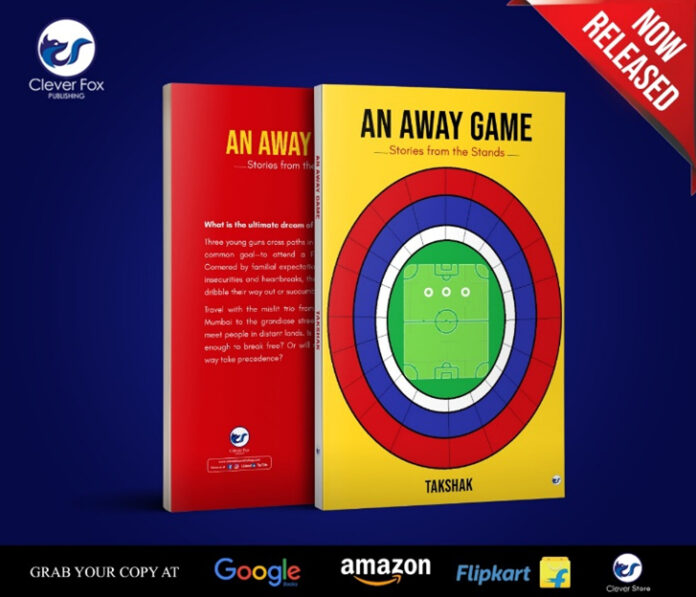 As a child, we have followed many people we admire, creating our own bucket lists to fulfill as we grow. Some people love to visit places, some love to do something adventurous, and some want to achieve something. But how a dream to visit a place can lead to new goals in life is definitely something most people would not have witnessed. If you want to learn about such an experience and witness the same, then this novel is a must-read for you. One such story depicting the same is 'An Away Game' by Takshak Dawda, showcasing three friends and the extent they can go to achieve their ultimate dream, and also that of every football fan.
Being a football enthusiast, Takshak grew up watching football on television and then attended the World Cup in Russia. It was his passion for writing which made him pen down his journey from Mumbai to Moscow in his debut novel. He says the four days he spent with his friends in Saint Petersburg during the white nights, was a personal metamorphosis. The last part of his book is thus his ode to Fyodor Dostoevsky's short story – White Nights. Also added to the story are plenty of Easter Eggs, where the author pays homage to all the people that have inspired him throughout the journey of the novel, be it movies, other writers, YouTubers, pop culture figures, and of course football stars.
With so much keen interest in football, he weaved a story around the same. His knowledge for the sport and his experience as a journalist and content editor all came in handy for this novel.
'An Away Game' talks about three young guns crossing paths on the streets of Mumbai. Their common goal is to attend a FIFA World Cup final, cornered by family expectations, job dissatisfaction, insecurities, and heartbreaks, the oddballs will have to dribble their way out or succumb to mediocrity.
Ironically, despite being the most popular sport on the planet, there are few stories to read about it, which makes it one of the rarest genres. Most of the football books being biographies, tactics handbooks and other non-fiction stuff, 'An Away Game' stands out as being a contemporary fiction and breathes fresh air into the genre.
Takshak is undoubtedly a brilliant writer who continues experimenting with his writing styles and loves to write about football. He aims to connect stories around football with life, which evokes interest in the book.
Book Store link: https://www.amazon.in/dp/939445778X?ref=myi_title_dp
To get more updates, Follow us on
Facebook
,
Twitter
and
Instagram.
You can also join our
Telegram Channel