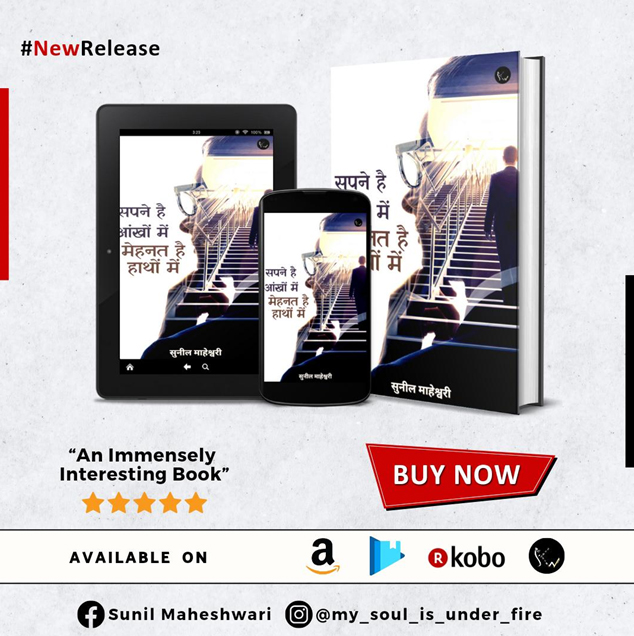 The literary world welcomes a new voice, Sunil Maheshwari, whose debut book "Sapne Hai Aankhon Mein, Mehnat Hai Haathon Mein" encapsulates the essence of life's nuances in poetic prose. Published by Kitab Writing Publication on 5th November 2023, this collection of inspirational poems, anecdotes, quotes, and articles marks a significant milestone in Maheshwari's journey as a multifaceted writer.
With roots in the serene town of Kasganj, Uttar Pradesh, Maheshwari's words reflect a profound simplicity, eloquently portraying life's various facets in a manner that resonates with readers from all walks of life. His writing, characterized by its relatable nature and motivational undercurrent, aims to inspire readers to delve into the realms of creativity and self-reflection.
"I wanted to create something that speaks to the heart of everyone, regardless of their background or circumstances," says Maheshwari, reflecting on the purpose behind his inaugural literary venture. "Through these written words, I hope to ignite the spark of inspiration within individuals, encouraging them to embrace their creativity and share their stories with the world."
Beyond his role as an author, Maheshwari, a certified life coach, blogger, poet, and speaker, embodies a spirit of diversity that reflects in his various interests, from sketching and music to counseling and cinema. His ability to connect with people on multiple levels has garnered admiration, making his book launch an eagerly awaited event within literary circles.
The book, available on prominent platforms like Amazon, Google Play Books, Kobo Books, and Kitab Writing Publication's website, invites readers to explore the simplicity of life's complexities through the lens of Maheshwari's evocative prose.
Readers can acquire the hardcopy of "Sapne Hai Aankhon Mein, Mehnat Hai Haathon Mein" on Amazon or opt for the softcopy via Google Play Books.
As Sunil Maheshwari embarks on this literary journey with "Sapne Hai Aankhon Mein, Mehnat Hai Haathon Mein," readers are invited to immerse themselves in a world of inspiration and introspection, where words become the gateway to understanding life's myriad intricacies.
To get more updates, Follow us on
Facebook
,
Twitter
and
Instagram.
You can also join our
Telegram Channel