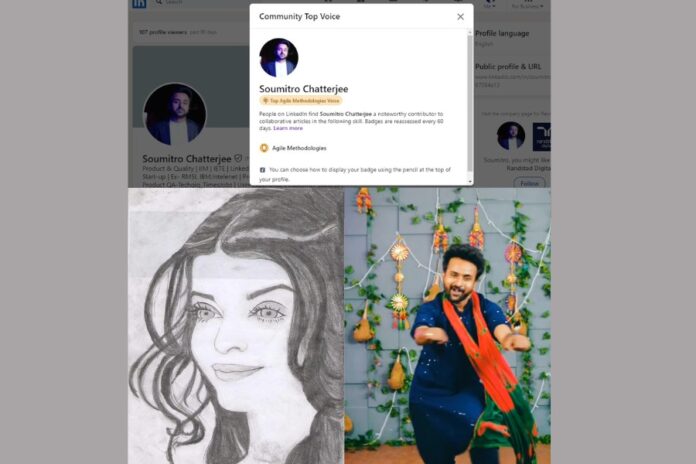 In the dynamic world of digital media, there emerges a luminary who is not just an influencer but a guiding light, inspiring both niche and familiar audiences. Meet Soumitro Chatterjee, a prominent figure in the digital landscape who has embarked on a journey to be a renowned influencer. Through his captivating dance videos tagged under #40kadum #soumsri2 on Instagram and Facebook, Soumitro has amassed a substantial following and garnered recognition as a top voice on LinkedIn. His multifaceted talents extend far beyond social media as he simultaneously pursues an MBA from the prestigious IIM Kozhikode, one of the top three IIMs in the country. 
Soumitro's impact on society is profound and multifaceted. As a seasoned professional, he has lent his expertise to renowned organisations such as Times Internet, IBM and various startups. Currently serving as the Senior Chief Manager at Times Business Solution (Times Group), Soumitro excels in product strategy and management, product conceptualisation, brand positioning, Quality and customer success. His proficiency extends to diverse domains, including travel, insurance, GIS, logistics, recruitment, and assessment platforms. Through his leadership, he has seamlessly integrated agile methodologies, user stories management, and strategic thinking, ensuring the success of various projects.
Beyond the corporate realm, Soumitro Chatterjee is not just a manager but a passionate individual deeply involved in art, culture, and social causes. His love for social gatherings, public speaking, hosting events, and managing parties reflect his vibrant personality. Additionally, Soumitro is a talented pencil sketch artist, a dedicated blogger, and a reigning Carrom Champion. He embodies the spirit of balance, managing his professional pursuits and personal passions with equal zeal.
What sets Soumitro apart is his ability to seamlessly blend his professional expertise with his artistic pursuits and social initiatives. His commitment to personal growth, education, and community engagement serves as an inspiration to many. In an era where digital influence holds immense power, Soumitro Chatterjee is a beacon of positivity, shaping societal values and inspiring individuals from all walks of life. His story is about personal success and the collective growth and empowerment of the society he touches.
For more information, please visit: https://instagram.com/soumsri2?igshid=MXYybTRhbnRtOHA3aA==
To get more updates, Follow us on
Facebook
,
Twitter
and
Instagram.
You can also join our
Telegram Channel