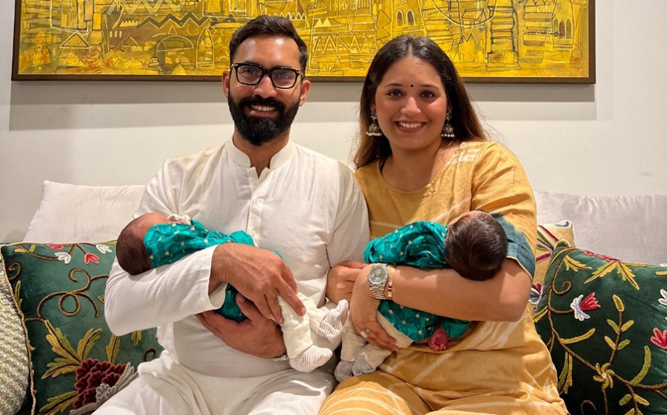 For new mothers encountering lactation challenges, NeoLacta Lifesciences 100% human milk products are proving to be a boon. Parents can now ensure optimal nutrition of mother's milk for their babies even in the absence or insufficiency of breast milk.
Dipika Pallikal, Arjuna Award-winning squash player and wife of a renowned cricketer, Dinesh Karthik was having a hard time trying to breastfeed her twin babies. But Dipika was unequivocal, that her babies should receive nothing other than human milk as she was aware that artificial feeding through infant formula can never match the nutritional value of human milk. Then her doctor suggested that she use NeoLacta Lifesciences's pasteurised donor human milk to ensure optimum nutrition for the babies.
"Despite my best efforts, breastfeeding remained a challenge with my twins I am thankful to the doctor who guided us towards NeoLacta Lifesciences screened & pasteurised human milk products. Both Dinesh & me realise the importance of right nutrition at the right time and I use NeoLacta PHBM along with breastfeeding to ensure my babies remain on a 100% human milk diet, '' said Dipika Pallikal.
"Being aware how the right choice of nutrition plays a vital role in shaping up health and well-being, we are extremely glad to have used NeoLacta Pasteurised Human Breast Milk (PHBM) for our twins. NeoLacta's products have allowed our babies to receive the optimal nutrition and we hope more parents are sensitised towards the benefits of ensuring a 100% human milk diet for their little ones," said Dinesh Karthik.
There are many cases where mothers either do not produce sufficient breast milk or are too unwell to breastfeed. World Health Organization (WHO) recommends pasteurised donor human milk as the next best option in absence of mother's own milk. NeoLacta's range of 100% human milk-derived products have benefitted in excess of 30,000 babies till date. These products are processed through proprietary technology, making India one of the few nations globally to have access to such products.
"NeoLacta Products have been developed using screened and pasteurised donor human milk to meet the nutritional needs of babies and support new mothers with inadequate lactation, lactation failure, maternal illness etc." informed Dr. Vikram Reddy, Chief Scientific Officer, NeoLacta Lifesciences.
To get more updates, Follow us on
Facebook
,
Twitter
and
Instagram.
You can also join our
Telegram Channel