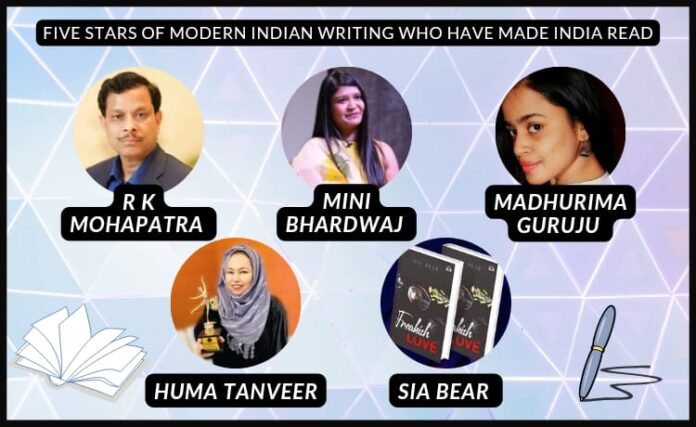 The early history of Indian Writing began with the works of Henry Louis Vivian Derozio and Michael Madhusudan Dutt followed by Rabindranath Tagore and Sri Aurobindo. R. K. Narayan, Mulk Raj Anand and Raja Rao contributed to the growth and popularity of Indian English fiction in the 1930s. The baton has been passed successfully to contemporary talents. We have picked the five trending modern day writers who are carrying this legacy forward.
The five stars of modern Indian writing who have made India read are R K Mohapatra, Mini Bhardwaj, Madhurima Guruju, Huma Tanveer, and Sia Bear.
R K MOHAPATRA
R K Mohapatra is a blogger, speaker, writer, Social Activist, and Award-winning bestselling Author. He is known for his work on cash & wealth management, portfolio analysis, financial planning, and retirement planning.
Mohapatra's honest and striking portrayals of the corporate world earned him numerous national and international awards and exceptional caliber in the world of finance. Recently, the global foundation honored R K Mohapatra with the super prestigious Bhartiya Sahitya Ratna- Best Author Award-2022 in recognition of his immense contribution to literature across talent domains, striving for excellence in genres across the Nation and beyond.
CMA R K Mohapatra has vast 28 years' experience in finance and accounting and profound knowledge of various investment avenues, now working as General Manager, Finance in IRCON, USBRL Project, in J&K.
Mohapatra understands investors' risk appetite and goals before building a portfolio. When it comes to equity and equity-related instruments, he urges investors to remain invested for a longer investment horizon and diversify portfolios across the sectors in order to earn handsome returns and beat the market volatility.
Mohapatra began his writing career in 2013 and published his first book, "Investment Risk & Growth." His published and bestselling books include "Retirement Planning: A simple guide for Individuals," "Investment Risk & Growth: A Guide for Investors about Investment Vehicles," "Sahi Nivesh Se Ameer Banen(Hindi Edition)" and "Mutual Funds: A Powerful Investment Avenue for Individuals."
MINI BHARDWAJ
Mini Bhardwaj, a successful publicist. She started her career from Zee News and later joined the PR industry. She has been into Public Relations for the last 7 years. She has successfully managed high profile brands and celebrities. Mini Bhardwaj has graduated from Delhi University and also holds a degree of Masters in Mass Communication and Journalism. She describes herself as someone who was never inclined towards writing but was always very passionate about Indian Mythology, especially Mahabharata & her attraction towards the underestimated character of ASHWATTHAMA. Her curiosity towards the subject led to an unintentional research which now has shaped into a beautiful book.
Seeking Death- A boon with a Curse by author Mini Bhardwaj is a page turner story for readers. The book is a perfect amalgamation of Facts, Fiction, History, Knowledge and Mystery. This mythology fiction will surely change your perception towards our ancient epic Mahabharata and one of the characters Ashwatthama and also gives a new perspective towards it. The story catches readers attention right from the first page and keeps hooked till the conclusion.
MADHURIMA GURUJU
Madhurima, who hails from Hyderabad, South India is an educator, writer and visual artist. According to her, writing is like therapy to deal with tumultuous situations and the pen is her only friend on which she relies to vent her tangled thoughts through poems and stories. She did publish three solo poetry books this year, even took part in several anthologies while additionally holds experience in story telling and slam poetry as she had participated in several open mic events across the nation. Thus had been featured on several other news web links for her remarkable contribution towards literary arts.
Her recent book Musings on Life is a series of poems related to lives of people was released under Bookleaf Publication which went on fetching enormous appreciation from readers.
HUMA TANVEER
Huma Tanweer is an International Author, Screenwriter, Columnist and Motivational speaker. She is a recipient of Asia's Top 100 Influential Woman Award, 2021. Early in her career at the age of 19, she signed a contract with Lambert Academic Publishing, Germany in 2009. Her first book "The Social and Controversial issues" was published in 2010 and received accolades from such notable
figures as Salman Rushdie and Shashi Tharoor. She has been regular in writing many youth awakening articles in Newspapers and many other reputed magazines. Her articles and interviews have appeared in Hindustan Times, Dainik Bhaskar, India Saga, Daily Hunt, The Hindu, India Today, The Indian Express, The Kashmir Monitor, The Kashmir Radar, Zee News, The Street, Vents Magazine and Times of India's city supplements, among others. She holds a postgraduate degree in
Travel and Tourism Administration from Banaras Hindu University. She is the author of seven international bestselling books. Her books are also nominated for International Commonwealth Awards. Huma has spoken at top universities and colleges as a guest speaker, on topics ranging from women empowerment to pursuing non-traditional careers. She has also made multiple television
appearances and spoken on various panels and forums, joining the panels with Dr APJ Abdul Kalam, Arvind Kejriwal and Shabana Azmi. She was recognized as one of the youngest non-fiction authors in the world. The following books have been written by her:
"The Social and Controversial Issues" & Subtitled "Basic Concepts and
Methods of Preventing" published by Lambert Publishing House,
Germany, USA and UK.
"Art of Loving-How to refine and define your personal style of Love and
Commitment" published by Bloomsbury Publication, London.
"How to Become Rich- the Book for creating wealth and personal freedom"
published by Lambert Publishing House, Germany, USA and UK.
"Women Entrepreneurship- In the age of globalization" published by
LambertPublishing House, Germany, USA and UK.
"Body Language-A Microcosm of our self and soul" published by Lambert
Publishing House, Germany, USA and UK.
"Body Language-A Microcosm of our self and soul", 2nd Edition, published by Amazon
Publication, Washington.
"He loved me enough to let me go" published by Notion Press, India.
SIA BEAR
Swati Mittal, famous by her pen name, SIA BEAR is a proud alumni of Barkatullah University. She has done her master's degree in commerce, M.Com and PGDCA. She's a perfect blend of hustle and serenity. Her hobbies include reading, writing and grooving to music. She is passionate and loves to pen down her emotions. Currently pursuing her Phd, She knows how to have a perfect balance in her personal and professional life.
Filled with heartbreak, love and passion, Freakish Love will take you through a whirlwind that is Aditi's life where she finds the cathartic release of erotic emotions in the stubborn man and paints a canvas of her imaginary dirty sex.
To get more updates, Follow us on
Facebook
,
Twitter
and
Instagram.
You can also join our
Telegram Channel