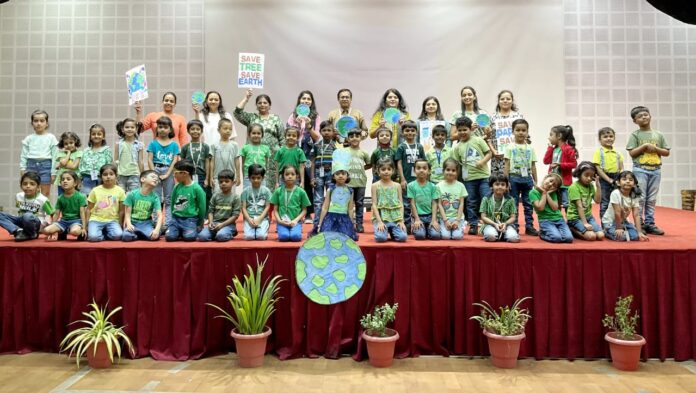 Ahmedabad (Gujarat) [India]: On the occasion of Earth Day, GIIS Ahmedabad has organized Environment Awareness Week from 17th to 21st April 2023. Different themes presented in school, motivated students to engage in environmentally-conscious practices. The motive was to inculcate students with values of conservation, respecting nature, being mindful of disposing the waste, and encouraging them to reduce, reuse and recycle.
To creating awareness about the hazardous effects caused due to the wastage of paper, the theme planned for GMP segment was 'Zero Wastage of Paper' where teachers has conducted various activities like – Virtual trip to paper factory and Nature walk, waste paper collection drive and process of making handmade paper. The young ones learnt new skills and also presented Digital art with the theme of 'Go Digital' which was a delightful experience for them. A special assembly for tiny tots was organized on the same theme where they were taught the awareness about conserving natural resources.
In the similar spirit, the primary students conducted an assembly based on the theme 'Invest in Our Planet' wherein they performed a Nukkad-Natak followed by beautiful dance performance on the beauty of Earth and its perseverance. The skit was based on the concept how humans are treating Mother Earth as its own property, where students also depicted the carefree attitude towards Mother Earth in various ways.A skit also conveyed the usage of biodegradable things that will save the planet. Every student brought a sapling to express their love and respect towards the Earth. On the other hand, the students had initiated sustainable development measure- Kitchen Garden, where various students promotes greenery in school. With an idea to promote an innovation for recycling and gardening, students of different class made 'Bottle Hanging Garden'. Another segment of students conducted poster and collage making competition to raise awareness about the issues our Earth is facing.
The students of senior secondary segment presented Nukkad natak under the theme 'Earth conservation' in nearby residential clusters to raise awareness and spreading the message through pla-cards with different slogans on it. A special assemble was also conducted based on the concept- 'Earth Hour' where students again presented another skit pledging to save electricity. Lastly students have also asked residents to switch off their lights for an hour.
Commenting on this occasion, Caesar D'Silva, Principal GIIS Ahmedabad addressed some motivational and inspirational stories of Greta Thunberg and reminded children of their responsibility towards Mother Earth and administered a pledge to protect and save our fast depleting natural resources. The celebration concluded with the belief that the students would respect their natural inheritance and be good caretaker of their planet.
To get more updates, Follow us on
Facebook
,
Twitter
and
Instagram.
You can also join our
Telegram Channel