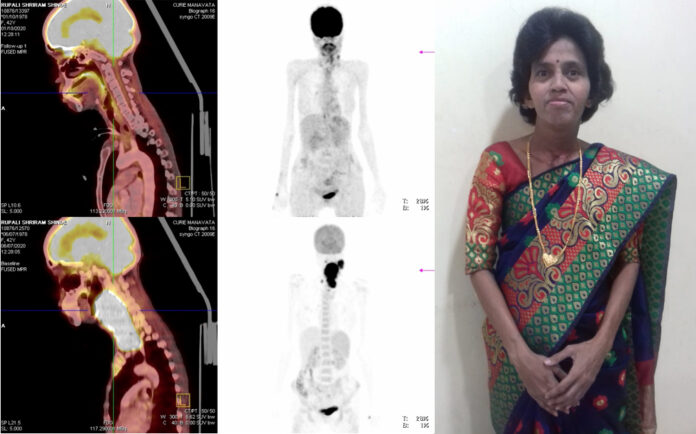 A 42-year-old young female teacher from Chopda consulted HCG Manavata Cancer Centre in May 2020 citing difficulty in swallowing and breathing. It was diagnosed that the patient was a case of very advanced Hypopharyngeal Carcinoma.
She had to undergo tracheostomy and gastrostomy for breathing and eating respectively. She also underwent neo-adjuvant chemotherapy but her cancer was so advanced that it responded poorly to the treatment, in fact they doubted there was further progression of the disease. She was in a very bad state of health because she could not even swallow her saliva and her breathing was also with great difficulty.
But with strong faith in HCG Manavata Cancer Centre and strong will to live with unconditional support from Husband, they chose to undergo the best radiation treatment using the state of the art 'Tomotherapy' machine under the guidance of the team – Radiation Oncologists Dr Prakash Pandit, Dr. Vijay Palwe & Dr. Mayuresh Virkar. The close study of the ailment and expertise of the team on the case to decide a new approach yielded a miraculous result. In the week 2 of radiation treatment, the patient showed remarkable improvement and she started taking liquids through mouth and her breathing had improved. By the time she completed her radiation treatment, she was off tracheostomy tube.
Speaking about this Dr. Raj Nagarkar, MD, HCGMCC says "I am grateful to my team of excellent surgeons and medical staff who take up such challenges and perform them skillfully and using their medical expertise. We are constantly pushing the boundaries of treatment and leveraging technology and modern equipment in providing the best medical options to our patients."
When she came for response assessment with PETCT Scan, she could not believe that her entire cancer had disappeared. Now it's almost three years post-radiation treatment, she is continuing her daily work, teaching students and leading a much better life.
To get more updates, Follow us on
Facebook
,
Twitter
and
Instagram.
You can also join our
Telegram Channel