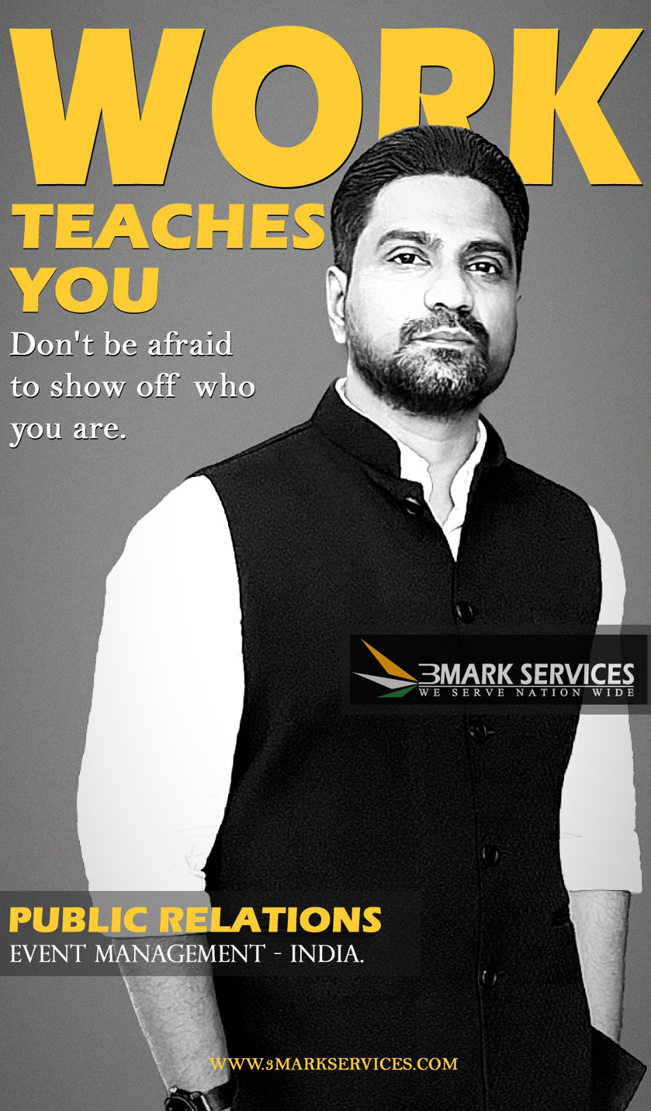 Best consulting award winning agency
Creating a brand value for an organization is crucial to stand out from the rest of the competition in the industry. Effective public relation and corporate reputation strategies are crucial in order to not just create but also maintain brand value and image in the current highly competitive market scenario. The PR industry is fast expanding in the country with many top players entering the market segment. 3Mark Services is one such pioneering company that was established in 2014 with an aim to initiate practices in corporate reputation, effective and efficient public relations, sports, showbiz, politics, corporate, retail sector, celebrity management, image buildings and more. The company's aim is to fulfil the demands of their clients in the best way possible by offering top-notch public relation services.
3Mark Services is known for innovative strategies and ideas apart from providing beneficial solutions to their clients to help build a strong image in the competitive business world. "3Mark Services is a leading Public Relation firm in the Southern states of India and also amongst the most renowned PR firms of India. Though our expertise has grown and we have been offering other forms of business solutions, PR is still at the core of our approach to integrated communications. We believe that 'Your smile is your logo, your personality is your business land, how you leave others feeling after an experience with you becomes your trademark'. We feel proud for understanding our clients' businesses — stimulating and managing dialogue to deliver your brand's messaging and thought leadership through a range of channels.
Our public relations services are based on the idea of 'Effective and Efficient PR'. It is to utilise all the possible forms of communication to express the desired message of the clients widely and clearly to the public. At its heart, effective PR is about taking advantage of the countless communication and means of expressing the opportunities in today's world that enable people to start thinking, talking and having a desirable perspective about your business. Owing to the uniqueness and effectiveness of our services, we have also received an award from Humanity First Foundation for the best event management service in 2018", avers, Sameer Sheikh, Founder, 3Mark Services.
Public Relations is not an easy job. Juggling clients, staying in touch with editors, forming relationships with influencers, coordinating story placements and maintaining cohesive strategies can be overwhelming. 3Mark Services acknowledges the fact that the best way to combat this stressful career path is through an organized and streamlined approach to work and hence they ensure a separate team for separate clients for the efficient process and execution. To streamline their business operations and work in an optimal manner, 3 Marks Services believes in collaborative work culture and the company strives for employee satisfaction and all employees at the company are treated as one avoiding the hierarchy. 3Mark Services also gives opportunities to the freshersto work closely with clients and ensure they themselves find solutions to the challenges that come their way and they appreciate top employees/performers and promote team-building activities to bind employees together.
The quality and efficiency of their services have helped 3Mark Services to not just create but maintain an ever-expanding clientele that includes companies such as Taxi for Sure, Yahoo India, E-Trio, Virinchi Hospital, Srikara Hospital, MaxCure, Telenor, Stencil, Glamego, The Label Bazaar, Building Block Groups, and BTCT-Bangaru Thalli Charitable Trust to name a few. Adding further about the growth of 3Mark Services, Sameer says, "We have been growing and trying to scale, but we have been constantly encountering some obstacles in our way. The focus here isn't on pure innovation but expanding on what's already working for the business. Moreover, we have fastened our belts for upcoming opportunities and as per our servings, we are on a great growth line. 3Mark Services began its work in the entertainment industry and after working with renowned celebrities and creating a strong presence, we are widely accepting new creative objectives related to our firm for better service.
Evolving with the changing times, 3Mark Services has laid out unique strategies and innovative business plans for the company to thrive in the future including developing their social engagement and focusing more on their marketing vertical. By staying ahead of the technology curve, the company is striving to put some space between them and the rest of the competition and this concept of being a unique entity in the market is clearly showcased in their philosophy of 'Lead with People and Business will flow and Experiment today to strengthen the business for tomorrow'.
Founder, 3mark Services
His ability to acknowledge a gap in the industry and derive profitable business plans out of that has been a cornerstone behind the success of 3Mark Services. For the future, Sameer has laid out a fool-proof roadmap for the company to scale to greater heights.
Headquarter: Hyderabad
Offerings: Public Relations, Event Management, Wedding Planning
To get more updates, Follow us on
Facebook
,
Twitter
and
Instagram.
You can also join our
Telegram Channel