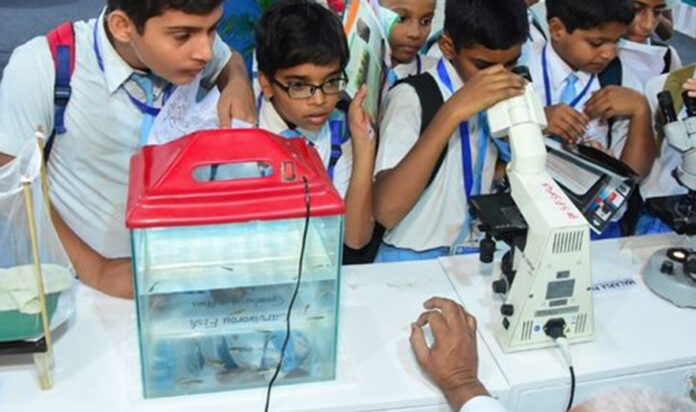 New Delhi, January 07 (India Science Wire): India International Science Festival, an annual event that started its journey in 2015, will organise its 8th edition from 21-24 January 2023, at Maulana Azad National Institute of Technology (MANIT), Bhopal. The occasion offers an opportunity to meet people practicing science in various forms like scientists, researchers, innovators, start-ups, science communicators and writers, filmmakers, administrators, students and people in general interested in science.
India has entered the Amrit Kaal; when, in the coming 25 years, it will be a nation with nearly 60% of its population young and active. As per available data, the median age of India is now 28.4 years. With a concerted effort, India will be a global centre for research and innovation. It is vital now to motivate young students and their parents to choose a career in science and technology. IISF is one such effort to sensitise the nation's substantial young populations on the potential of science-based research and innovations.
Union Minister of State Science & Technology and Ministry of Earth Sciences (Ind. Charges), Minister of State PMO, PP/DoPT, Atomic Energy, and Space, Dr Jitendra Singh has said that "The future belongs to those who have innovative ideas and out-of-box goals, and have the conviction and courage to achieve the same."
This year, following Dr Singh's suggestion to set up a Mentor's Desk at the IISF, a new event – Mentoring & Counselling (Scientific Discussions) has been added to its existing list of 14. This is going to guide the students as well as their parents about potential scientific and technological career options and innovations.
In IISF 2022, the dedicated event on Mentoring and Counselling will allow the school and college students to explore and understand their career of choice through a mentorship journey with the experts of Science, Technology, Engineering and Mathematics (STEM).
Through the guidance of mentors, students will be better prepared and equipped for an enriching career when they join the workforce in academia, research, and industry.
"The main aim of this event is to guide and mentor school/college students and parents (especially from rural areas) about various career opportunities in science and technology areas", said Dr Sanjay Mishra, Scientist H, Department of Biotechnology and Coordinator, IISF 2022. "This will improve the productivity of the nation and help in Aatmanirbhar Bharat during the Amrit Kaal," adds Dr Mishra.
Few career domains are still taboo for female students. Counselling sessions at the IISF will guide them and their families to overcome their fears and explore the new career horizons for women in science and technology.
At the venue of the Festival, there will be Walk-in Counselling Clinics where school and college students can interact with experts of different domains in science. The counselling will be provided in both English and Hindi.
Experts from various academic and research organizations are expected to guide the students about the processes and requirements to get admission into reputed organizations. These clinics will also guide them on selecting a suitable career to match their abilities, interest, and personality.
Besides the clinics, there will be 'Knowledge Gateway' that will connect the students with professionals and experts in their chosen career through classroom sessions/webinars.
The programme aims to introduce the students to various conventional and non-conventional work fields. Students coming from rural regions and who are completing their 10+2 or graduations would be guided by the experts about various courses, colleges, streams, eligibility criteria for joining them, job opportunities etc. Sessions will be held on Biological, Chemical, Pharmaceutical, Physical Sciences, Mathematics, Engineering, Innovations, Entrepreneurship, Science Communication, Digital Technology, Environmental Sustainability, Archaeology, Forensic Science, Space, Medical & Paramedical Sciences, Lab Technology, Physiotherapy & Dietetics, AYUSH and many more.
The clinic will be open to all and no registration is required. Anybody visiting the festival can come for the counselling clinics and sessions and interact with experts.
To get more updates, Follow us on
Facebook
,
Twitter
and
Instagram.
You can also join our
Telegram Channel