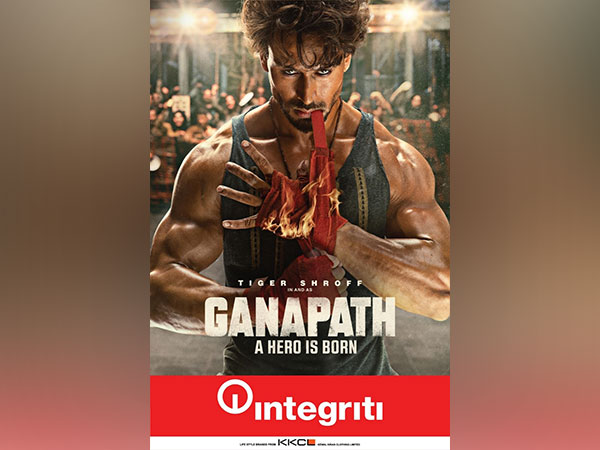 This strategic brand integration comes ahead of the festive season, wherein the brand's logo will be visible at pivotal sequences in a much-anticipated song from the film
INTEGRITI, the leading casual men's fashion brand from the house of Kewal Kiran Clothing Limited (KKCL), today announced a strategic partnership with the much-anticipated film GANAPATH, starring Tiger Shroff. This exciting collaboration is set to create a significant impact for the brand ahead of the festive season, as INTEGRITI aims to capture a more extensive market share.
INTEGRITI's association with the film Ganapath will see the brand featured prominently in the film's captivating narrative. Tiger Shroff, the charismatic lead of the movie, will showcase his signature dance moves in the high-energy song, with the iconic INTEGRITI logo adorning the background. This synergy between INTEGRITI and Ganapath exemplifies the fusion of style and dynamism, promising an exhilarating visual treat for audiences.
Commenting on the occasion, Mr. Vikas Jain, Director, Kewal Kiran Clothing Limited said, "We are delighted to partner with Ganapath, a film that resonates with the energy and spirit of INTEGRITI. This partnership underscores our commitment to providing fashion that complements the dynamic lifestyle of today's youth. INTEGRITI's partnership with Ganapath not only signifies its presence in the world of fashion but also its resonance with the diverse tastes of our discerning customer base. By aligning with a cinematic sensation like Ganapath, set to dominate the festive season box office. INTEGRITI aims to leave an indelible mark on the minds of audiences."
Ganapath, a fantasy action-drama film presented by Vashu Bhagnani and Pooja Entertainment and is directed by the acclaimed Vikas Bahl, boasts an ensemble cast that includes Tiger Shroff, Kriti Sannon, and the legendary Amitabh Bachchan in pivotal roles. Scheduled for release on October 20, 2023, right in time for the holiday season, the film is poised to become a blockbuster, captivating the hearts of movie enthusiasts nationwide.
The production house, Pooja Entertainment, has also launched an exclusive broadcast channel on WhatsApp, which is the first Indian channel to do so. Producer Jackky Bhagnani, also an Indian actor, entrepreneur, and founder of Indian music label JJust Music, said he is excited about the release of the movie.
#ShowYourIntegriti
About Kewal Kiran Clothing Limited (KKCL): Kewal Kiran Clothing Limited is a 30-plus-year-old legacy company in the Indian retail and fashion industry. Started in the 1980's by brothers Kewalchand Pukhraj Jain and Hemant Pukhraj Jain as an apparel manufacturing business with a focus on denim, KKCL today has transformed into a celebrated and sought-after home-grown fashion and lifestyle brand company.
Today, KKCL has a wide range of offerings, from jeans, T-shirts, shirts, shorts, jackets, blazers, winter wear, athletic wear, and accessories under established brands like Killer, Integriti, Lawman PG3, and Easies. With 450+ Exclusive Brand Outlets (EBOs) and 80+ Distributors covering 3000+ MBOs across India and presence across national chain stores, the company has a widespread distribution in India.
KKCL has successfully competed with global brands and remained the nation's largest branded apparel maker through constant innovation and keeping up with people's pulse. The company's ability to keep innovating and competing has made it a sought-after fashion brand in the country.
About Integriti: Integriti was launched in 2002. The year 2022 marked the completion of 20 fruitful years in Indian retail. It is positioned as a brand for the masses, with no compromise on quality and an affordable price range for both men's wear and women's wear. Integriti is present in almost every state of India, across 250+ EBOs (exclusive brand outlets), 3000+ MBOs (multi-brand outlets), and 1000+ LFS (large format stores) across India.
To get more updates, Follow us on
Facebook
,
Twitter
and
Instagram.
You can also join our
Telegram Channel