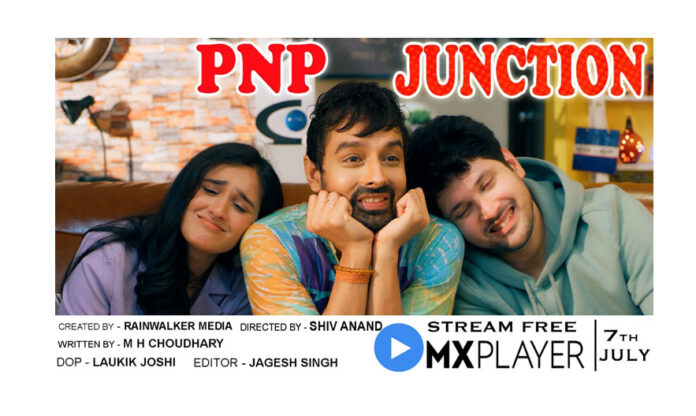 Hailing from a small town in western UP called Pilibhit, marine engineer & now a notable actor Piyush Gupta's journey seems like an impossible dream. But truth is indeed stranger than fiction. He managed to stay on the scene with his Hungama Artist aloud music videos like Jane Kab Phir, Arz-e-Mulaqat, Dobara and short films like "Last Friend" & "Behind You". But all this fade in comparison for what he is gearing up to. His OTT debut in the comedy web-series PNP Junction, streaming on MX Player from 7th July 2022. 
Our reporter reached out to the actor to discuss how things have been shaping up for him in showbiz so far. Here's what he had to say…
How is the experience working on web series for an OTT platform?
I am extremely overwhelmed with the kind of response that our trailer & songs are getting. There has been huge excitement especially with college students and youth audience. Three songs #FYITBHTBH, I Love you too boldiya & Husna Pari are trending popular on MX player.
OTT platforms have made mobile phone screen bigger than the multiplexes. This is the start of a new era and we will see complete overhaul of the entertainment industry in coming days.
Coming from a successful marine engineering career, what made you decide to produce and act in this web series?
Having scored All India Rank 3303 in the prestigious IIT JEE exam, I had developed a strong liking towards Physics, Chemistry & Maths as subjects. But my core passion always remained acting. The script of PNP Junction is a satire on today's engineering students and hurdles they face while trying to woo girls. 
It was the super funny laugh riot script that forced us to produce this story. Pankhuri Awasthy and Aditya Deshmukh (my co actors) also loved the concept (which reinforced our belief).
What are the kind of obstacles you have faced?
I like to focus on solution rather than problems. We small town kids live a tough life right from the very beginning. So when any challenge comes across, be it no God Father, shortage of funds, COVID waves or technical difficulties, we face it head on. My mother used to tell me that take each challenge as a learning opportunity. And that philosophy was the only thing which helped us to reach our goal.
It's your passion for the craft, that helps you overcome all obstacles.
Can you give us three reasons, why to watch PNP Junction?
It's a laugh riot sitcom. If you loved FRIENDS/ Big Bang Theory / Two & Half Men, you will definitely enjoy PNP Junction. It will take you to those sweet memories from college when friends used to support you and sometimes trap you into embarrassing situations. 
The music is another USP of the series. All 6 songs are peppy, upbeat & uniquely composed. Lyrics will surprise you with words like Chanchal Chitvan / Husna Pari at one end to FYI TBH on the other.
And last, but definitely not the least, the superb cast: Pankhuri Awasthy and Aditya Deshmukh.
They are the best actors that we have in television today. Audience have given tremendous love to their previous characters in Nati Pinki Ki Lambi Love story (Colors), ZiddiDil mane Na (Sony Sab), Gud se MeethaIshq (Star Bharat) &Shubh Mangal Jyada Savdhan. I am sure you will love them in their OTT debut as well.
Instagram: http://www.instagram.com/p_i_yush/
To get more updates, Follow us on
Facebook
,
Twitter
and
Instagram.
You can also join our
Telegram Channel