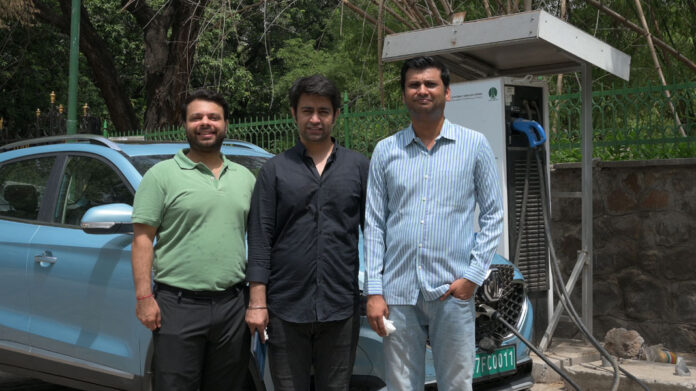 It aims to establish and operate more than 500 charging stations across Delhi NCR by year-end and 5000 plus stations across India by 2025
New Delhi, July 08, 2022: A made-in-India brand Sahy, a social entrepreneurship initiative that focuses on addressing sustainable development commissioned its first charging station today in Delhi NCR. The initiative is led by Mr. Aseem Gupta who is also chairman of outreach & co-chair of climate change at the Young Indian's (Youth wing of CII) Gurugram Chapter. Sahy has tied up with the Galaxy Group for the first leg of its stations. Sahy which means 'to do the right thing', is making a sustainable impact in climate change and strives to be a carbon-negative company.
The site is a gateway to a bigger user base looking for an easily accessible and cost-effective charging utility that can easily be accessed easily by the EV users. Launched as a pilot project, the charging station will be operated and managed with Sahy's charger management software and unique operation model. Sahy aims to kick start more key locations in July, 2022 which will increase its presence in the NCR Region. This will support the country's infrastructure for a faster adoption, amidst rising fuel prices and global warming impacting each of our cities.
The charging stations can charge e-vehicle simultaneously which are located at various touch points starting July 2022. Sahy aims to kick start with more facilities which will support the infrastructure that the EV needs urgent attention.
Speaking on the occasion, Mr Aseem Gupta, Co-Founder & Joint M.D said, "Sahy aims to provide a solution to tap EV market which can provide charging services at affordable rates. Also, we are looking to install the charging station anywhere in residential and commercial premises using the AC mechanism for convenience." He further added on expansion and said, " We at Sahy, are looking to establish and operate 500+ charging stations across Delhi NCR by year-end and by 2025, we will have more than 5000 charging stations across India. We also aim to provide charging capabilities to 25000+ vehicles including two-wheelers and cars during this time."
According to various reports, India has 10,000 public charging stations for approximately 9 Lakh or more electric vehicles, of which 25,000 are cars. India needs about 400,000 charging stations to meet the requirement for two million Electric Vehicles (EV) that could potentially ply its roads by 2026. The Asia-Pacific Electric Vehicle Charging Stations Market is expected to reach a value of $ 44.43 billion by 2028, at a CAGR of 24.7% during the forecast period 2021-2028.
The Electric Vehicle ecosystem in India is at a very nascent stage and we have the potential to set a global example of zero-emission and carbon neutral mobility therefore, making the Sahycharging stations for e-mobility ubiquitous.
The Sahy EV charging stations at the outlet are integrated with a mobile application that enable consumers to locate, pre-book an appointment, and pay using their digital wallets.
About Sahy
Sahy is a social entrepreneurship initiative that focuses on addressing sustainable development goals by establishing itself as a global leader in the EV charge point operator sector. The company is working towards development of sustained growing profits from clean and affordable energy. Sahy is curating a wide network of EV charging stations which will help the country in progressing towards use of future technology, reduce dependence on fossil fuels, enhance the standard of living and lifestyle of people, all the while creating a great social impact through reserving vacancies for differently-abled and earmarking a substantial part of the earnings for Research & Development.
To get more updates, Follow us on
Facebook
,
Twitter
and
Instagram.
You can also join our
Telegram Channel