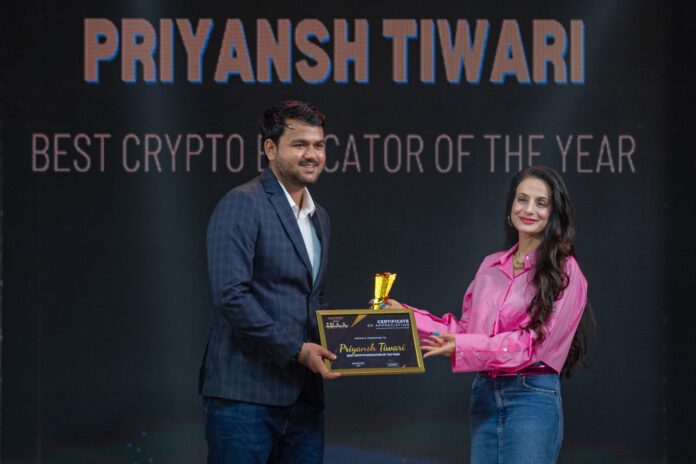 The India Bizz Achiever's Awards are a testament to the proficiency and potential of exceptional individuals and corporate entities leading successful businesses. These awards are a tribute to the inventive, accomplished, and entrepreneurial spirit of the awardees. The event garnered enthusiastic participation from both the Bollywood and corporate sectors and was lauded by the media and the public for its magnificent presentation. Priyansh, a trailblazing figure in the cryptocurrency education realm, has earned the distinguished title of BEST CRYPTO EDUCATOR OF THE YEAR at the prestigious India Bizz Achiever's Awards. This accolade, presented by none other than the renowned actress Ameesha Patel, signifies Priyansh's exceptional contributions to the field of crypto education.
Through unwavering dedication and an innate ability to simplify complex crypto concepts, Priyansh has empowered countless individuals with the knowledge and skills to navigate the ever-evolving world of digital currencies. His educational efforts have bridged the knowledge gap, making cryptocurrencies accessible to a wider audience.
India Bizz Achiever's Award's recognition underscores Priyansh's significant impact on the crypto community and highlights his role as a catalyst for spreading awareness and understanding. Priyansh's achievement as the BEST CRYPTO EDUCATOR OF THE YEAR is a well-deserved acknowledgment of his commitment to education and his pivotal role in promoting the adoption of cryptocurrencies. His work continues to inspire and educate, paving the way for a more informed crypto landscape.
To get more updates, Follow us on
Facebook
,
Twitter
and
Instagram.
You can also join our
Telegram Channel