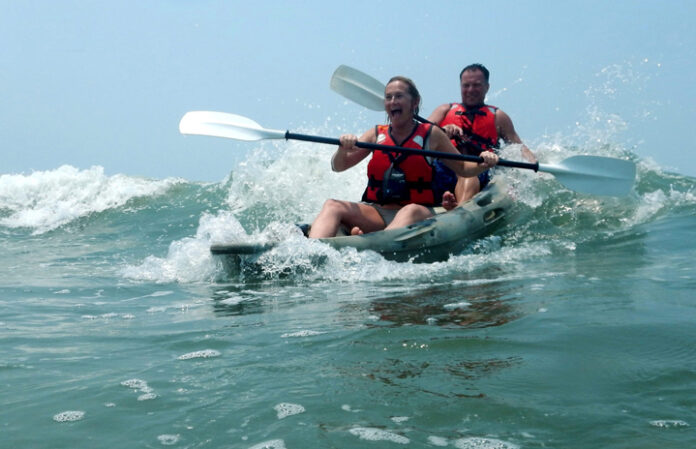 Goa is well known for its immaculate beaches and picturesque rivers that draw both thrill-seekers and nature lovers when it comes to adventure tourism. Kayaking is one pastime that's gaining popularity in this seaside paradise. Local tour companies prioritize safety precautions to make sure that every excursion is memorable in an effort to offer tourists safe and pleasurable kayaking experiences.
With its peaceful exploration of Goa's water bodies, kayaking provides a special way to get in touch with nature and discover the area's undiscovered wonders. Tour operators have put strict safety standards in place to guarantee that these activities are both safe and entertaining.
Modern tools and knowledgeable guides
Goa tour companies are making investments in top-notch kayaking gear that complies with global safety requirements. Participants may relax knowing they have everything they need for a safe ride, including well-maintained kayaks, life jackets, and helmets. Additionally, these tours are supervised by qualified experts with training in first aid and water safety in addition to extensive local knowledge.
Detailed safety briefings
Each kayaking expedition begins with a thorough safety briefing for the participants. These briefings provide important information on navigational advice, proper paddling techniques, and emergency protocols. Participants will be well-prepared for any situation if they are aware of the water conditions, weather predictions, and potential risks.
Places a Focus on Small-Group Tours
Many kayaking tours in Goa have small group numbers to ensure a high level of focus on safety and individualized instruction. With this method, guides can keep a close eye on players and offer support and real-time direction as required.
Regular equipment inspection and maintenance
Safety is more than simply having the appropriate gear; it also includes making sure that everything is properly maintained and examined on a regular basis. To maintain the best possible condition of their kayaks and safety equipment, tour operators have put in place stringent maintenance schedules.
About Konkan Explorers
The creators of Konkan Explorers recognize that the safety of our participants is of the utmost importance, and we spare no effort to ensure that every kayaking journey is not only memorable but also secure. They are proud of their knowledgeable guides, first-rate gear, and steadfast dedication to safety.
The emphasis on safety on Goa's kayaking trips ensures an unforgettable experience for everyone, regardless of whether you are an experienced kayaker or a first-time adventurer. Goa has firmly established itself as a place that emphasizes the well-being of its visitors above all else, as adventure tourism there continues to thrive.
In a Nutshell
Goa's dedication to safety in the adventure tourism sector is clearly shown in its kayaking opportunities. Tour operators have raised the idea of safety to an art form by carefully balancing cutting-edge equipment, knowledgeable guides, thorough safety briefings, and routine equipment maintenance. Visitors may relax knowing that every safety measure has been taken to ensure their enjoyment and security while they travel by kayak across Goa's natural waterways.
This commitment to offering safe and fun kayaking experiences highlights the region's passion for adventure tourism as well as its profound respect for the wellbeing of its esteemed visitors. By making these efforts, Goa keeps building its reputation as a place where thrilling adventure and safety go hand in hand, making every trip there worthwhile.
To get more updates, Follow us on
Facebook
,
Twitter
and
Instagram.
You can also join our
Telegram Channel