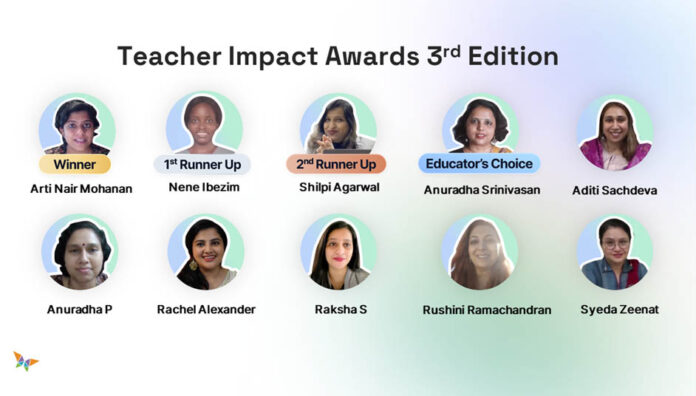 Suraasa, the online career growth platform for teachers, hosted the third edition of its prestigious Teacher Impact Awards on Saturday, April 29th, 2023. The virtual event celebrated teachers' hard work and outstanding impact on their students and the community.
With teachers from different parts of the world competing for the top prizes, the panel selected winners based on the impact created, quality of evidence, and vision for the future. The panel consisted of esteemed school leaders and educationists from around the world, including India and the UAE.
Arti Nair Mohanan from India has been named the Teacher Impact Awards 3rd Edition winner, receiving a cash prize of Rs.3,00,000. Arti shares, 
"It's absolutely incredible. It's 12 years of extremely hard work that has actually been recognised; I think, for the first time in my career. I love every minute of being a Teacher. My classroom is the one space where you've millions of stakeholders to handle, and you've to think about every single one of them. And it's a tough game; nobody knows what the future holds. So, I am completely honoured with this recognition."
Nene Ibezim from Africa and Shilpi from India have been declared the first runner-up and second runner-up, respectively, and were awarded cash prizes of Rs.2,00,000 and Rs.1,00,000.
This edition's top 10 impact creators have also been awarded Rs.50,000 each. They will also receive personalised opportunities to get career mentorship from Suraasa experts.
Celebrating the success of teachers, Rishabh Khanna (Founder & CEO, Suraasa) shares, "All of us at Suraasa feel immensely grateful to be around teachers who are creating such extraordinary impact in the lives of themselves and those around them. I humbly congratulate all the participants of this edition of the Teacher Impact Awards. You all are #TeachingSuperstars".
Suraasa intends to continue its efforts to highlight the significance of teachers by taking more such initiatives. The goal is to improve how people view teaching as a profession choice by presenting it as socially, emotionally, and financially rewarding.
To get more updates, Follow us on
Facebook
,
Twitter
and
Instagram.
You can also join our
Telegram Channel