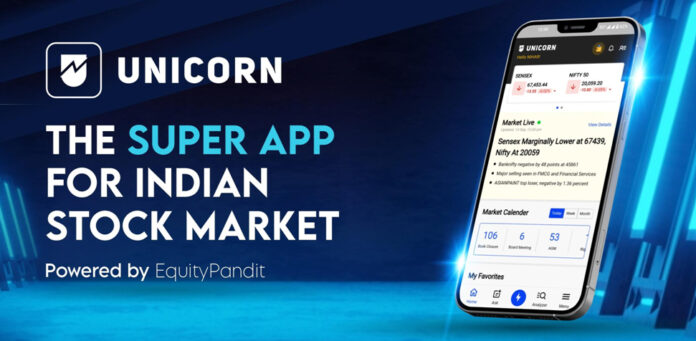 Unicorn Signals is an AI-driven research platform that helps market participants easily navigate the complexities of the market. Launched in March 2022, the super app caters to more than 1,20,000 traders and investors today.
Unicorn Signals is suitable for any and every kind of trader and investor. Anyone from intraday traders, swing traders and HNI investors can use the Unicorn Signals app to generate profits.
Unicorn Signals is powered by EquityPandit, a name trusted by Investors and traders for over 18 years. The app aims to substitute all other stock market apps by compiling their features into one super app. The app is focused on simplifying the experience of traders and investors in the market by providing superior features for stocks and derivatives in a simple and intuitive interface.
Why Choose Unicorn Signals?
Unicorn Signals is not just a stock screener but a market tracker, a news portal and a market predictor all packed into one easy-to-use application. That means no more installing different apps for different purposes; you only need Unicorn Signals and your preferred stock-broking app.
The AI behind the app has been backtested by analysts and market experts with more than 18 years of experience in the field and trained using historical data and trends. The app leverages the power of technology and data to help users in their stock market journey.
How to Use the Unicorn Signals App?
The Unicorn Signals app is available for free on Android, iOS and Web. The super app provides several trading signals, next-day market predictions, stock quotes, accurate technical charts, the latest stock market news, and other useful features for investors and traders.
Features for Traders
Market Prediction

Intraday Trading Stocks

Live Option Strategies

Swing Trading Stocks

Technical Indicator-Based and Candlestick Scans

Pivot Calculator
Features for Investors
Stock Analyzer

IPO Scanners

Ask The Analyst

Investment Opportunities

Market Scans

Sector Analysis
Unicorn Signals Pro
The Unicorn Signals Pro version offers premium features, including Intraday Signals, Swing Trading Signals, Live Option Strategies, Investment Opportunities and Stock Signals, that help traders and investors generate exceptional profits. Unicorn Signals Pro starts as low as Rs 649 monthly, with an additional Rs 400 cash in your Unicorn wallet upon signing up.
Whether you are a rookie trader or an experienced investor, the technologically advanced features of the Unicorn Signals app make navigating the markets easier. Join the 1 lakh+ users on the super app to unlock success in the stock market.
To get more updates, Follow us on
Facebook
,
Twitter
and
Instagram.
You can also join our
Telegram Channel