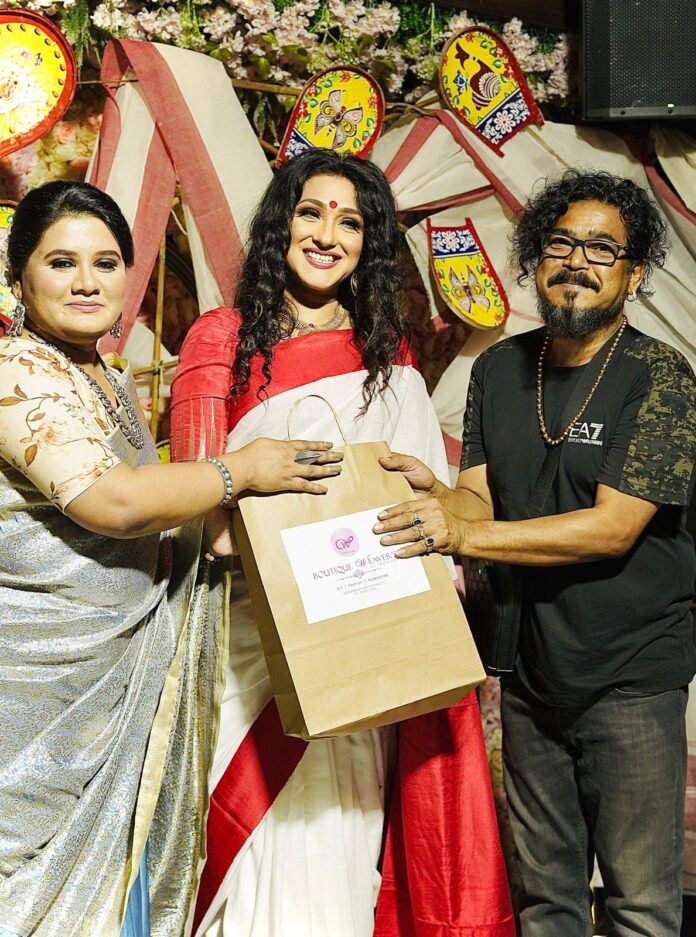 Durga Puja has woven itself into the very fabric of Kolkata's residents. On September 13, 2023, an extraordinary gathering took place at the La Felice Kolkata, marking the onset of the 2023 Pre-Puja festivities, centered around the theme "Amaar Ma, Amaar Durga."
This exceptional endeavor, dedicated to the celebration of motherhood, was championed by the renowned Bengali actress, Ms. Rituparna Sengupta from Bengali Film Industry.
The event welcomed a diverse array of eminent figures from Kolkata's cultural landscape, including Actors, Architects, film directors, dancers and esteemed entrepreneurs, all converging to inaugurate this thematic symbol. Among the esteemed guests who graced the event such as Mr. Sanatan Dinda, Team Studio FIVE, actress Ms. Chaity Ghoshal, director Nirmal Chakravarty, and few more.
Ms. Sromona Dalui Dutta – an Architect, PR specialist and social activist, who is also the Co-Owner of 'Boutique Weaver's,' expressed her enthusiasm, saying, "This event occupies a special place in the hearts of the entire Studio FIVE Production team. It is a lifelong memory for all of us and it marks the beginning of many more to come."
The 'Boutique Weaver's,' – a segment of Studio FIVE, owned by the mother-daughter duo of Keka Ganguly and Sromona Dalui Dutta, proudly sponsored exclusive designer sarees, jewelry, and imported bags for the occasion.
Ar. Sromona , the co-owner of Studio FIVE Production & Present Proprietor of FIVEM ENGINEERS (Firm established in 1944) added, "Attending this beautifully intimate event organized by 'Bhavna aaj o kal,' the Production House of Ms. Rituparna Sengupta, was indeed a blessing for me & my entire team."
Celebrity Makeup Artist Pritam Das, lent his expertise in makeovers and styling for this event.
The event was executed seamlessly by Mr. Arnab Roy. & photography was deftly handled by Mr. Supriyo Mondal and Ms. Rimi Halder.
For those interested in acquiring exclusive designer products or arranging event coverage or TV commercials, you can reach out to them via email or phone at [email protected] or +91-75959-13136.
The grand "Amaar Ma, Amaar Durga" event concluded with a lavish dinner at La Felice Rooftop Club & Lounge in Topsia, Kolkata.
To get more updates, Follow us on
Facebook
,
Twitter
and
Instagram.
You can also join our
Telegram Channel