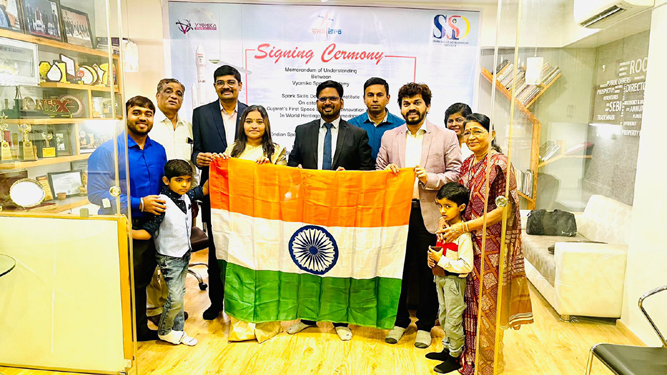 Ahmedabad (Gujarat) [India]: Vyomika Space Academy, a pioneering institution in the field of space education, has entered into a Memorandum of Understanding (MOU) with Spark Skills Development Institute to inaugurate Gujarat's inaugural Kalam-Sarabhai Space Science & Innovation Lab. This collaborative initiative spearheaded by renowned educationist Mrs. Kushbu Shah, along with CA CS Fenil Shah, aims to propel education and innovation to unprecedented heights.
Under the visionary leadership of Dr. Pratik Mungekar, a distinguished scientist, esteemed professor, Vice Chancellor, and vital member of Vyomika Space Academy's Board of Advisors, this partnership seeks to cultivate a culture of scientific curiosity and exploration. The lab's establishment aligns seamlessly with the legacy of Dr. Vikram Sarabhai and Dr. APJ Abdul Kalam, whose names grace the lab, and underscores the significance of this groundbreaking endeavor.
Mr. Govind Yadav, Founder Director of Vyomika Space Academy, expressed his enthusiasm for this momentous collaboration. "The Kalam-Sarabhai Space Science & Innovation Lab embodies our commitment to providing world-class education to all, fostering innovation, and nurturing the minds of tomorrow," he stated.
The signing of the MOU took place today in the presence of the esteemed Shah family, associates, and key stakeholders. This historic agreement sets the stage for a new era of scientific exploration and learning, rooted in the rich history and promising future of space science.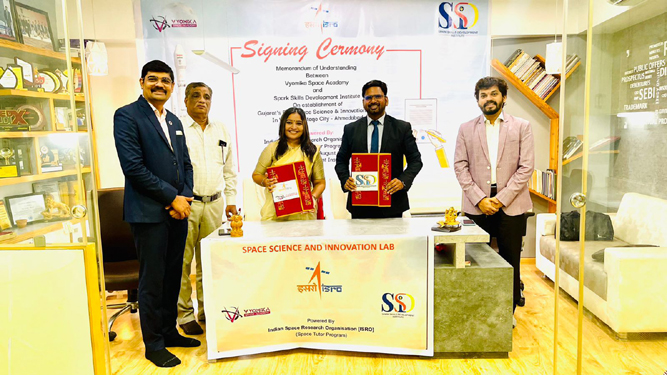 About Vyomika Space Academy
Vyomika Space Academy is a leading institution dedicated to fostering scientific education, space exploration, and innovation. With a commitment to nurturing young minds and propelling them towards careers in space and science, Vyomika Space Academy is at the forefront of inspiring the next generation of scientists and explorers.
About Spark Skills Development Institute
Spark Skills Development Institute is a trailblazing educational organization focused on equipping individuals with the skills and knowledge needed to excel in a rapidly evolving world. Through a range of innovative programs, Spark Skills Development Institute empowers learners to embrace their full potential and drive meaningful change across various industries.
To get more updates, Follow us on
Facebook
,
Twitter
and
Instagram.
You can also join our
Telegram Channel