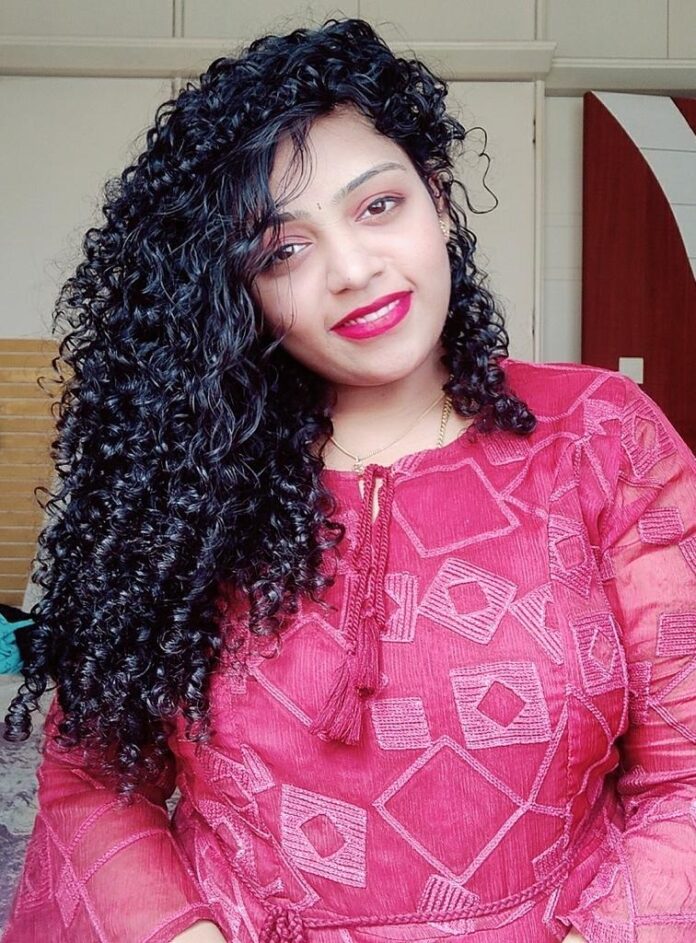 Vyshnavi has started her microblogging on Instagram in the Corona lockdown 2020 in the name of her handle 'itsaboutbeingcurly', with the idea to spread the awareness of how to take care of textured hair as she benefited with the process. Now in 2022, she is an awards holder for the inspirational journey of her getting almost bald head to a head full of long curly hair. Curly hair usually takes more time to know the actual length as it shrinks. But with her patience and persistence, she has achieved her dream passing down her shoulders. And you know what, she's the mother of 2 mischievous boys.
Since her childhood, she's the girl who always thrived for the curly hair growth. She has faced several challenges over the years, from depression to deserted, yet she continued to seek the happiness in her life.
Knowing nothing about the curly hair, she's always frustrated and despondent. In 2018, after her second pregnancy, her health and her hair growth took toll on her hope and her confidence which added depression making it worse. When she's almost going bald during her postpartum second time, she's happened to bump into the word "CGM: Curly Girl Method" in July 2019. After learning about the facts and going through the various articles over the Internet for almost 2 months, she mustered the utmost courage to give it a try. Because it's a change in her lifestyle which demands more patience and most importantly the consistency towards her goal. In November 2019, that was her life changing decision, I can ever say, to continue with the process.
Going through the second phase of her postpartum with the change in lifestyle, handling all the sensitive emotions and depression, looking after her both the kids without any help during the Corona lockdown in April 2020, is the toughest time she had ever faced in her life. But the change in her lifestyle and the hope to grow back her hair helped her to maintain the consistency in her routine, which in turn gave an awesome results in the overall growth of her curly hair. She got back the shine, bounce and actually the length of her curly hair.
Following the CGM from past 3years allowed her to enjoy the benefits in overall development of her inner health as well. Now she is more confident and the most happiest girl.
There were times when she was laid down and being mocked for having her own opinions, but each time she stood more stronger. Her close friends and her family had given many utterances and rejections for not combing her hair. People call her lucky after seeing her growth and mocked as if she grabbed her success too fast, but they tend to forget her persistence to survive in lockdown and her struggles throughout her journey.
So she has started helping people in and around by documenting her experiences in social media pages. She realised the importance of being a content creator, Vyshnavi has come a long way. Her content is extremely real, fresh and trendy. She has her first affiliate association with the brand was in her early 700's follower count. She has now associated with more than 25 top brands in her niche.
She has her own group to discuss and sort out the things to help the people who are in need. She also conduct private one to one sessions to teach her clients about the process.
She's now so happy to see more people inspiring to start their journey and enjoying the benefits of this method now.
After coming everything to normal, she has recently included her travel journal being a mother of 2 little boys. She has now changed her handle name to 'itsabouttravelncurly' as well. So now you can experience her beautiful travel journey coping up with 2 little kids.
Vyshnavi is a strong woman with moral values and with a lot of positive vibes that one would feel very motivated. We need more personalities like Vyshnavi Thabjula to spread the positivity and to become more confident.
Instagram Link: http://www.Instagram.com/itsabouttravelncurly
To get more updates, Follow us on
Facebook
,
Twitter
and
Instagram.
You can also join our
Telegram Channel