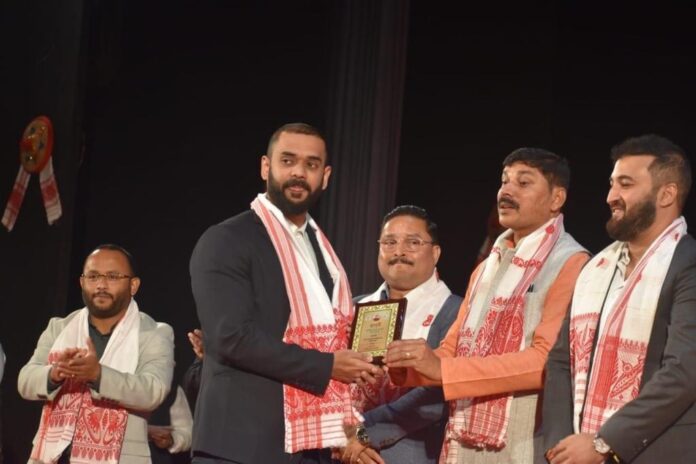 He has been recognised for his outstanding achievement in the sport.
The BJYM (Bharatiya Janta Yuva Morcha) is proud to present its prestigious Youth Achievement Award to Dr. Amit Talukdar in recognition of his extraordinary achievements in the field of fitness and bodybuilding. The event was held on 12th January 2023 on National Youth Day on the eve of birth anniversary of Swami Vivekananda in the presence of the event's chief guest Dr. Himanta Biswa Sarma, chief minister of Assam. Dr. Amit Talukdar has established himself as an inspiring figure and leader in the industry, motivating countless individuals to strive for their fitness goals. His passion and dedication to fitness have made him an invaluable asset to the industry, and his innovation and creativity have helped to elevate the field to new heights.
Dr. Amit Talukdar has achieved many personal accomplishments, including setting multiple national and international records in bodybuilding competitions. He has also given back to his community, mentoring aspiring bodybuilders and helping to promote healthy lifestyles and fitness. As a leading expert in the field, Dr. Talukdar has demonstrated an extraordinary level of dedication and commitment to helping others achieve their physical fitness goals and his innovative approach to fitness training has made a significant impact on the lives of countless people so have his methods which have been proven to be successful, producing impressive results. The young achiever says that he maintained his focus and stayed true to his goals which helped him achieve success at the Mr Universe competition in Bangkok, Thailand, hosted by the World Fitness Federation where he earned two medals, a Silver in the Classic Physique division and a Bronze in the Open Bodybuilding division.
As an inspirational role model for others, Dr. Talukdar's tireless efforts have helped to make fitness and bodybuilding more accessible to the public. This award is presented in honor of his tremendous achievements and to recognize the impact he has had on the fitness community.
To get more updates, Follow us on
Facebook
,
Twitter
and
Instagram.
You can also join our
Telegram Channel