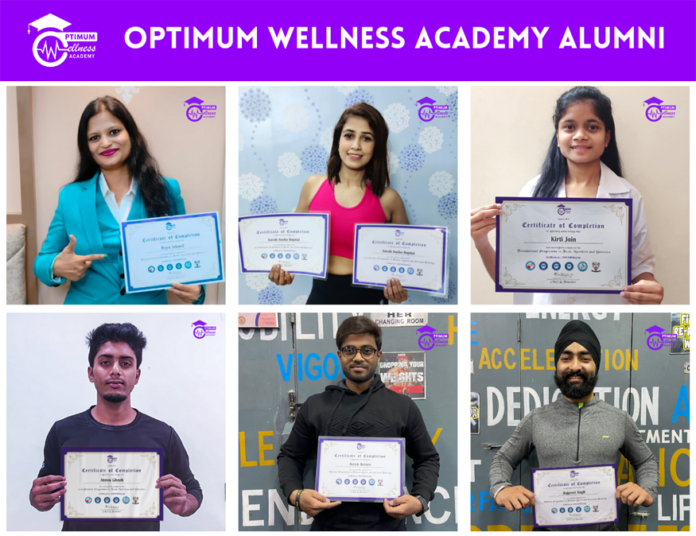 The outbreak of COVID-19 has shown people how important it is to lead a fit and healthy lifestyle.  Besides that, a worrying number of youngsters are facing body image insecurities and obesity which is only increasing as time goes by. To help combat these issues, Alan Baptist launched Optimum Wellness(OW) formally in 2020, giving people the opportunity to get fit and healthy with evidence-based fitness and nutrition plans.  
Alan Baptist explains that the idea of "Optimum Wellness Academy(OWA)" came to him after his personal transformation journey, which started off with a 2017 New Year resolution of becoming a fitter version of himself. 
"When I realised the issues with my sedentary lifestyle and unhealthy eating habits I decided to take my health into my own hands. As an auditor in a chartered accountancy firm, I would spend close to 15 hours every day seated at my desk, auditing my employer's clients' balance sheets. My eating habits were just as disorderly, often succumbing to the temptation of easily available street food. To remedy the situation, I decided to study about nutrition, but unfortunately, I was unable to find any proper scientific courses available in India to study about nutrition and that privilege was only available for individuals with a science background. I did enroll for several international courses that were incredibly expensive, to the point where I had spend more than 10 lakhs to learn about the fundamentals of exercise, nutrition, wellness and fitness! And to be honest, there were little to no live classes that were held for these courses. It didn't feel like I learnt much there!" 
Alan Baptist says that his motivation to build an academy was to ensure great accessibility of information to an ordinary person just like him who wishes to acquire quality education about nutrition, wellness and fitness concepts but sadly has difficulty accessing it owing to financial constraints and to also allow people to overcome semantic barriers of learning, as he mentioned that the international certifications he studied were really theory heavy, used a lot of technical jargons and weren't offering practical knowledge that could be applied to create nutritionally adequate nutrition plans for Indians and Asians. 
Despite having originally a professional background in the field of finance, accounting, and taxation,  Alan Baptist says his passion for fitness and helping people achieve their own fitness goals is what drove him to study nutrition, fitness and exercise formally and acquire various degrees in the those disciplines to continue developing Optimum Wellness Academy(OWA) into an all-inclusive health, wellness and fitness educational platform in India. 
Alan Baptist believes that it is of the utmost importance for each and every person to be informed about the basics of food and fitness. Every human being eats and moves, and the type of food you consume as well as how active and often you move are both large determinants of your long-term health.  
"The current Indian healthcare system is frankly quite overburdened with respect to offering holistic care to patients suffering from life-threatening disorders induced by a dysfunctional modern lifestyle. Hence I founded the academy with my brothers Vinit Baptist and Vivek Baptist and have made it our life's sole mission to empower the layperson with the relevant information to avoid becoming a victim to lifestyle orders to begin with and as a result take off a significant load off the shoulders of our healthcare system to allow it evolve more effectively to solve other advanced medical crises and challenges.," he adds. 
In 10 years down the line, Alan Baptist would like to be in a position to help coach and mentor people from all walks of life who are struggling with obesity, which is what led him to create Optimum Wellness(OW) and Optimum Wellness Academy(OWA). The brand provides coaching services for fitness and nutrition, as well as application-based education programmes that covers everything from fitness and wellness to nutrition. All programmes are designed to be highly relevant and practical, so that students can gain the most value from them. In other words, Optimum Wellness Academy(OWA) is a reliable and effective way to teach  people to achieve their Optimum Wellness(OW). 
"At Optimum Wellness Academy(OWA), we believe that every individual has the right to be informed about how their food choices and activity levels impact their overall health. We exist to bridge the knowledge gap and empower people to take charge of their lives and health confidently." says Alan Baptist.  
"We offer all kinds of courses ranging from PCOS, Diabetes, Thyroid and Gout awareness programmes, to holistic wellness, fitness, yoga, nutrition and lifestyle certification and diploma programmes aimed for beginners to highly intensive and rigorous programmes on biomechanics, kinesiology and human anatomy for specific scholars who wish to enhance their knowledge deeply."
Optimum Wellness Academy(OWA) is a major part of Alan Baptist's vision of empowering the average layperson with sufficient information about fitness and nutrition, so that they themselves can make educated choices about their personal wellness. It is a complete suite of fitness and nutrition programs that are designed to give you the tools you need to achieve your personal fitness goals. Fuelled by a  group of individuals who are passionate about imparting knowledge related to health and wellness and coaching and inducing and instilling lifestyle changes within the global healthcare community, Optimum Wellness Academy(OWA) and Optimum Wellness(OW) is here to help members of society live better, healthier, happier lives. 
To learn more about their mission, visit their website at https://www.optimumwellness.in/ and https://www.owacademy.in/
To get more updates, Follow us on
Facebook
,
Twitter
and
Instagram.
You can also join our
Telegram Channel