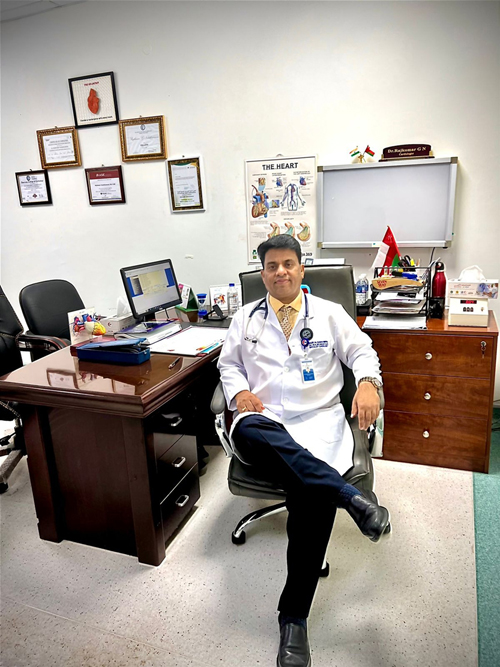 Dr. Rajkumar Gangappa Nadakinamani, a prominent figure in the field of cardiology, stands as an eminent academician, researcher, author, and philanthropist. His journey from a humble beginning in the remote village of Khairwad, Khanapur Taluka, Belgaum, Karnataka, has been nothing short of inspiring. Born into a community of less than 1000 people, Dr. Nadakinamani faced numerous challenges, from limited transportation and schooling facilities to the scarcity of clinics and shops. Villagers often had to trek for 2 kilometers to access these essential amenities.
In his infancy and childhood, Dr. Nadakinamani confronted life-threatening situations, including a snakebite, near-drowning incidents in paddy field wells, and a severe bout of typhoid fever. The turning point in his life occurred when he contracted typhoid fever, and a dedicated doctor in a nearby town came to his rescue. Remarkably, this doctor made a profound decision: he chose to prioritize saving the life of a young child over treating his own critically ill father, who was suffering from age-related ailments. This selfless act left an indelible mark on Dr. Rajkumar's heart, igniting his aspiration to become a doctor and serve humanity.
Dr. Rajkumar pursued his primary education in Gandigawad, Khanapur Taluk, Karnataka, and was subsequently selected for Navodaya Vidyalaya, situated in the remote area of Kothali, Chikkodi, Belgaum. His father, a schoolteacher who understood the difficulties faced by villagers, harbored a dream of seeing his son become a doctor, dedicated to saving lives. He had been deeply impressed by the doctor who had saved his son from typhoid fever. This experience reinforced Dr. Rajkumar's determination to pursue a medical career.
However, just before his Common Entrance Exam (CET), fate dealt him a challenging hand as he met with a bike accident and had to undergo eye surgery at KLE Hospital in Belgaum. Undeterred by the eye bandage, he appeared for the exam and later completed his MBBS from the same college, did his clinical postings in the same hospital where he had been treated. His internship took him to government hospitals in Belgaum and Ankola Taluka, where he played a pivotal role in saving numerous lives. Driven by a desire to make a significant impact on the burden of cardiovascular diseases, he embarked on a journey in cardiology.
Dr. Nadakinamani pursued a diploma in cardiology in Mangalore, followed by an MD in cardiology in Ukraine. He further honed his expertise through postgraduate studies in heart failure and fellowships from prestigious institutions such as the American College of Cardiology, American Society of Echocardiography, and Indian Academy of Echocardiography.
In 2020, with the vision of reducing the cardiovascular burden in India and contributing to the government's "Fit India" initiative, Dr. Rajkumar founded the Modern India Heart Foundation, a non-governmental organization (NGO). During the challenging times of the COVID-19 pandemic, he and his foundation served tirelessly, saving lives and making a significant impact. His unwavering commitment to heart health was recognized internationally when he received a medal in the USA from the President of the World Heart Federation.
Dr. Rajkumar firmly believes that heart health is a fundamental right for every human being. Currently serving as the President-elect of the Indian Association of Clinical Cardiologists (IACC), he has held key positions in various national and state-level committees. He is the past-president of IACC Karnataka chapter and also serves as the honorable general secretary of the Indian Medical Association – HSR Layout.
Dr. Rajkumar Nadakinamani invites like-minded individuals to join hands with him in this noble endeavor. Become a volunteer for the Modern India Heart Foundation and contribute to reducing the cardiovascular burden in India while supporting the "Fit India" project. You can reach out to him via email at [email protected] or WhatsApp your health-related or volunteer queries to +919916257522.
Website: www.mihfoundation.org
Dr. Rajkumar Gangappa Nadakinamani's journey from a remote village to a distinguished cardiologist and philanthropist exemplifies the power of determination, compassion, and the relentless pursuit of a noble cause. His life's work serves as an inspiration for all, reminding us that we can make a profound difference in the lives of others when we embrace our calling with unwavering dedication and a heart full of compassion.
To get more updates, Follow us on
Facebook
,
Twitter
and
Instagram.
You can also join our
Telegram Channel