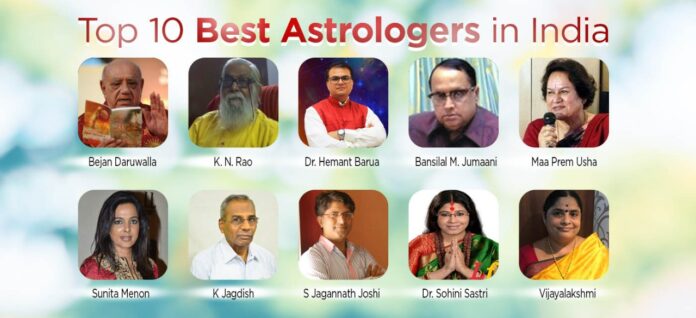 Astrology has a great impact on every follower's life. It's a study of planetary positions, their patterns & changing movements. A proper analysis of the same helps us to understand our lives in a much better & simplified way. Astrology is well known to be the language of stars & has also received the stature to be the Universal Language. History says it all & it has been highly believed that Astrological predictions have great meaning & impact on the lives of individuals who believe in them! India is a lucky place, as there is a huge pool of highly skilled & knowledgeable Astrologers who have successfully established the faith of millions in Astrology from time to time.
Check out some great Indian Astrologers –
1. Bejan Daruwalla 
One of the best & a well renowned Indian Astrologer, Daruwalla is associated with a lot of rich & famous personalities. Articles written by him get regularly published in some of the well-known newspapers like News India (New York), The Sunday Times & many more. Not just articles, but he is a writer of numerous knowledgeable books. By the Millennium Book of Prophecy, Bejan Daruwalla was named A Ganesha Devotee as one of the 100 influential astrologers in the last 1000 years. His accurate Astrological Predictions have won many awards. Apart from Vedic & Western Astrology, Daruwalla is an expert in many occult sciences like Kabalah, Palmistry, Numerology & I-Ching. With an amalgamation of all these principles, he comes up with such accurate & relevant predictions. He has a god's gifted intuition.
2. K. N. Rao
Sometimes we get talents in our DNA & Astrology was into Rao's DNA. Because Vedic Astrology was introduced to him by his mother at the age of just 12. The best part was that Rao shared his teachings & knowledge without charging a penny due to which he had loads of admirers. Belonging to a reputed Andhra Brahim family, Kotamraju Narayana Rao holds a degree in Masters in English Literature & also taught English before joining the Indian Audit and Accounts Service from which he retired as the Director-General in 1990. Also, from his gurus Swami Paramananda Saraswati and Yogi Bhaskarananda, he learned some great secrets of Astrology that are not mentioned in any of his books. A few of his secrets were mentioned in his book "Yogis, Destiny and the Wheel of Time". He played a vital role in starting the Vedic Astrology course in the Bharatiya Vidya Bhavan, New Delhi, where he is an Advisor and senior teacher of Astrology Courses. Bharatiya Vidya Bhava is known as the best Vedic Astrology institute in India.
3. Dr. Hemant Barua
Dr. Hemant Barua is Internationally Acclaimed & Highly Recommended Best Astrologer in India, he is a Doctorate in Astrology and has received 100s Prestigious Awards Including the Global Best Astrologer Award 2022, International Jyotish Ratan Award 2021, Global Srestham Award of 2021. He has served more than 75,000+ people across the globe. He specializes in Deep Horoscope Analysis about Business, Job, Marriage, Love relationships, Progeny, Legal Issues, Finance, Education, and Health. Hemant did his post-graduation in Vedic astrology & Gemology from the Indian Council of Astrological Science. and has been awarded several times for his valuable contribution to the astrology community. Moreover, he is highly skilled in Gemology and Astrological Remedies. He has a deep belief that a horoscope is a true reflection of a person's life plan, and it can be improved with the power of Astrology. Hemant always tries to provide the right prediction through the perfect amalgamation of System-Based Vedic Astrology and Modern Astrology. Divisional charts, Ashtakvarga, deep and logical calculations of horoscopes, and classic references are the basics of his astrological predictions. The lists of his elite clients include 100s of Politicians, 1000s of Industrialists, 100s of Bollywood Celebrities, T.V. celebrities, etc. He posts In-depth Astrology Tutorials and Other Videos that include a Highly Precise Monthly Horoscope that is well-calculated and reliable. Hemant Barua is an Astrologer who wants to change the lives of people through the immense knowledge he has about Vedic Astrology. You can book a telephonic consultation at his website directly via WhatsApp no. +91 9773959523 Or www.planetsnhouses.com
4. Bansilal M. Jumaani
Bansilal M. Jumaani was a finance broker & started to learn Numerology as a hobby. And he studied Numerology for more than 30 years & has mastered a very unique technique & method. He also predicted the super hit movie Kaho Naa Pyaar hai. Once he sent a message to a famous Bollywood star who was in jail. The message said that if his hearing falls on a certain date, he will be freed. Which came true & that moment created a magical turn in his career. From then onwards, his friend & a film distributor shared some titles of films to check which one would be lucky. And then he chose "Kaho Naa Pyaar Hai" and Jumaani Ji also added 2 extra A's to the name.
5. Maa Prem Usha
For the past 20 years, Maa Prem Usha has been working as a Tarot Card Reader at the ITC Maurya Sheraton Hotel. She is one of the best female Astrologers in Delhi. For quick updates for her avid readers, she keeps writing regular columns for different leading magazines. She had the great support of her granddaughter & with her help she made a brand new deck of tarot cards known as the Saakshi Tarot Deck. This deck was completely based on symbology, Indian folklore, and nature's five elements. She has written 12 books on the 12 zodiac signs too.
6. Sunita Menon
Sunita Menon is a great Astrologer. She is an amazing healer, tarot card reader, fortune teller, future teller, clairvoyant, psychic reader & much more. She is an appreciated Astrology expert in India & the most famous Astrologer all across the world. Making use of her insight & much-developed abilities she helps her clients lead happy & fulfilling lives with more personal touch, foresight & understanding.
7. K Jagdish
K Jagdish is a supremely talented Astrologer from Bangalore, Karnataka. He is into Astrology for the past 50 years & he is also an Author, entrepreneur, spiritual thinker, life coach & much more for his admirers. He is a well-known astrologer in India & he has numerous International clients based on his credibility & his accurate predictions. He has presented lots of his research work on different international platforms. His focus has more been on stopping the losses in life so that it can lead to profits eventually!
8. Siddharth Jagannath Joshi
Siddharth Jagannath Joshi is one of the best Astrologers in India. He has a very brilliant hold over the vast knowledge of Indian Astrology. He has mastered the study of Krishnamurti Paddhati, Lal Kitab, traditional Parashar Paddhati, and Vastu Shashtra due to which he gives accurate horoscope predictions & effective remedies to his clients. His clientele is from all across the world. The majority of his prime customers are from England, the USA, Australia, China, Europe, and the Middle East. He professionally began his career in the year 2003, though he was practicing astrology since 1999. His company named Parashar Astro Consultancy is based in Bikaner, Rajasthan. He also started writing his blog named 'Jyotisha Darshan' in the year 2007.
9. Dr. Sohini Sastri
Dr. Sohini Sastri is an award-winning Indian Astrologer, who recently won an award in the year 2019. She has been felicitated by various universities & educational institutions in India. She is a famous Astrologer among popular Bollywood celebrities & industrialists. Dr. Sohini Sastri has a strong belief that our lives are very well connected to our "Karmas" or even the actions done in our past lives! She has always counseled her clients & encouraged them to cope with their problems. She is an expert in Vedic Astrology, Numerology, Vastu Shastra & Palmistry. She is also known to be one of the best Tantriks in India.
10. Vijayalakshmi
With over 2 decades of experience in Vedic Astrology, Vijayalakshmi Krishnan is a renowned Astrologer in India. She has been associated with AstroVed for the past 15 years & has done more than 50,000 consultations. She has god's gifted intuitive powers & she also believes that our bad karma from past life gets carried to the existing life as well. She has expertise in identifying such karmas & also gives appropriate remedies for the same. Her passion for Astrology & a rich experience in Karmic Astrology, Medical Astrology, Electional Astrology, KP, Numerology, and Gemology helps her give the best solutions to her clients.
To get more updates, Follow us on
Facebook
,
Twitter
and
Instagram.
You can also join our
Telegram Channel