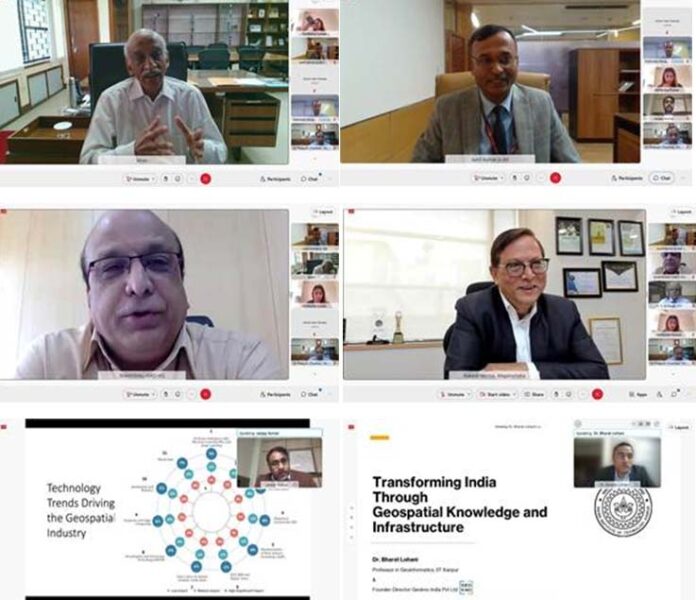 New Delhi, March 04: Experts discussed transforming India through geospatial knowledge and infrastructure during a post-budget webinar organised by the Office of the Principal Scientific Advisor (PSA) to the Government of India along with several scientific ministries and departments.
Noting that data generation and data governance are crucial components of geospatial technologies, Dr. Kiran Kumar, former Secretary, Department of Space, and former Chairman, Indian Space Research Organisation (ISRO), stressed the need for having trained workforce at different levels to make the best use of the generated data.
Speaking at a breakaway session titled 'transforming India through geospatial knowledge and infrastructure: the need for national geospatial policy' which was led by the Department of Science and Technology (DST), he said, "we need to have mechanisms in which the government and industry can work as partners. Validations can be given to the solutions provided by the industry."
Dr.ShanthanuBhatawdekar, Director, EOA & DMS Program Office, ISRO, urged that the government share domain expertise with the private sector for deeper penetration of the technologies. A federated ecosystem should be built for government and non-government entities to minimize redundancy and make data easily accessible.
Dr. Bharat Lohani, Professor at IIT Kanpur, called for a roadmap for geospatial R&D system, technology generation, education, data sharing, and encouragement for academic startups. He emphasized the need for standardisation of data and its unification based on the quality of data.
Dr. Prakash Chauhan, Director, Indian Institute of Remote Sensing (IIRS), Dehradun, stressed enhancing the reach of geospatial data in terms of user specifications to be used in different sectors. "In India, there exist different mechanisms for the generation of data and their availability. A proper channel of updating those data and collating the data is necessary. Besides, we need to create a localized ecosystem to harness the IT capabilities of the country and localized data for creating a foundation for the development of geospatial technologies. ISRO has created a dataset, and it needs to be disseminated through cloud-based services," he added.
Mr. Rakesh Verma, Chairman, MapMyIndia, underlined the need to develop indigenous technologies and disseminate them to the users to minimize the dependency on foreign entities. He noted that there is no shortage of talent in India and said the geospatial industry could be made Atmanirbhar with such resources.
Joint Secretary, Department of Science and Technology (DST), Mr. Sunil Kumar, highlighted the government reforms in geospatial technology and drone technology and discussed the SWAMITVA Project to provide ownership titles to villagers.
At the end of the deliberations, the participants adopted a set of recommendations, including putting in place measures to leveraging human capital to develop products and solutions using geospatial data; the introduction of new courses at UG and PG level in geo-informatics; encouragement for local cloud services; leveraging government data and technology of the industry to build revenue models; and, setting up a geospatial investment fund. (India Science Wire)
To get more updates, Follow us on
Facebook
,
Twitter
and
Instagram.
You can also join our
Telegram Channel