Vikram Chouhan is a professional website designer and the founder of Udaipur Web Designer, 3i Planet, and 3i Planet Academy from Udaipur, Rajasthan. He offers high-end services of Website designing, SEO, and graphic designing to brands and businesses in order to boost their revenue and expand and control their market share. Recently his company Udaipur Web Designer was felicitated with the award of being the best IT and professional company in Rajasthan.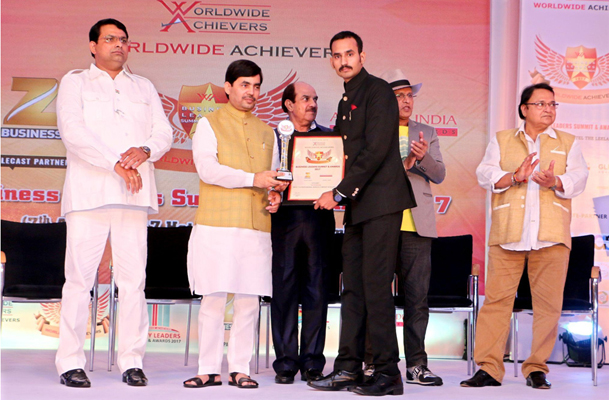 Do you ever look on Google's third page when you need to find something? You're unlikely to go that far in your search. And so do the majority of people, which is why SEO is so important. In short, SEO can help you increase the visibility of your website. Vikram Chouhan's 9 years of experience come into play with the most in-demand skills of SEO, Website design, and graphic design. He has fueled the exponential growth of various businesses with his effective SEO strategies that use proven and ethical methods to help these businesses achieve a sustainable online presence.
Services offered – Vikram Chouhan
Domain & Hosting Registration

Website Design & Development

PHP Website Development

WordPress Development

Creative Graphic design

Digital Marketing and SEO

Software Development
Vikram Chouhan credits his success to his team and expresses his joy over winning the Award "It only motivates my team and me to do better in the future. We have been in this industry for over 9 years. Our team has successfully catered to the diverse needs of over 700+ companies from India and around the world. I understand that each business is unique and that the search environment is constantly changing; however, we are adaptable with our proven Website designing and SEO Skills and our thought-provoking and customized strategies have opened the doors to the online potential that we bring to businesses."
The websites designed by Vikram Chouhan are user-friendly, creative, and professional in appearance, and they adhere to best practices. Websites follow the most recent W3C standards guidelines, resulting in semantic and SEO-friendly CSS and XHTML. Every website is meticulously hand-coded. His preferred CMSs are WordPress and Joomla, with the addition of Flash for animations.
Vikram Chouhan, who is client-centric in his dealings and is well-versed in current market trends, assisted his clients in their pursuit of the largest market share. Over the course of nine years, he has worked with over 500+ clients from all over the world. He expertly connected with his clients in order to assist his large clientele in expanding their businesses. Vikram Chouhan helps any company grow, whether it is a new venture or an established one trying to evolve. He is aware of the significance of having an online presence and assists his clients in enhancing their online visibility, developing unique solutions, and quickly generating leads with his unique services of SEO, Web designing, Graphic designing, and so on with customized services as per the client's needs and budget. And if you are running out of ideas, then Vikram Chouhan Udaipur Web Designer is just a text away to always help you with a road map towards your business's success.
Vikram's Message to young entrepreneurs "Entrepreneurship can undoubtedly help you mature and gain confidence if you have the courage to carry out your creative plan, whether or not it works. Establishing your vision should be the first step in making your venture a reality. It is never too early or too late in life to achieve success. So, discover your passion, understand your market, and get ready to go.!"
Vikram Chouhan stood out in the industry because of his innate ability to recognize the ideal idea for growing his company. Creative Designing, High-Quality Solutions, Transparency, Great Support, Latest Technologies & Cost Effective are the unique part of his services.
Learn more – https://www.udaipurwebdesigner.com/web-designer-in-udaipur-rajasthan/
To get more updates, Follow us on
Facebook
,
Twitter
and
Instagram.
You can also join our
Telegram Channel